Speech Topics
As the author of the weekly Axios Media Trends newsletter, Sara Fischer is one of the most qualified people to enlighten audiences on the state of media and its many facets in the United States today.
With a pulse on the trends and changes happening in real time, Fischer can touch upon ideas like changing habits in news consumption, business, and distribution; the "digital ecosystem" and which players are dominating the market; and marketing in the media, a look at the geographies, sectors, and companies that are dominating advertising.
This talk includes how AI is changing the media and technology landscapes and how to regulate it. Sara not only shares top-notch information but points out the lessons that organizations should heed, including how these trends may impact their bottom line in the future.
As a founding member of Axios, award-winning media journalist, and CNN contributor, Sara Fischer is no stranger to discussing politics and geopolitics from an informed and unbiased standpoint. A bonified media expert, Sara can tilt this presentation to the audience's needs, to include:
Shifting power trends: A look at the ways the new Administration has regulated media and technology — highlighting efforts at the FCC, the FTC, the DOJ and Congress.
Political media trends:Trends in political communication, election marketing and advertising, social media, and more.
Media and trust:Polling and data that examines how different regions and demographics trust and perceive the news media.
China: A snapshot of the biggest trends in Chinese media and technology, including TikTok.
In this unique presentation, Sara Fischer addresses technology's impact on media as we know it. She discusses the rise of ISPs and understanding the power shift towards broadband providers and telecom companies in the U.S. along with defining how access to broadband informs consumption and viewpoints across the county. Sara can also discuss censorship around the globe. Sara is also an expert on how AI is changing the media and technology landscapes.
In this address, Sara delves into the evolution of Hollywood and the migration from linear television to digital television along with the adaption of technology into the music and movie sectors, explaining how things are different now and asking the question: Is it for better or for worse? She extends the conversation by investigating the new consumption habits and distribution trends within sports media, music, and movies.
Given Sara's unique perspective of the media and entertainment industry, this entertaining presentation is both factual and fun for audiences of all kinds.
Biography
Sara Fischer is a senior media reporter and a founding staff member at Axios. She is also a media analyst at CNN.
Fischer authors a must-read weekly newsletter on media trends that reaches over 100,000 professionals across the media, technology, and entertainment industries. Beyond her weekly column, Fischer oversees Axios' media coverage for the newsroom and steers the company's products and events around that topic. Her coverage spans corporate media, advertising and marketing, technology, social media, deals, entertainment, media regulation, policy and consumer habits.
Fischer was recently named to The Washingtonian's list the 500 "Most Powerful People in Washington D.C."  (2022 and 2023). She was also named to Mediaite's "Most Influential in News Media" list in 2022 and to Forbes "30 Under 30" Media list in 2019.
Everything was buttoned up, from the initial outreach to the event execution and post follow-up. I have a great team of representatives from WWSG to work with, first class experience.
Raylene Wetzel, American Century Investments
The consistent professionalism and quality for the way Worldwide Speakers Group handles events shows that they think of each detail and every contingency beforehand.
Newt Gingrich, Distinguished Leader, Visionary, & Political Vanguard; 2012 Republican Presidential Candidate; Speaker of the U.S. House of Representatives (1995-1999); Best-Selling Author
"After 20 years in the lecture series business, WWSG has become a valued partner. We produce over 24 speaking events a year and have worked with dozens of agencies. We appreciate WWSG's unparalleled professionalism, integrity, and creativity in suggesting speakers that are unique to the speaker circuit."
Sue Swan, Co-Founder of The Distinguished Speaker Series of Southern California
Thanks again for all your help. Your entire team there is truly stellar.
Vice President of Communications; American Property Casualty Insurance Association
They provide us well-prepared and informed speakers who understand our expectations and unique format. With WWSG, we know that the speaker fees are fair and trust that the event will be a success.
Sue Swan, Co-Founder of The Distinguished Speaker Series of Southern California
I hope to work again and again with Worldwide Speakers Group on the selection of our keynote and endnote speakers for our annual conference and other events. Our representative and her associate were terrific from my first communication to them until our speaking-event concluded... It is easy to see why many of the top speakers in the country work with Worldwide Speakers Group.
Gina Cohen, Chief Marketing Officer & Vice President of Communications for The National Recreation and Park Association
We always enjoy working with WWSG, and we thank you and your team for your diligence, thoroughness, and professionalism. Planning is already underway for next year's event (no rest for the weary). We hope to have every opportunity to work with you again in the near future.
David R. Cape, EVP of Business Development at Texas American Resources Company
All timing and logistics were seamless, and the client was super engaged and thankful. I'm happy to report that we have another WIN for WWSG! Let's build on the momentum together!
Josh Linkner, Five-Time Tech Entrepreneur, Hyper-Growth CEO, Two-Time NY Times Bestselling Author, Venture Capitalist, and Keynote Speaker
The WWSG team are super responsive and flexible. I will definitely work with them again to find speakers for my next event.
Delia Setiawan, Ernst & Young LLP
The team at WWSG is certainly at the top of the scale. Building a long-term relationship with the client has really set WWSG apart and we clearly saw that with our partnership. WWSG found creative ways to build the partnership which results in a win-win for all.
Erik Qualman, Top Technology and Motivational Speaker, #1 Bestselling Author & Futurist
Speaker News
Check Availability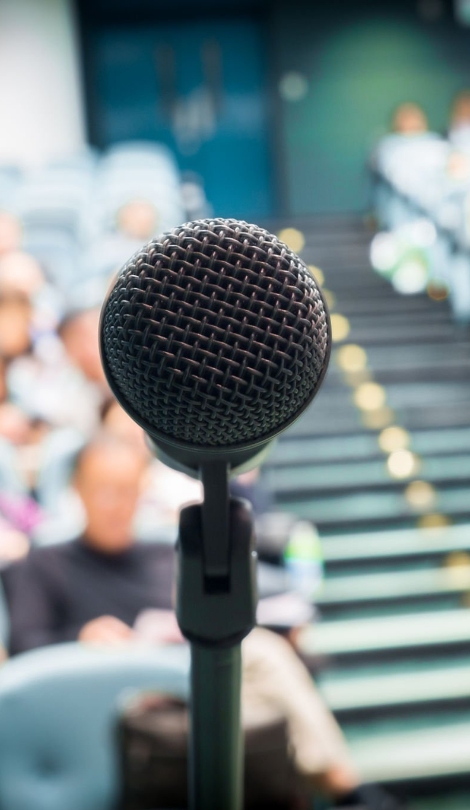 Other Speakers You May Like