Mediaite's Most Influential in News Media 2022
The media industry was rocked by upheaval and the need for reinvention in 2022, as the country and economy started to adjust to a post-pandemic atmosphere. Millions of dollars were poured into new endeavors and experimental ventures — some that emerged as leading forces in the media world, and some that followed Icarus' path of flying too close to the sun before crashing to Earth.
In the news business, the year ends with a great deal of uncertainty as layoffs loom, legacy publications face strikes and alternative media continues to siphon off viewers, listeners, and readers. But, when looking back at the major stories of 2022 – from Uvalde to Ukraine – the necessity and value of quality journalism has never been more clear.
The year began with many themes spilling over from 2021, from the ongoing Covid-19 pandemic and the continued dominance of Donald Trump over the news agenda. However, as the year continued both Covid and Trump began to wane as Russia's brutal invasion of Ukraine overshadowed all else by March.
As spring gave way to summer, the leaked Supreme Court's bombshell decision to overturn Roe v. Wade and the FBI's search of Mar-a-Lago reshaped the landscape, energizing both sides of the political spectrum. All the while, midterm primaries played out as Trump-backed candidates and the GOP establishment duked it out and the House Jan. 6th Committee captivated audiences on CNN and MSNBC with shocking hearings.
On cable news, MSNBC's star host, Rachel Maddow, announced she would only host once a week, which meant both CNN and MSNBC began searching for new 9 p.m. attractions. CNN, which got a new parent company and a new leader in 2022, briefly dabbled in streaming with the short-lived CNN+. While CNN continues to go through a shake-up, Fox News began competing with broadcast networks in the ratings and strung together months of dominance.
As the election heated up, both sides dug in. Issues like inflation, crime, and the southern border dominated the right, while Jan. 6, the overturning of Roe v. Wade, and concerns over the future of American democracy refocused the left.
As the highly anticipated "Red Wave" failed to materialize in the midterms, the GOP was left to reassess their strategy, while many in the media wondered aloud what went wrong in covering the narrative of the election. While it was undoubtedly a year in which political journalism shined, cable news reminded the country of its impact, particularly in the sphere of breaking news and analysis in an ever changing world.
Today, Mediaite recognizes the industry's 75 biggest movers and shakers in 2022. A quick explainer on how we arrived at our final list: There are a variety of factors that we take into account when evaluating someone's clout. A few of the metrics are tangible, like TV ratings, social media followings, and engagement. Those are all easily measurable. Some of the other criteria we use are harder to define, but we know it when we see it. Is there insider buzz surrounding a particular media figure? Do they churn out scoops? Are they the talk of their rivals? Are they being courted by other major outlets?
This year we are also proud to bring back our industry blowout in New York featuring the biggest stars in the business. While Covid has kept us from holding this event since 2019, we're excited to celebrate our honorees in person once again.
With that, the writers and editors of Mediaite are proud to present our 2022 selections for the Most Influential in News Media.
63. Sara Fischer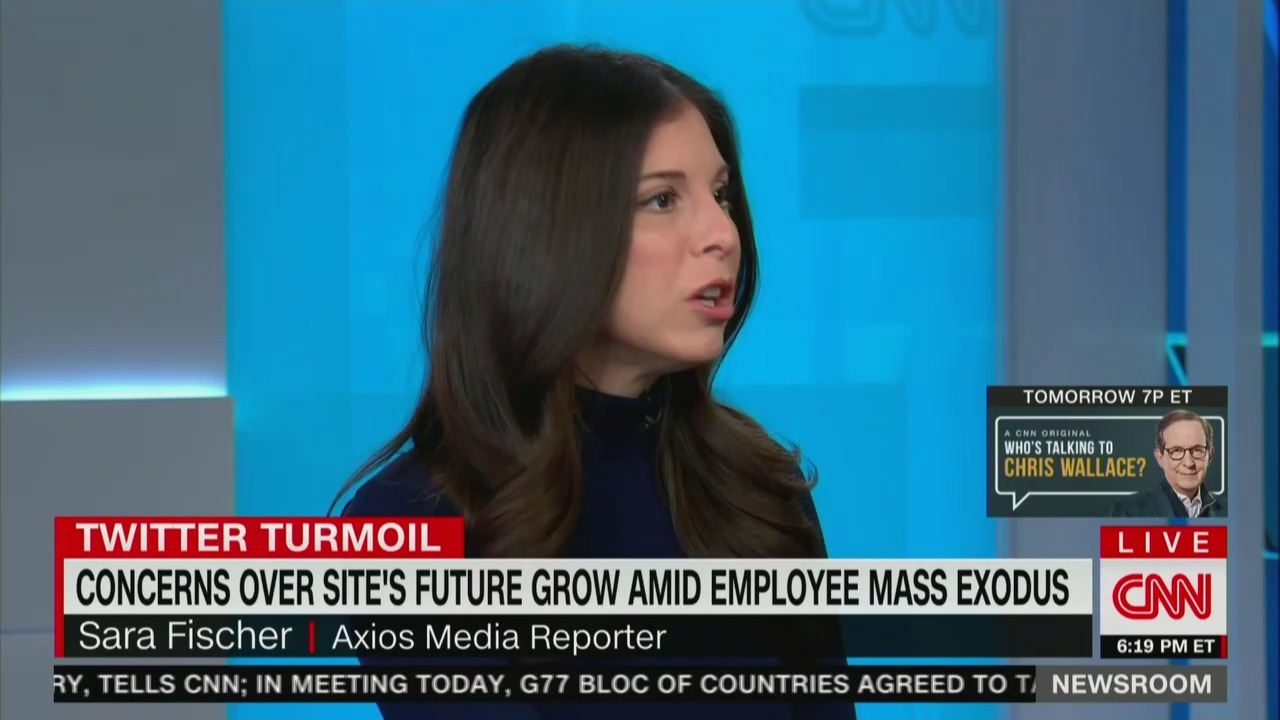 Scoop: Sara Fischer breaks stories.
The Axios media reporter spent 2022 earning a reputation as an essential chronicler of the industry. She's a high-impact journalist who gets in front of big news at the intersection of media, business, politics and tech. From MrBeast and charity to Snapchat and Trump, from TikTok's U.S. move to Chris Wallace's new groove, Fischer is there. Fischer broke the fall of CNN+, one of the biggest media stories of the year. And she got Jen Psaki's decision to move to MSNBC, a major politics story. She's been getting dirt from inside Twitter, she had the inside track on the New York Times union's dealings, and took readers inside Google's plans for local news. That word you keep seeing? "Inside." That's because Fischer's rep as the insider's insider keeps growing. We're not quite sure she didn't know where she was going to land on this list before we did.