Speech Topics
This presentation is an in-depth look at the forces that are shaping the upcoming midterm/presidential elections, the issues driving voters, and a comprehensive rundown of the races that matter. After the presentation, Josh will be able to answer any questions and offer the latest intel about any of the pivotal Congressional or statewide campaigns taking place.
In the run-up to 2024, Josh will be incorporating a presidential campaign outlook into the presentation, featuring big-picture analysis on who's most likely to run in 2024 and who's most likely to succeed. Will we be seeing a Biden-Trump rematch, or is the smart money on fresh faces taking over the 2024 campaign?
In this presentation, Josh explains how American political allegiances are changing before our eyes: Democrats are becoming the party of the upscale suburbs that Republicans once dominated, while Republicans making noticeable inroads with working-class communities of color that recently overwhelmingly voted for Democrats.
Josh will talk about how high the stakes are: If a critical mass of Hispanic voters continues their movement towards Republicans, it would end any possibility of a Democratic long-term political advantage as the country diversifies. But if Republicans continue to pander to Trump as the face of the party, they will struggle to win back the suburbanites that are critical for them to win back power.
Biography
With a track record of identifying election trends before they become conventional wisdom, Axios senior political correspondent Josh Kraushaar is one of Washington's leading political analysts. He reports on the latest developments on the campaign trail and is also the author of the weekly Sunday Sneak Peak newsletter, which focuses on the big-picture forces driving American politics.
While politics is often complicated and granular, Kraushaar is uniquely able to reveal the larger trends within elections to all audiences. With his holistic, big picture approach, Kraushaar expertly connects with audiences of all backgrounds, explains the issues at large that loom over Washington, and breaks down the possible consequences of those issues on everyday Americans.
Before working at Axios, Kraushaar served as editor-in-chief of the Hotline, where he authored the biweekly Against the Grain column and hosted a weekly podcast featuring the leading lawmakers, political operatives and journalists for candid interviews. He also served in 2014 as a co-author of the Almanac of American Politics, a must-have resource for political junkies.
Kraushaar frequently appears as a political analyst on television and radio. He is a Fox News contributor, providing political analysis across all the network's platforms.  He's also a frequent panelist on "Special Report" with Bret Baier and has co-anchored Fox News Radio's election coverage since 2016.
"I hope to work again and again with Worldwide Speakers Group on the selection of our keynote and endnote speakers for our annual conference and other events. Our representative, Vana Thayu and her associate Missy Simons were terrific from my first communication to them until our speaking-event concluded... It is easy to see why many of the top speakers in the country work with Worldwide Speakers Group."
Gina Cohen, Chief Marketing Officer & Vice President of Communications for The National Recreation and Park Association
"After 20 years in the lecture series business, WWSG has become a valued partner. We produce over 24 speaking events a year and have worked with dozens of agencies. We appreciate WWSG's unparalleled professionalism, integrity, and creativity in suggesting speakers that are unique to the speaker circuit."
Sue Swan, Co-Founder of The Distinguished Speaker Series of Southern California
"They provide us well-prepared and informed speakers who understand our expectations and unique format. With WWSG, we know that the speaker fees are fair and trust that the event will be a success."
Sue Swan, Co-Founder of The Distinguished Speaker Series of Southern California
"The consistent professionalism and quality for the way Worldwide Speakers Group handles events shows that they think of each detail and every contingency beforehand."
Newt Gingrich, Distinguished Leader, Visionary, & Political Vanguard; 2012 Republican Presidential Candidate; Speaker of the U.S. House of Representatives (1995-1999); Best-Selling Author
"Everything was buttoned up, from the initial outreach to the event execution and post follow-up. I have a great team of representatives from WWSG to work with, first class experience."
Raylene Wetzel, American Century Investments
"The WWSG team are super responsive and flexible. I will definitely work with them again to find speakers for my next event."
Delia Setiawan, Ernst & Young LLP
"Thanks again for all your help. Your entire team there is truly stellar."
Vice President of Communications; American Property Casualty Insurance Association
"All timing and logistics were seamless, and the client was super engaged and thankful. I'm happy to report that we have another WIN for WWSG! Let's build on the momentum together!"
Josh Linkner, Five-Time Tech Entrepreneur, Hyper-Growth CEO, Two-Time NY Times Bestselling Author, Venture Capitalist, and Keynote Speaker
"The team at WWSG is certainly at the top of the scale. Building a long-term relationship with the client has really set WWSG apart and we clearly saw that with our partnership. WWSG found creative ways to build the partnership which results in a win-win for all."
Erik Qualman, Top Technology and Motivational Speaker, #1 Bestselling Author & Futurist
Speaker News
Check Availability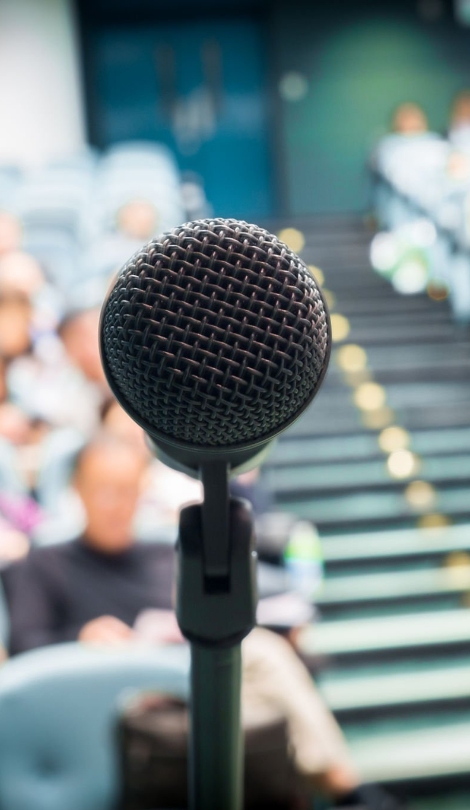 Other Speakers You May Like