Speech Topics
Belonging doesn't happen automatically. It takes intentionally and a surefire strategy. Being the only Latina in many newsrooms and now as an entrepreneur, Mariana understands what is needed to create a more diverse and inclusive culture in top corporate environments. She's combined her insights with scientific research to design a 7-step formula to promote authenticity, productivity and belonging in your organization. The results have prompted companies like LinkedIn, Deloitte, Ford, and YouTube to bring her onboard to lead multiple diversity speeches, conferences, awards and seminars.
How do you build a healthy corporate culture and community when everyone is doing remote or hybrid work? In this keynote, you will learn to effectively use storytelling as an engagement strategy – at the individual, collective and management level. Being a viral Tedx speaker, podcast host and bestselling author, Mariana has received top level storytelling training to create well-told stories that build community. She will share her insights to motivate employees to create a brand / message memorable enough to leave a legacy.
How to be an effective leader and bring the best out of your team, considering the challenges we face? Using the latest data and her interviews with top business minds, Mariana will share her 3UP Method for managers and employees to turn the current uncertainty and migration of talent into a unique leadership opportunity. In this session attendees will learn to preach optimism (because no one wants to follow a pessimistic leader) and specific 'action items' to reclaim their power, lessen their fear of failure and the imposter syndrome. This session will leave your attendees empowered to meet the moment.
Let's face it, we are all saturated with information. With the rise of the attention economy, you need to find new solutions to communicate with your employees, shareholders and public.
Given Mariana's television and production background as a journalist, influencer, and content creator for national networks like NBC and a social media community of over 500,000 on all platforms, she's able to create bite-sized corporate content to reach your audiences where they are. This will take the traditional keynote beyond an in-person or virtual event and transform it into easily digestible, and evergreen, digital products that create connectivity and community.
This can take the form of snackable videos that can comprise a digital series for your company website, streaming or outlets like YouTube; a corporate podcast; or a social media activation/package, including platforms like TikTok, Instagram, Facebook and Twitter, that exalts brand awareness and company efforts. Topics can range from DEI, technology, financial services, sustainability, manufacturing, healthcare, retail industries, automotive, etc.
Biography
Mariana Atencio took the world by storm when her TEDx talk "What makes YOU special?" went viral. To date, it has over 20 million views and has been translated into 13 languages.
An expert on the power of authenticity, her book "Perfectly You" was an Amazon Best Seller and selected by Audible and AppleBooks.
She's quickly become one of the most sought-after keynote speakers, founding her own media company, GoLike, and giving everyone the tools to tell their own stories.
A former anchor and reporter for NBC, Mariana has appeared on the Today Show, The Talk, and HBO.
If you are into true crime, her latest project is a podcast about two women who go missing on a trail. It's called "Lost in Panama" and it was among Apple's top 10 podcasts week of release.
All timing and logistics were seamless, and the client was super engaged and thankful. I'm happy to report that we have another WIN for WWSG! Let's build on the momentum together!
Josh Linkner, Five-Time Tech Entrepreneur, Hyper-Growth CEO, Two-Time NY Times Bestselling Author, Venture Capitalist, and Keynote Speaker
They provide us well-prepared and informed speakers who understand our expectations and unique format. With WWSG, we know that the speaker fees are fair and trust that the event will be a success.
Sue Swan, Co-Founder of The Distinguished Speaker Series of Southern California
The consistent professionalism and quality for the way Worldwide Speakers Group handles events shows that they think of each detail and every contingency beforehand.
Newt Gingrich, Distinguished Leader, Visionary, & Political Vanguard; 2012 Republican Presidential Candidate; Speaker of the U.S. House of Representatives (1995-1999); Best-Selling Author
"After 20 years in the lecture series business, WWSG has become a valued partner. We produce over 24 speaking events a year and have worked with dozens of agencies. We appreciate WWSG's unparalleled professionalism, integrity, and creativity in suggesting speakers that are unique to the speaker circuit."
Sue Swan, Co-Founder of The Distinguished Speaker Series of Southern California
We always enjoy working with WWSG, and we thank you and your team for your diligence, thoroughness, and professionalism. Planning is already underway for next year's event (no rest for the weary). We hope to have every opportunity to work with you again in the near future.
David R. Cape, EVP of Business Development at Texas American Resources Company
The team at WWSG is certainly at the top of the scale. Building a long-term relationship with the client has really set WWSG apart and we clearly saw that with our partnership. WWSG found creative ways to build the partnership which results in a win-win for all.
Erik Qualman, Top Technology and Motivational Speaker, #1 Bestselling Author & Futurist
Everything was buttoned up, from the initial outreach to the event execution and post follow-up. I have a great team of representatives from WWSG to work with, first class experience.
Raylene Wetzel, American Century Investments
The WWSG team are super responsive and flexible. I will definitely work with them again to find speakers for my next event.
Delia Setiawan, Ernst & Young LLP
Thanks again for all your help. Your entire team there is truly stellar.
Vice President of Communications; American Property Casualty Insurance Association
I hope to work again and again with Worldwide Speakers Group on the selection of our keynote and endnote speakers for our annual conference and other events. Our representative and her associate were terrific from my first communication to them until our speaking-event concluded... It is easy to see why many of the top speakers in the country work with Worldwide Speakers Group.
Gina Cohen, Chief Marketing Officer & Vice President of Communications for The National Recreation and Park Association
Check Availability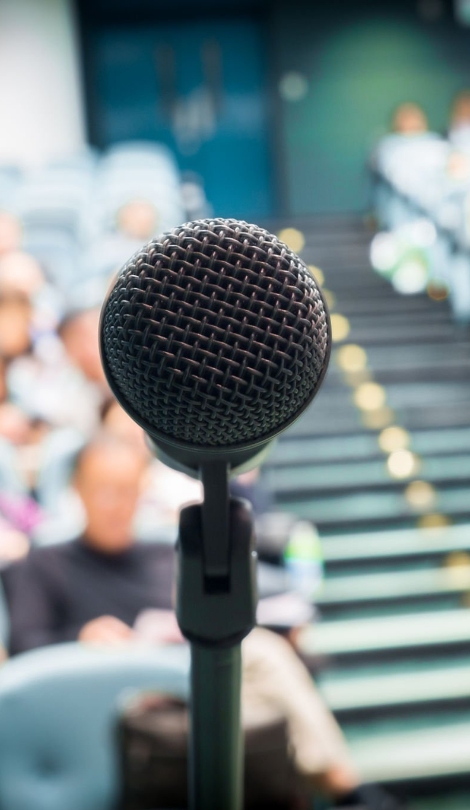 Other Speakers You May Like