Rise of the Black Republican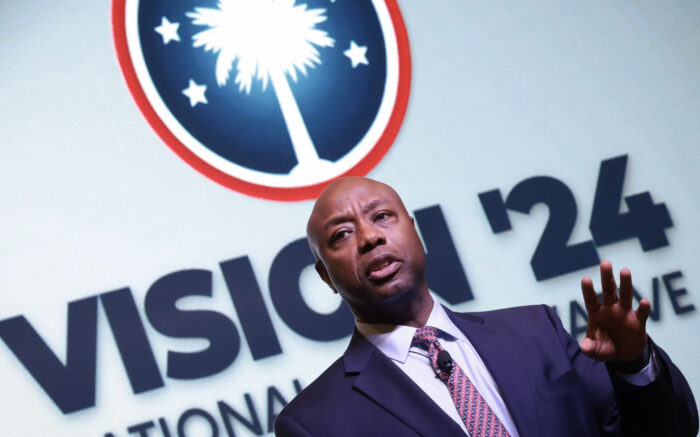 May 21, 2023
Written by:
Josh Kraushaar
This week marks a milestone for African American Republicans in politics: Sen. Tim Scott (R-S.C.), the only Black Republican in the Senate, will formally launch his presidential campaign in North Charleston, South Carolina, on Monday.
Driving the news: Scott's historic announcement follows a resounding primary victory last Tuesday by Kentucky Attorney General Daniel Cameron, who is seeking to become the state's first Black governor of Kentucky.
Cameron, a protégé of Senate Minority Leader Mitch McConnell who also is backed by former President Trump, comfortably won a hotly contested GOP primary — even as he faced a barrage of attacks from his top rival.
Despite being outspent and losing out on a last-minute endorsement from Florida Gov. Ron DeSantis, Cameron won by a whopping 26-point margin. He's seeking to become the first Black governor in a state where 86% of the population is white.
State of play: Scott joins conservative talk show host Larry Elder as the second African American candidate in the presidential race.
He offers a compelling alternative to Republicans looking past Trump and DeSantis, and starts out with a hefty $21.9 million in campaign cash from his Senate campaign account.
Why it matters: One of the more overlooked dynamics in our politics is that voters are growing a bit less polarized by race, even as they're more divided along educational lines.
Republicans have made small, but notable, inroads with Black men during the Trump era. That momentum has been reflected in a growing number of Black Republican candidates.
As we wrote in February, Republicans elected five Black members of Congress, all from states and districts with majority-white constituencies.
One of those lawmakers is Rep. Byron Donalds (R-Fla.), who has emerged as a top conservative surrogate in Congress and on cable news shows.
Zoom in: On the campaign trail, Scott will be talking about how his inspirational personal story ("from cotton to Congress") and abiding Christian faith shaped his conservative values.
He'll be in Sioux City, Iowa, on Wednesday and Merrimack, New Hampshire, on Thursday for the kickoff. His campaign has already reserved $6 million in ads on television and radio in those critical early voting states.
Scott received his first Senate endorsement this week — from Sen. Mike Rounds (R-S.D.). That's one more senatorial endorsement than DeSantis has secured so far.
Go deeper: The Scott-aligned super PAC — Opportunity Matters Fund, which banked $13 million at the end of last year — is also staffing up in preparation for the senator's presidential run.
Axios has learned that veteran Republican strategist Jesse Hunt will join the Scott super PAC as senior communications adviser.
Hunt has led communications efforts for three of the top GOP national political committees — the Republican Governors Association, and the GOP's Senate and House campaign operations.
Reality check: Both Scott and Cameron face serious hurdles in winning their respective races.
Scott is a sunny optimist in a party in which grievance has been the GOP's common currency. He's polling in the low single digits, despite launching a presidential exploratory committee in April.
Cameron is facing one of the most popular governors in the country, Gov. Andy Beshear (D-Ky.), who has built a bulwark of bipartisan support in the conservative state — largely through his effective and empathetic response to natural disasters and mass shootings.
A group affiliated with the Democratic Governors Association is already airing ads tying Cameron to unpopular former GOP governor Matt Bevin. Cameron will need to raise big money to keep up with Beshear and his allies' financial wherewithal.
The bottom line: Black voters have long been more socially conservative than other Democratic voters, but most have maintained their Democratic affiliation.
But as our politics polarizes along cultural lines, we're seeing culturally conservative Black voters more comfortable associating with the Republican Party.
Scott is a textbook example of that dynamic — he gravitated toward the party that reflected his values as he entered political life. If his campaign catches on, he'd be uniquely capable of diversifying the Republican coalition.