Speech Topics
In this presentation, Scott Gottlieb shows how COVID-19 was able to trounce America's pandemic preparations and outlines the steps that must be taken to protect against the next outbreak. As the pandemic unfolded, Gottlieb was in regular contact with all the key players in Congress, the Trump administration, and the drug and diagnostic industries. He provides an inside account of how level after level of American government crumbled as the COVID-19 crisis advanced and addresses how we must view public health through the lens of national security to improve our preparedness for the future.
How can the healthcare field successfully navigate the intersection of policy and medical innovation? How will policy developments in Washington related to the regulation and reimbursement of medical technology impact the ability to innovate and secure market access for beneficial new technologies? What can those participating in the healthcare economy do to positively impact these trends?
The changing landscape for coverage of healthcare services and medical products is creating new challenges in making sure patients have affordable access to care, and that those financing these opportunities can sustain these investments. How can we develop sustainable models for covering the cost of new innovations and modernize our payment models to make sure patients have access to the medical care they need without bankrupting our healthcare system? What are the new models for healthcare delivery that we'll need to embrace?
The ability to cure once intractable diseases is now at hand. Science has given us transformative new tools to arrest and reverse the underlying causes of once-deadly diseases. What is this future of medical innovation and how will we unlock the promise of new technologies like gene therapy, digital health, artificial intelligence, and regenerative medicine? What are the regulatory and reimbursement strategies that we'll need to adopt to make sure these innovations reach patients, and what are the key scientific advances that are most likely to radically transform health outcomes and the delivery of medicine in the near future?
How does healthcare policy get made in in the nation's capital? How are decisions reached, and what are the key variables that affect policymaking? Dr. Gottlieb will provide insights from the front lines of how some of the most important healthcare policies are made and address the outlook for the regulation and reimbursement of the healthcare sector.
Biography
Scott Gottlieb is an American physician who served as the 23rd Commissioner of the U.S. Food and Drug Administration. Dr. Gottlieb's work focuses on advancing public health through developing and implementing innovative approaches to improving medical outcomes, reshaping health care delivery, and expanding consumer choice and safety. He is a resident fellow at the American Enterprise Institute, a member of the board of directors of drug maker Pfizer, a member of the board of directors of the biotech company Illumina, a contributor to the cable financial news network CNBC, and a partner at the venture capital firm New Enterprise Associates.
Dr. Gottlieb's book, Uncontrolled Spread: Why COVID-19 Crushed Us and How We Can Defeat the Next Pandemic published to The New York Times Best Seller list in September 2021. He is also widely published in leading medical journals and periodicals and has held editorial positions on the British Medical Journal and the Journal of the American Medical Association. Dr. Gottlieb is a regular contributor to CNBC and CBS's "Face the Nation." In 2018 and again in 2019, Dr. Gottlieb was recognized by Fortune Magazine as one of "The World's 50 Greatest Leaders" and by Time Magazine as one of the "50 People Transforming Healthcare." Dr. Gottlieb was also named one of Washington DC's 500 Most Influential People of 2023.
Dr. Gottlieb is an aggressive advocate for advancing the health of patients, promoting healthcare access, and driving innovation. The agency's historic and prolific advances in new policy distinguished his tenure as the FDA's commissioner, in addition to a record-setting number of approvals of novel drugs, medical devices, and generic medicines. Under his leadership, the FDA advanced new frameworks for the modern and safe and effective oversight of gene therapies, cell based regenerative medicines, targeted drugs, and digital health devices. The FDA implemented new reforms to standardize drug reviews and make historic improvements of post market data collection and the use of real-world evidence. They promoted policies to reduce death and disease from tobacco, improve food safety, and aggressively confront addiction crises.
[His] insights were very thoughtful and the passion he has for health policy issues was clear for all to see. Both of these sessions generated terrific discussions and feedback from the audience.
Analysis Group
The feedback I received from clients concerning Dr. Gottlieb's remarks was outstanding. Everyone appreciated his direct answers, insights, and candor. It was easily one of the best experiences we have ever had with a speaker outside our organization.
Managing Director, Financial Services Company
We recently hosted a call with Dr. Scott Gottlieb who provided important, real time information and clarity on the COVID-19 pandemic in a way that was both approachable and understandable for all our clients. Dr. Gottlieb's years of experience as a practicing physician as well as his work in government and business affairs was a great resource to our clients. Special thanks to Bill Hart and the Worldwide Speakers Group for helping to arrange the call with Dr. Gottlieb and ensuring a very smooth process!
M. A. Margolis, R.Ph., Co-Head of Healthcare at Oppenheimer & Co. Inc.
Our engagement with Dr. Gottlieb went VERY well. The feedback I received from every single participant was overwhelmingly positive. They loved the format, and more importantly they found the content and Scott's perspective to be tremendously insightful. We'll certainly keep Scott in mind for future events.
D. Aballi, Regional Vice President at Palo Alto Networks
A de facto voice of reason in health care.
World Health Care Congress
We were extremely pleased with yesterday's session. It was informative and engaging. The forty minute conversation went fast... We are in awe of [Dr. Gottlieb's] abilities!
Managing Director at BMO
Speaker News
Check Availability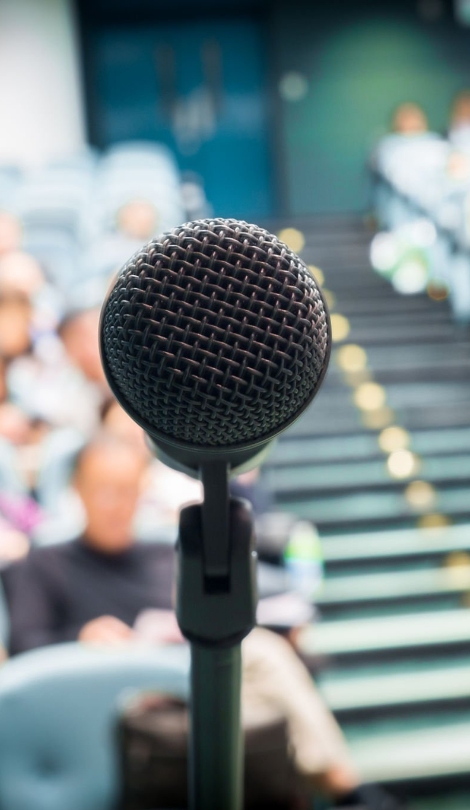 Other Speakers You May Like