Speech Topics
Renowned virologist Dr. Redfield lends his experience as a career Army physician and one of the military's chief AIDS researchers to this powerful speech describing the characteristics of the HIV/AIDS virus and the scientific research leading to a cure. Dr. Redfield brought the initial initiative for treatment and prevention to President George W. Bush while serving as a member of the President's Advisory Council on HIV/AIDS from 2005 to 2009, armed with the knowledge and belief that future transmission of the virus could be controlled and eliminated with the necessary commitment of efforts and resources. In this presentation, Dr. Redfield illustrates and exemplifies the ways forward-thinking leadership with science-based knowledge can change the world.
Dr. Redfield has uniquely experienced three surprising and scientifically complex global epidemics during his career: Ebola, HIV/AIDS, and COVID-19. As an esteemed virologist and former Director of the Centers for Disease Control and Prevention, Dr. Redfield shares his unique perspective through the lens of someone who has played a significant role in finding, studying, and publishing the many scientific discoveries and medical advancements that have come about during his career. In this dynamic speech, Dr. Redfield shares his passions for teaching the body to heal itself resulting in self-limited chronic viruses. Antibiotic resistance and development of antigens are also discussed, in addition to the psyche behind the public dilemma of vaccine-hesitation versus confidence.
Dr. Redfield addresses the future of global health security in this thought-provoking speech. It's no secret to the U.S. public that the nation's response to the Covid-19 global pandemic had both successes and major flaws. Dr. Redfield recounts from his experience directing the Centers for Disease Control and Prevention to investigate the topics of domestic preparedness and public health. Specifically, Dr. Redfield talks about how and why the nation was underprepared to control Coronavirus, including surprising and little-known intricacies of the problem. In this presentation, Redfield also shares his predictions for the future of public safety and the means by which we will all need to adapt.
Politics, Science, and Ethics: A Conversation With Joe Grogan and Dr. Robert Redfield 
Few debates have roiled Washington, D.C. more in recent years than arguments about the role of politics in scientific pursuit and communication. Recent revelations about human genetics experiments and Gain-of-Function research paid for with U.S. taxpayer dollars and occurring all over the world have cracked open deep questions about the ethics of some scientific pursuits. How should scientists consider ethics and morality in what they choose to pursue? How should Congress and policy makers set scientific priorities about what should be funded? Should all scientific knowledge be published for public consumption or is it sometimes appropriate to conceal knowledge for the public good?
In this discussion, Joe Grogan sits down with Robert Redfield to discuss Dr. Redfield's former research efforts as an active-duty US Army officer, co-founding the University of Maryland Institute of Human Virology, and his experience as Director of CDC. They discuss how Congress funds health research, how the executive branch sets research priority, and why both policymakers and the public need to debate and scrutinize these efforts more closely.
"I didn't understand drug use disorder until it entered my immediate family." –Dr. Robert Redfield
In this moving and informative presentation, Dr. Redfield uses personal anecdotes to illustrate the harms of stigma towards drug use disorders on society, while sharing his uplifting knowledge of the science that will make a cure possible in the near future. Dr. Redfield addresses how the effect of silence as a component to drug use disorder stigma has a great effect on public health as a whole, affecting our capacity to effectively communicate and educate. Redfield assures audiences that with science, there will be a cure.
Biography
Dr. Robert R. Redfield is an American virologist and infectious disease physician who most recently served as Director of Centers for Disease Control and Prevention, advising the nation during one of the most tumultuous and fast-paced scientific discovery environments of our time, the Covid-19 pandemic.
Dr. Redfield has experienced three vastly unique, surprising, and scientifically complex global epidemics during his career: Ebola, HIV/AIDS, and COVID-19. As such, he holds the unique perspective of someone who has played a significant role in finding, studying, and publishing some of the most important scientific discoveries and medical advancements in modern history. Redfield is passionate about teaching the body to heal itself resulting in self-limited chronic viruses.
While Director of CDC, Redfield's accomplishments included advancing the presidential initiative to end HIV transmission by 2030, successfully responding to three Ebola epidemics, developing a new program to confront the nation's expanding drug use disorder, identifying and responding to Acute Flaccid Myelitis, developing programs to address growing nicotine addiction in children and adolescents, and of course leading CDC's COVID-19 response.
In 2022, Dr. Redfield cofounded Prevention, Diagnosis, Treatment Inc. (PDTi) with Dr. Yichen Lu, Ph.D. PDTi is a U.S. based global health company specializing in vaccines, antivirals, and other innovative preventative treatment technology. PDTi aims to bring COVID and various other vaccines to millions of people in need around the world and to provide access to new generations of approved vaccines that are safer, more effective, and longer-lasting.
"We always enjoy working with WWSG, and we thank you and your team for your diligence, thoroughness, and professionalism. Planning is already underway for next year's event (no rest for the weary). We hope to have every opportunity to work with you again in the near future."
David R. Cape, EVP of Business Development at Texas American Resources Company
"The consistent professionalism and quality for the way Worldwide Speakers Group handles events shows that they think of each detail and every contingency beforehand."
Newt Gingrich, Distinguished Leader, Visionary, & Political Vanguard; 2012 Republican Presidential Candidate; Speaker of the U.S. House of Representatives (1995-1999); Best-Selling Author
"All timing and logistics were seamless, and the client was super engaged and thankful. I'm happy to report that we have another WIN for WWSG! Let's build on the momentum together!"
Josh Linkner, Five-Time Tech Entrepreneur, Hyper-Growth CEO, Two-Time NY Times Bestselling Author, Venture Capitalist, and Keynote Speaker
"I hope to work again and again with Worldwide Speakers Group on the selection of our keynote and endnote speakers for our annual conference and other events. Our representative and her associate were terrific from my first communication to them until our speaking-event concluded... It is easy to see why many of the top speakers in the country work with Worldwide Speakers Group."
Gina Cohen, Chief Marketing Officer & Vice President of Communications for The National Recreation and Park Association
"After 20 years in the lecture series business, WWSG has become a valued partner. We produce over 24 speaking events a year and have worked with dozens of agencies. We appreciate WWSG's unparalleled professionalism, integrity, and creativity in suggesting speakers that are unique to the speaker circuit."
Sue Swan, Co-Founder of The Distinguished Speaker Series of Southern California
"They provide us well-prepared and informed speakers who understand our expectations and unique format. With WWSG, we know that the speaker fees are fair and trust that the event will be a success."
Sue Swan, Co-Founder of The Distinguished Speaker Series of Southern California
"The WWSG team are super responsive and flexible. I will definitely work with them again to find speakers for my next event."
Delia Setiawan, Ernst & Young LLP
"Thanks again for all your help. Your entire team there is truly stellar."
Vice President of Communications; American Property Casualty Insurance Association
"Everything was buttoned up, from the initial outreach to the event execution and post follow-up. I have a great team of representatives from WWSG to work with, first class experience."
Raylene Wetzel, American Century Investments
"The team at WWSG is certainly at the top of the scale. Building a long-term relationship with the client has really set WWSG apart and we clearly saw that with our partnership. WWSG found creative ways to build the partnership which results in a win-win for all."
Erik Qualman, Top Technology and Motivational Speaker, #1 Bestselling Author & Futurist
Speaker News
Check Availability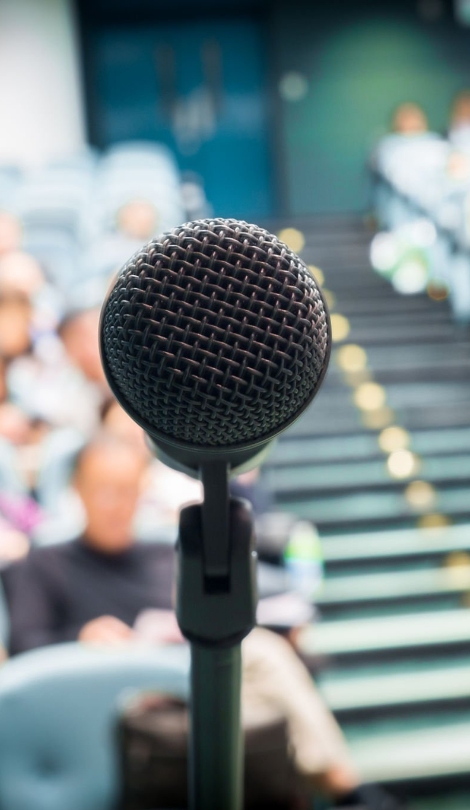 Other Speakers You May Like