Speech Topics
The world is changing fast. Demographic shifts are turning everything we know about the global economy on its ear, while shale energy is undoing decades of dependencies. The immutable rules of geography are breaking down our longstanding global free trade system. And it is all happening at the same time. What will this new world look like, exactly? With a mix of analysis and wit, Zeihan maps out the future from any number of viewpoints — government, corporate, financial, domestic and foreign — so audiences can make plans for a now more understandable future.

Five recessions in nine years. A litany of debt debacles. Ossified institutions incapable of change. Rising populism. Refugee floods. Russians growling at the border. And that's the good news. Despite a decade of crisis none of Europe's problems have had their root causes addressed, and now time is simply up. Everything that makes modern, wealthy, cosmopolitan, democratic Europe possible is breaking apart, and the Europeans are about to lose far more than "merely" a decade. Discover what makes Europe tick, what is tearing it down, and most of all, what is next.
Three pillars support modern China's success: global trade, internal political unity, and easy money. With those three pillars, China has managed to shake 2000 years of war and occupation and remake itself as one of the world's most powerful countries. Yet none of these three pillars can stand without American assistance, and that cooperation is ending. China's "inevitable" rise isn't simply over, it is about to go into screeching, unrelenting, dismembering reverse. But that's hardly the end of history. When a country falls — particularly the world's top manufacturing power — the ripples affect countries and industries near and far. Learn who benefits and who loses in a world without China.
Geopolitics is the study of how place impacts people — whether that impact be cultural, military, economic, political…or financial. Everything from how banks lend to how stocks are traded is heavily colored by where one lives, and understanding the unspoken — and often unacknowledged — rules of the game can prove critical to financial success. Zeihan explains how geography impacts the various regions differently, how this elevates some sectors while enervating others, and what sort of surprises — both good and bad — are about to burst onto the stage.
Biography
Peter Zeihan is a geopolitical strategist, which is a fancy way of saying he helps people understand how the world works. Peter combines an expert understanding of demography, economics, energy, politics, technology, and security to help clients best prepare for an uncertain future.
Over the course of his career, Peter has worked for the US State Department in Australia, the DC think tank community, and helped develop the analytical models for Stratfor, one of the world's premier private intelligence companies. Peter founded his own firm — Zeihan on Geopolitics — in 2012 in order to provide a select group of clients with direct, custom analytical products. Today those clients represent a vast array of sectors including energy majors, financial institutions, business associations, agricultural interests, universities and the U.S. military.
With a keen eye toward what will drive tomorrow's headlines, his irreverent approach transforms topics that are normally dense and heavy into accessible, relevant takeaways for audiences of all types.
Peter is a critically-acclaimed author whose first two books — The Accidental Superpower and The Absent Superpower — have been recommended by Mitt Romney, Fareed Zakaria and Ian Bremmer. His forthcoming third title, Disunited Nations: The Scramble for Power in an Ungoverned World is now available.
All timing and logistics were seamless, and the client was super engaged and thankful. I'm happy to report that we have another WIN for WWSG! Let's build on the momentum together!
Josh Linkner, Five-Time Tech Entrepreneur, Hyper-Growth CEO, Two-Time NY Times Bestselling Author, Venture Capitalist, and Keynote Speaker
The consistent professionalism and quality for the way Worldwide Speakers Group handles events shows that they think of each detail and every contingency beforehand.
Newt Gingrich, Distinguished Leader, Visionary, & Political Vanguard; 2012 Republican Presidential Candidate; Speaker of the U.S. House of Representatives (1995-1999); Best-Selling Author
They provide us well-prepared and informed speakers who understand our expectations and unique format. With WWSG, we know that the speaker fees are fair and trust that the event will be a success.
Sue Swan, Co-Founder of The Distinguished Speaker Series of Southern California
The team at WWSG is certainly at the top of the scale. Building a long-term relationship with the client has really set WWSG apart and we clearly saw that with our partnership. WWSG found creative ways to build the partnership which results in a win-win for all.
Erik Qualman, Top Technology and Motivational Speaker, #1 Bestselling Author & Futurist
Thanks again for all your help. Your entire team there is truly stellar.
Vice President of Communications; American Property Casualty Insurance Association
"After 20 years in the lecture series business, WWSG has become a valued partner. We produce over 24 speaking events a year and have worked with dozens of agencies. We appreciate WWSG's unparalleled professionalism, integrity, and creativity in suggesting speakers that are unique to the speaker circuit."
Sue Swan, Co-Founder of The Distinguished Speaker Series of Southern California
The WWSG team are super responsive and flexible. I will definitely work with them again to find speakers for my next event.
Delia Setiawan, Ernst & Young LLP
Everything was buttoned up, from the initial outreach to the event execution and post follow-up. I have a great team of representatives from WWSG to work with, first class experience.
Raylene Wetzel, American Century Investments
I hope to work again and again with Worldwide Speakers Group on the selection of our keynote and endnote speakers for our annual conference and other events. Our representative and her associate were terrific from my first communication to them until our speaking-event concluded... It is easy to see why many of the top speakers in the country work with Worldwide Speakers Group.
Gina Cohen, Chief Marketing Officer & Vice President of Communications for The National Recreation and Park Association
We always enjoy working with WWSG, and we thank you and your team for your diligence, thoroughness, and professionalism. Planning is already underway for next year's event (no rest for the weary). We hope to have every opportunity to work with you again in the near future.
David R. Cape, EVP of Business Development at Texas American Resources Company
Speaker News
Check Availability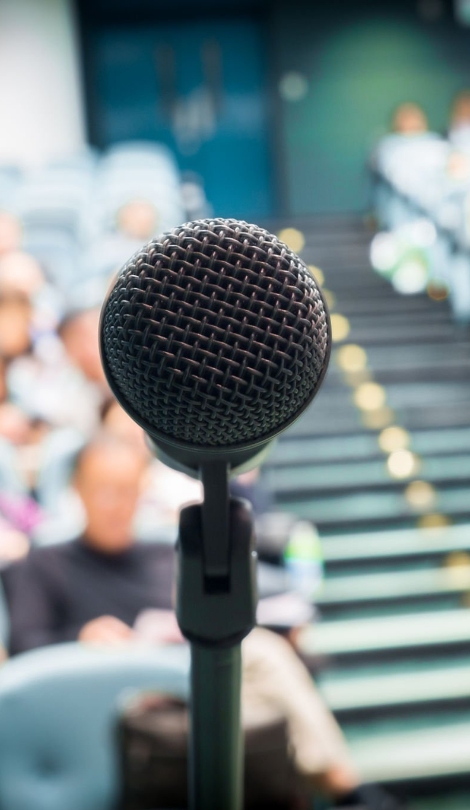 Other Speakers You May Like