Speech Topics
Dr. Ballard shares his conclusions of his numerous expeditions to search for, locate and document sites of historical significance and the emerging science of deep water archeology.
Dr. Ballard shares his incredible story of the significant discovery of the Titanic, the advanced technology he used for this world famous expedition, and what's ahead for the future in deep sea exploration.
Dr. Ballard speaks about how he has turned his dreams into reality by taking risks and learning how to face failure and turn it into success.
Biography
World-famous for his discovery of the Titanic and the Bismark, Robert Ballard is the man who made some of the most startling undersea discoveries. Ballard leads audiences on a journey to plumb some of history's greatest mysteries. His adventurous spirit is matched by a practical and hugely successful approach to goal setting, team building and execution. The skills that led to his headline-grabbing accomplishments are the same skills that now lead people from all walks of life toward a realization of their dreams.
A renowned scientist and explorer, he is the author of 16 books, most recently Collision with History: The Search for John F. Kennedy's PT 109. Currently, Ballard has turned his sights on ancient history, with the discovery of the largest concentration of ancient Roman ships ever found under the sea. He offers audiences a unique point of view with stories from his extraordinary experience as a scientist and explorer.
Speaker Resources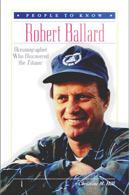 Check Availability