Speech Topics
Our oceans make up 70% of our planet—yet 95% of them remain unexplored. Victor Vescovo made up his mind to change that by building a system that could map and explore the deepest point in each of the world's five oceans—a titanium-based submarine, the Limiting Factor. In virtually every deep dive, he and his team have discovered new species and taken samples of places that have been isolated for millions of years. He recently became the first person to visit "The Five Deeps"—the deepest points in all five of the world's oceans—but there's no sign he's stopping there.
In this thrilling talk, Victor shares the invention of incredible technology that enables his dives, the things he has seen that no other person has ever laid eyes on, and the possibilities the oceans hold for our future. Most importantly, he reveals his motivation behind this continued exploration—what keeps him diving and discovering, again and again. "I come from a philosophy that says we're put here not just to survive, or even just to be comfortable—but to contribute in some way," he says. "And the path I chose was to have some adventure whilst also doing something that could move us forward as a species." This is an extraordinary talk from an extraordinary man; an opportunity for your audience to connect with someone who has pushed the limits of technology, accepted the risks of self-piloting his own creation, and accelerated a journey to more deeply understand our planet in a profound and meaningful way.
Biography
Victor is the first person to ever explore the deepest points in all five of the world's oceans. This is truly groundbreaking—more people have walked on the surface of the moon than have been to the bottom of even a single ocean. Victor's incredible talks reveal the challenges of designing and building the most advanced deep-diving submersible in history and share never-before-seen images from the ocean floor. He shares the complications and victories of diving to the deepest parts of the world, and what we can all learn from the 95% of our oceans that have yet to be explored.
Victor Vescovo leads a fascinating life. Currently the co-founder of Insight Equity, Victor has held many high-profile positions in the finance industry and holds degrees from Harvard, MIT, and Stanford—but he also served 20 years in the U.S. Navy Reserve as an intelligence officer, retiring in 2013 as a Commander (O-5). His principal duties involved operational targeting (Iraq, Kosovo, and Afghanistan theatres) and after 9/11 he was deployed to support counter-terrorism efforts overseas.
In 2017, Victor became the 12th American to complete the "Explorer's Grand Slam" which requires climbing the highest peak on all seven of the world's continents including Mt. Everest and skiing at least 100 kilometers to both the North and South Poles. In 2019, he made the deepest submarine dive in history in the Pacific's Mariana Trench, was the first person to do it multiple times, and in August became the first person to visit "The Five Deeps"— the deepest points in all five of the world's oceans. Victor was also the first person to dive the second- and third-deepest points on the ocean's floor, the Sirena and Horizon Deeps, and made the first solo dive to the Titanic. He is also rated as a multi-engine jet, helicopter, and submersible test pilot.
All timing and logistics were seamless, and the client was super engaged and thankful. I'm happy to report that we have another WIN for WWSG! Let's build on the momentum together!
Josh Linkner, Five-Time Tech Entrepreneur, Hyper-Growth CEO, Two-Time NY Times Bestselling Author, Venture Capitalist, and Keynote Speaker
I hope to work again and again with Worldwide Speakers Group on the selection of our keynote and endnote speakers for our annual conference and other events. Our representative and her associate were terrific from my first communication to them until our speaking-event concluded... It is easy to see why many of the top speakers in the country work with Worldwide Speakers Group.
Gina Cohen, Chief Marketing Officer & Vice President of Communications for The National Recreation and Park Association
The consistent professionalism and quality for the way Worldwide Speakers Group handles events shows that they think of each detail and every contingency beforehand.
Newt Gingrich, Distinguished Leader, Visionary, & Political Vanguard; 2012 Republican Presidential Candidate; Speaker of the U.S. House of Representatives (1995-1999); Best-Selling Author
They provide us well-prepared and informed speakers who understand our expectations and unique format. With WWSG, we know that the speaker fees are fair and trust that the event will be a success.
Sue Swan, Co-Founder of The Distinguished Speaker Series of Southern California
We always enjoy working with WWSG, and we thank you and your team for your diligence, thoroughness, and professionalism. Planning is already underway for next year's event (no rest for the weary). We hope to have every opportunity to work with you again in the near future.
David R. Cape, EVP of Business Development at Texas American Resources Company
"After 20 years in the lecture series business, WWSG has become a valued partner. We produce over 24 speaking events a year and have worked with dozens of agencies. We appreciate WWSG's unparalleled professionalism, integrity, and creativity in suggesting speakers that are unique to the speaker circuit."
Sue Swan, Co-Founder of The Distinguished Speaker Series of Southern California
Thanks again for all your help. Your entire team there is truly stellar.
Vice President of Communications; American Property Casualty Insurance Association
Everything was buttoned up, from the initial outreach to the event execution and post follow-up. I have a great team of representatives from WWSG to work with, first class experience.
Raylene Wetzel, American Century Investments
The team at WWSG is certainly at the top of the scale. Building a long-term relationship with the client has really set WWSG apart and we clearly saw that with our partnership. WWSG found creative ways to build the partnership which results in a win-win for all.
Erik Qualman, Top Technology and Motivational Speaker, #1 Bestselling Author & Futurist
The WWSG team are super responsive and flexible. I will definitely work with them again to find speakers for my next event.
Delia Setiawan, Ernst & Young LLP
Speaker News
Check Availability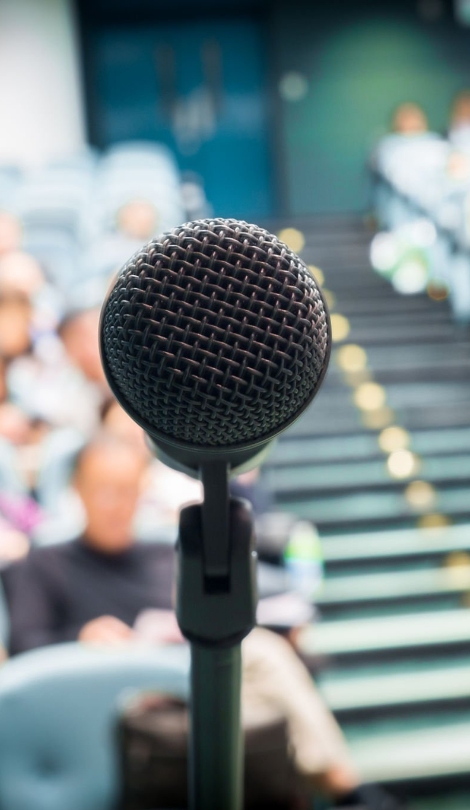 Other Speakers You May Like