Biography
Alex Honnold is a professional rock climber whose audacious free-solo ascents of America's biggest cliffs have made him one of the most recognized and followed climbers in the world. A gifted but hard-working athlete, Honnold is distinguished for his uncanny ability to control his fear while scaling cliffs of dizzyingly heights without a rope to protect him if he falls. His humble, self-effacing attitude toward such extreme risk has earned him the nickname Alex "No Big Deal" Honnold.
This Sacramento, California-native's most celebrated achievements include the first and only free-solos of the Moonlight Buttress (5.12d, 1,200 feet) in Zion National Park, Utah, and the Northwest Face (5.12a) of Half Dome (2,200 feet), Yosemite, California. In 2012 he achieved Yosemite's first "Triple Solo": climbing, in succession, the National Park's three largest faces—Mt. Watkins, Half Dome and El Capitan—alone, and in under 24 hours. In 2017 Alex completed the first and only free-solo of El Capitan's "Freerider" route (5.13a, 3,000 feet), a historic accomplishment which has been hailed by many as one of the greatest sporting achievements of our time. The story of this feat was told in the Academy Award winning documentary, FREE SOLO. Whether climbing with a rope or without, Honnold believes climbing is a fantastic vehicle for adventure, an opportunity to seek out those high-test moments with uncertain outcomes in which you're forced to push through to survive.
Though Honnold often downplays his achievements, his rope-less climbs have attracted the attention of broad and stunned audience. He has been profiled by 60 Minutes and the New York Times, featured on the cover of National Geographic, appeared in international television commercials and starred in numerous adventure films including the Emmy-nominated "Alone on the Wall." He is the founder of the Honnold Foundation, an environmental non-profit.
We always enjoy working with WWSG, and we thank you and your team for your diligence, thoroughness, and professionalism. Planning is already underway for next year's event (no rest for the weary). We hope to have every opportunity to work with you again in the near future.
David R. Cape, EVP of Business Development at Texas American Resources Company
"After 20 years in the lecture series business, WWSG has become a valued partner. We produce over 24 speaking events a year and have worked with dozens of agencies. We appreciate WWSG's unparalleled professionalism, integrity, and creativity in suggesting speakers that are unique to the speaker circuit."
Sue Swan, Co-Founder of The Distinguished Speaker Series of Southern California
They provide us well-prepared and informed speakers who understand our expectations and unique format. With WWSG, we know that the speaker fees are fair and trust that the event will be a success.
Sue Swan, Co-Founder of The Distinguished Speaker Series of Southern California
Everything was buttoned up, from the initial outreach to the event execution and post follow-up. I have a great team of representatives from WWSG to work with, first class experience.
Raylene Wetzel, American Century Investments
The consistent professionalism and quality for the way Worldwide Speakers Group handles events shows that they think of each detail and every contingency beforehand.
Newt Gingrich, Distinguished Leader, Visionary, & Political Vanguard; 2012 Republican Presidential Candidate; Speaker of the U.S. House of Representatives (1995-1999); Best-Selling Author
All timing and logistics were seamless, and the client was super engaged and thankful. I'm happy to report that we have another WIN for WWSG! Let's build on the momentum together!
Josh Linkner, Five-Time Tech Entrepreneur, Hyper-Growth CEO, Two-Time NY Times Bestselling Author, Venture Capitalist, and Keynote Speaker
I hope to work again and again with Worldwide Speakers Group on the selection of our keynote and endnote speakers for our annual conference and other events. Our representative and her associate were terrific from my first communication to them until our speaking-event concluded... It is easy to see why many of the top speakers in the country work with Worldwide Speakers Group.
Gina Cohen, Chief Marketing Officer & Vice President of Communications for The National Recreation and Park Association
The team at WWSG is certainly at the top of the scale. Building a long-term relationship with the client has really set WWSG apart and we clearly saw that with our partnership. WWSG found creative ways to build the partnership which results in a win-win for all.
Erik Qualman, Top Technology and Motivational Speaker, #1 Bestselling Author & Futurist
The WWSG team are super responsive and flexible. I will definitely work with them again to find speakers for my next event.
Delia Setiawan, Ernst & Young LLP
Thanks again for all your help. Your entire team there is truly stellar.
Vice President of Communications; American Property Casualty Insurance Association
Speaker News
Check Availability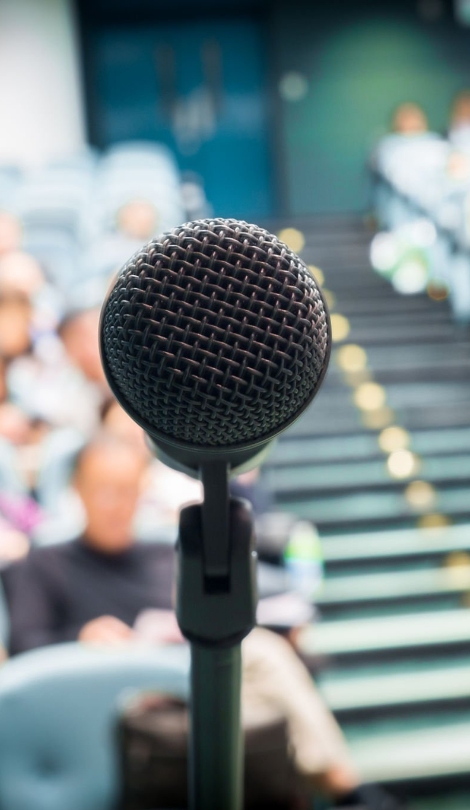 Other Speakers You May Like