Speech Topics
Michelle's humorous, refreshing and inspiring speaking style has been captivating audiences across the globe. With authentic storytelling, engaging visuals and her 100 Days Without Fear experience, Michelle will show you how to challenge your comfort zone to tap into your full potential.
In this fun and energizing session, you will learn about:
• Dealing with the unknown / embracing  change
• Seeking GROWTH over SAFETY
• Leading with accountability
• Daring to fail
• The difference between FEARLESS leaders and BRAVE leaders
• Highlighting our authenticity
• The REAL enemy of success (not failure)
• The difference between universal, cultural and personal fears
• How to trigger our Behavioral Activation System
• Redefining fear, from obstacle to opportunity
Michelle uncovered that our needs not only motivate us, but they also limit us. By learning how to prioritize and negotiate with our needs, we open a world of opportunities.
"Tapping into the white space" is an industry term often used in advertising and branding. The white space is the future waiting to take shape. It's untapped territory. It's what no one else is doing—either because they're too worried about fitting in, or because they'd rather play it safe and stick to what's proven. New territories call for courage and authenticity. But marketers aren't the only ones who can tap into the white space – anyone can.  Michelle takes audiences on an eye-opening journey to discover their own authenticity and how to use their gifts to drive innovation, for themselves and their organizations. Using real-world examples from her own adventure as a branding strategist turned successful speaker, author, and entrepreneur, she shows us all that you don't necessarily need to face 100 fears, in order to become more pioneering. Attendees will walk away with several aha moments, renewed confidence in their personal creativity, and a blueprint to infuse more innovation into their work and lives.
Learning Objectives:
• Look beyond the obvious to find "white spaces" and areas for growth
• Understand what makes you remarkable to clarify the values and tone of your personal brand
• Align how you feel with how your act to strengthen authenticity
• Contrast instead of comparing yourself to others or the status quo
• Use storytelling to authentically communicate your message
"Throw dirt at me and watch me bloom." — Frida Kahlo
Just like flowers grow through dirt, humans grow through challenges. But growth is a choice. We can choose to water ourselves and bloom, or become the victims of our story and dry out. In this talk, Michelle will inspire your audience to:
• Embrace and even welcome change
• Turn obstacles into opportunities
• Go from anxiety to action
• Find purpose in the midst of chaos
• Rewrite their story and become their own hero
Through personal storytelling, insightful exercises, and actionable tools, Michelle will lead your audience on a journey through resilience and re-invention, that will change their mindset and build their confidence to land stronger on the other side of this health and economic crisis we're all living through.
Biography
Michelle Poler is a creative and passionate social entrepreneur, keynote speaker, fear facer, branding strategist and author of Hello, Fears: Crush Your Comfort Zone and Become Who You're Meant to Be.
She is the Founder of Hello Fears, a social movement empowering millions to step outside of the comfort zone and tap into their full potential. She has spoken at TEDx, Google, P&G, Facebook, ESPN, Netflix, Microsoft, Toyota, and many more.
Michelle is also the creator of the project 100 Days Without Fear. Her work has been featured on CBS, CNN, Huffington Post, Buzzfeed, NBC, and Daily Mail among many others.
Early on in her career, she worked as an Art Director at Young & Rubicam for brands such as Hershey's, Wendy's, AT&T, and Revlon. Michelle is originally from Venezuela and she holds a Masters in Branding from the School of Visual Arts in New York City.
"Everything was buttoned up, from the initial outreach to the event execution and post follow-up. I have a great team of representatives from WWSG to work with, first class experience."
Raylene Wetzel, American Century Investments
"The team at WWSG is certainly at the top of the scale. Building a long-term relationship with the client has really set WWSG apart and we clearly saw that with our partnership. WWSG found creative ways to build the partnership which results in a win-win for all."
Erik Qualman, Top Technology and Motivational Speaker, #1 Bestselling Author & Futurist
"All timing and logistics were seamless, and the client was super engaged and thankful. I'm happy to report that we have another WIN for WWSG! Let's build on the momentum together!"
Josh Linkner, Five-Time Tech Entrepreneur, Hyper-Growth CEO, Two-Time NY Times Bestselling Author, Venture Capitalist, and Keynote Speaker
"The consistent professionalism and quality for the way Worldwide Speakers Group handles events shows that they think of each detail and every contingency beforehand."
Newt Gingrich, Distinguished Leader, Visionary, & Political Vanguard; 2012 Republican Presidential Candidate; Speaker of the U.S. House of Representatives (1995-1999); Best-Selling Author
"After 20 years in the lecture series business, WWSG has become a valued partner. We produce over 24 speaking events a year and have worked with dozens of agencies. We appreciate WWSG's unparalleled professionalism, integrity, and creativity in suggesting speakers that are unique to the speaker circuit."
Sue Swan, Co-Founder of The Distinguished Speaker Series of Southern California
"They provide us well-prepared and informed speakers who understand our expectations and unique format. With WWSG, we know that the speaker fees are fair and trust that the event will be a success."
Sue Swan, Co-Founder of The Distinguished Speaker Series of Southern California
"We always enjoy working with WWSG, and we thank you and your team for your diligence, thoroughness, and professionalism. Planning is already underway for next year's event (no rest for the weary). We hope to have every opportunity to work with you again in the near future."
David R. Cape, EVP of Business Development at Texas American Resources Company
"The WWSG team are super responsive and flexible. I will definitely work with them again to find speakers for my next event."
Delia Setiawan, Ernst & Young LLP
"Thanks again for all your help. Your entire team there is truly stellar."
Vice President of Communications; American Property Casualty Insurance Association
"I hope to work again and again with Worldwide Speakers Group on the selection of our keynote and endnote speakers for our annual conference and other events. Our representative and her associate were terrific from my first communication to them until our speaking-event concluded... It is easy to see why many of the top speakers in the country work with Worldwide Speakers Group."
Gina Cohen, Chief Marketing Officer & Vice President of Communications for The National Recreation and Park Association
Check Availability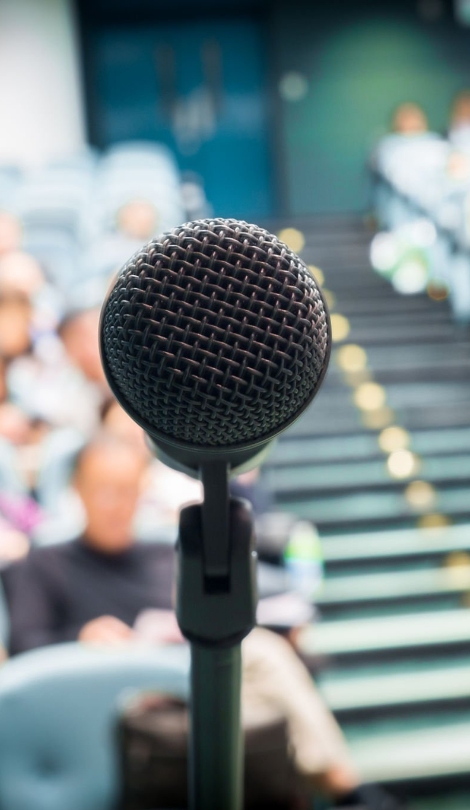 Other Speakers You May Like