Speech Topics
Her economics and finance background along with years of working at CNBC give Carolin an ample source of knowledge when it comes to assessing economic events, business trends and learnings from economic and financial shocks, such as the Great Financial Crisis or the European Debt Crisis or the COVID 19 crisis.
The need for decarbonisation is universally accepted – though every country and sector is moving at different speeds. Carolin has interviewed politicians, business leaders and activists on what it is needed to rein in the effects of climate change.
Bitcoin, Big data, Cloud, Artificial Intelligence, Augmented Reality, 3D printing, digitalisation up-scaling – these trends are changing the way we live, invest and work. They have been key topics of interviews and panels Carolin has moderated over the years.
Through her years of covering the European pharmaceutical sector, Carolin has deep insight and understanding of the trends in this area. She hasclosely followed the COVID 19 crisis and global race towards a vaccine.
Having grown up in Germany, Carolin's understanding of historical events has been shaped by the country's recent past involving the reunification of the West and the East. She has covered a wide section of geopolitical events, including Russia's annexation of Crimea, the implications of the Trump presidency, the US-China trade war, Brexit, and German elections amid a rise of populist support.
Biography
Carolin Roth has 13 years of experience of Live TV as an international finance and business journalist at CNBC International. Fluent in both German and English, she has been with CNBC since 2007, reporting on air full-time since 2009 and is now a freelance presenter. Carolin has hosted all of CNBC International's flagship shows, including Worldwide Exchange, European Closing Bell, and co-anchored Squawk Box (Europe) from CNBC's London studios, and contributed to CNBC and MSNBC programming in the US on a regular basis. Covering breaking news and getting instant analysis from top guests is where she feels at home, while she also thoroughly enjoys and excels at in depth discussions on bigger topics, ranging from innovations in technology and how they shape the future to politics and beyond.
During her time in London, Carolin also moderated CNBC's "Marketing|Media|Money", a series that navigates the global advertising industry through the eyes of the senior marketers, as well as CNBC's "Business Class", a start-up show focusing on innovative business ideas. She also contributed to the channel's technology-minded show called "The Edge".
Carolin has covered key events for CNBC including the World Economic Forum, G7 summits, the European financial crisis out of Zurich and Frankfurt, the European debt crisis live out of Greece, Italy, Spain, Hungary, and Cyprus. She has also been at the forefront of political events as a reporter on the ground for several key elections, such as the German, UK, French, Greek and Dutch elections.
Additionally, Carolin has covered important trade shows, such as the Geneva Motor Show, OPEC meetings in Vienna, and attended the Advertising Festival in Cannes for CNBC International.
Carolin is an experienced conference moderator, covering topics from finance, economics, leadership, technological innovations, biotech and pharma, politics, climate, and energy for international clients. She feels most comfortable in an engaging, witty, informative discussion and never ceases to be curious.
Carolin has also contributed to leading political talk shows in Germany and written for German and English speaking publications. Carolin gained experience in the financial sector in Germany and the US before completing her master's degree in Banking and Finance from the University of Zurich. She has been named as one of the top 100 women in Switzerland.
She resides in Southern Germany with her husband and 3 kids. She enjoys skiing, tennis and watching sports.
"All timing and logistics were seamless, and the client was super engaged and thankful. I'm happy to report that we have another WIN for WWSG! Let's build on the momentum together!"
Josh Linkner, Five-Time Tech Entrepreneur, Hyper-Growth CEO, Two-Time NY Times Bestselling Author, Venture Capitalist, and Keynote Speaker
"We always enjoy working with WWSG, and we thank you and your team for your diligence, thoroughness, and professionalism. Planning is already underway for next year's event (no rest for the weary). We hope to have every opportunity to work with you again in the near future."
David R. Cape, EVP of Business Development at Texas American Resources Company
"They provide us well-prepared and informed speakers who understand our expectations and unique format. With WWSG, we know that the speaker fees are fair and trust that the event will be a success."
Sue Swan, Co-Founder of The Distinguished Speaker Series of Southern California
"After 20 years in the lecture series business, WWSG has become a valued partner. We produce over 24 speaking events a year and have worked with dozens of agencies. We appreciate WWSG's unparalleled professionalism, integrity, and creativity in suggesting speakers that are unique to the speaker circuit."
Sue Swan, Co-Founder of The Distinguished Speaker Series of Southern California
"The consistent professionalism and quality for the way Worldwide Speakers Group handles events shows that they think of each detail and every contingency beforehand."
Newt Gingrich, Distinguished Leader, Visionary, & Political Vanguard; 2012 Republican Presidential Candidate; Speaker of the U.S. House of Representatives (1995-1999); Best-Selling Author
"The WWSG team are super responsive and flexible. I will definitely work with them again to find speakers for my next event."
Delia Setiawan, Ernst & Young LLP
"I hope to work again and again with Worldwide Speakers Group on the selection of our keynote and endnote speakers for our annual conference and other events. Our representative and her associate were terrific from my first communication to them until our speaking-event concluded... It is easy to see why many of the top speakers in the country work with Worldwide Speakers Group."
Gina Cohen, Chief Marketing Officer & Vice President of Communications for The National Recreation and Park Association
"Everything was buttoned up, from the initial outreach to the event execution and post follow-up. I have a great team of representatives from WWSG to work with, first class experience."
Raylene Wetzel, American Century Investments
"Thanks again for all your help. Your entire team there is truly stellar."
Vice President of Communications; American Property Casualty Insurance Association
"The team at WWSG is certainly at the top of the scale. Building a long-term relationship with the client has really set WWSG apart and we clearly saw that with our partnership. WWSG found creative ways to build the partnership which results in a win-win for all."
Erik Qualman, Top Technology and Motivational Speaker, #1 Bestselling Author & Futurist
Check Availability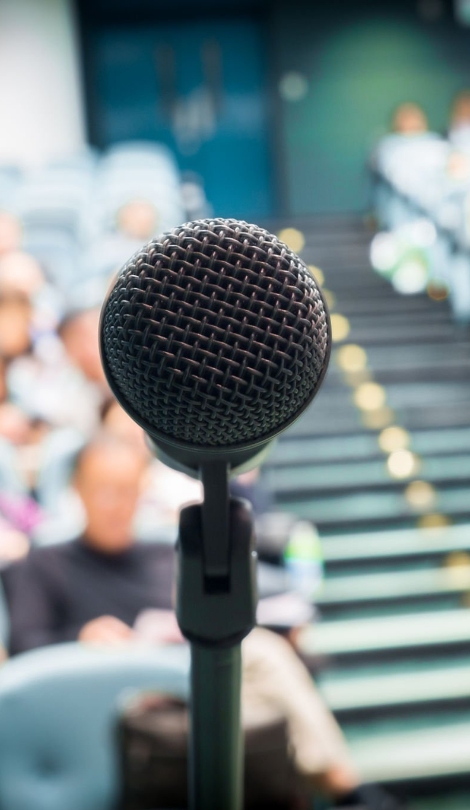 Other Speakers You May Like