Speech Topics
Governor Hogan argues that most Americans are fed up with the toxic, divisive politics-as-usual. Serving as a Republican in the deep blue state of Maryland, he built a legacy of leading with civility and working across party lines to deliver bipartisan, common-sense results. As Chairman of An America United, Hogan is determined to remind the exhausted majority that there truly is much more that unites us than divides us. This powerful message leaves audiences with a sense of relief, gratitude, and hope for the future.
With over 70% approval in every demographic, Governor Hogan left office as one of the most popular governors in America and the most popular governor in Maryland history. He was the second Republican to be reelected to a second term in almost 200 years of Maryland's history. In the bluest state of America, Governor Hogan won historic levels of the Black and Hispanic vote.
This conceptual address reaches a variety of industries and applications, just as Governor Hogan reaches across the aisle to propel his ideas and win successes.
"Mr. Hogan, a republican in a democrat-loving state wields a hammer of common sense amid a map of political avengers." ­–The Washington Times
Governor Hogan has a long track record of successfully leading through crises. In 2015, he led Maryland as the worst riots in 47 years broke out in the streets of Baltimore, restoring law and order while walking the streets and calming tensions. After he received a personal crisis with an aggressive cancer diagnosis, Governor Hogan led the state from his hospital bed.
In 2020, Governor Hogan was chair of the National Governors Association when the COVID pandemic struck. He was the voice of the governors throughout the crisis and led hundreds of calls with the President, Vice President, and nation's governors. In Maryland, he was widely praised for his crisis leadership and balance of lives and livelihoods.
As such, Governor Hogan has the practical experience to offer advice on navigating crises large and small. Responding to your organizational or institutional needs, Governor Hogan advises on the importance of a well-formulated communications plan and provides other key takeaways for audiences.
"One of the nation's model crisis leaders." –The Hill
Governor Hogan is widely seen as a national and innovative leader on workforce development. Maryland was the first state in the nation to remove degree requirements from hundreds of state jobs, focusing on job-relevant skills and experience instead. Since then, 13 states and countless private sector organizations have followed suit.
Governor Hogan has written the manual on fostering a growing workforce and skills-based hiring practices. In this timely presentation, Governor Hogan speaks to leadership audiences on prospecting and attracting talent, developing your workforce, and retaining top-notch employees for any industry.
"Larry Hogan's legacy includes a bright idea for the labor force" –Charles Lane, Washington Post
As the home to several premier cyber-related federal agencies, including the NSA, U.S. Cyber Command, and the National Cybersecurity Center of Excellence, Maryland can deservedly be called the cyber capital of America. Recognizing that building cyber resilience is one of the most pressing issues facing our nation today, Governor Hogan made this issue a strong focus of his governorship.
Now more than ever, public leaders and private companies alike are focused on building vigilance for emerging cyber threats. In this essential talk, Governor Hogan gives the inside scoop on cyber resilience based on his active participation in cybersecurity matters at the highest level of government.
When Governor Hogan took office, Maryland's roads and bridges were crumbling. Years of poor stewardship had resulted in a culture of neglect plaguing major infrastructure assets across the state. Governor Hogan launched an infrastructure renaissance by moving forward on priority projects in every jurisdiction; making record investments in roads, bridges, tunnels, transit systems, ports, and airports; fixing every structurally deficient bridge that the administration inherited; and resurfacing nearly all the state's highway systems.
Governor Hogan also played a critical role in crafting an agreement that eventually became the Infrastructure Investment and Jobs Act. As the Chair of the National Governors Association, he put together a proposal that garnered the support of all 50 governors. In 2021, he organized an unprecedented summit of more than 25 governors, U.S. senators, and leaders of the U.S. House Problem Solvers Caucus in Annapolis where they agreed to a framework of what would later become the Bipartisan Infrastructure Investments and Jobs Act. Governor Hogan can advise groups on:
How to bring stakeholders together
Implementation of federal dollars on a state level
The importance of investing in infrastructure and how officials make these decisions
In the years before Governor Hogan took office, Maryland's economy was floundering. Forty-three consecutive tax hikes had taken $10 billion from the pockets of struggling families, small businesses, and retirees. Maryland's unemployment rate had nearly doubled. Businesses, jobs, and taxpayers were fleeing the state in droves. Maryland had lost 8,000 businesses and 100,000 jobs, and the state's economy ranked 49th out of 50 states.
Under the governor's leadership, the state went from losing 100,000 jobs to gaining more than 118,000 jobs, Maryland's overall economic performance went from 49th to number six, and in 2021, CNBC named Maryland the nation's most improved state for business. After taking office with a record budget deficit, Governor Hogan left office with a record budget surplus. In this presentation, Governor Hogan advises:
The decision process of elected officials as it pertains to your industry
How to make states more business friendly
Tips on how to achieve economic improvement
Every election has drastic implications for our nation's future. Many organizations and businesses could benefit from a breakdown in the current status of the 2024 election cycle. As a seasoned campaigner and established business owner, Governor Hogan is uniquely positioned to discuss the status of the 2024 campaigns and what businesses should expect from the upcoming changes in our political leaders.
Biography
Larry Hogan isn't a career politician. A best-selling author, lifelong small business owner, cancer survivor, and the most popular Governor in the history of Maryland, Governor Hogan's unique insights into crisis management and leadership have been recognized internationally.
On election night 2014, written off by conventional pundits, outspent more than 5-1, and outnumbered in party registration by more than 2-1, Larry Hogan pulled off the biggest upset in America and became only the second Republican Governor of Maryland in 50 years.
After only a few months on the job, Governor Hogan was beset by back-to-back crises: one in the national spotlight and one in his personal life. The first was dealing with the worst riots and civil unrest in a generation. The second was battling life-threatening cancer.
Governor Hogan's leadership through both these difficulties drew both national and international praise and commendation – from the President to the Pope, to business leaders, and politicians from both sides of the aisle.
Despite these daunting challenges, Governor Hogan got to work keeping his promise to Change Maryland for the Better. He forged bipartisan consensus on important issues and led the greatest economic turnaround of any state in the country – taking Maryland from 49th out of 50 states in economic performance to 6th.
The people of Maryland rewarded his success. Governor Hogan defied the odds and became only the second Republican governor to be re-elected in Maryland's history when he won a landslide re-election in 2018, a year that proved disastrous for other Republicans, nationally.
As a Republican governor with a super-majority Democratic legislature, the popular view was that Annapolis would reflect the same partisan gridlock as Washington DC. Governor Hogan defied the odds, yet again, and worked with political opponents to pass the largest tax cuts in Maryland history, and forged compromises that allowed him to reduce taxes eight years in a row. For those eight years, Annapolis stood as proof that an antidote to partisanship existed.
When COVID-19 struck the United States in 2020, Governor Hogan took bold and decisive action and led the nation's governors through the pandemic as Chairman of the National Governors Association. The Governor's data-driven, open and transparent approach to handling the crisis was widely praised as both balanced and effective.
Governor Hogan left office in 2023 with the highest recorded approval rating of any Governor in Maryland's history. Across every party affiliation, demographic and racial line, and geographic divide, Governor Hogan's approval rating was near-or-exceeding 80% – a level that is wholly unprecedented in modern American politics. Throughout his entire eight years in office, the Governor was routinely ranked in the top three most popular governors in the country.
Whether it was navigating crises, working to forge commonsense and bipartisan solutions, engaging with average citizens, or defying conventional wisdom to achieve breakthrough success, Governor Hogan stands as an internationally recognized leader and sought-after advisor.
Thank you so much for your partnership on our board meeting. Governor Hogan's address was truly inspiring. Our board members appreciated the opportunity to ask questions and feel a part of the conversation. He is very relatable and the positive feedback from our board members has been nonstop. WWSG's assistance with coordinating the logistics was flawless.
Association of Chamber of Commerce Executives
Speaker News
Check Availability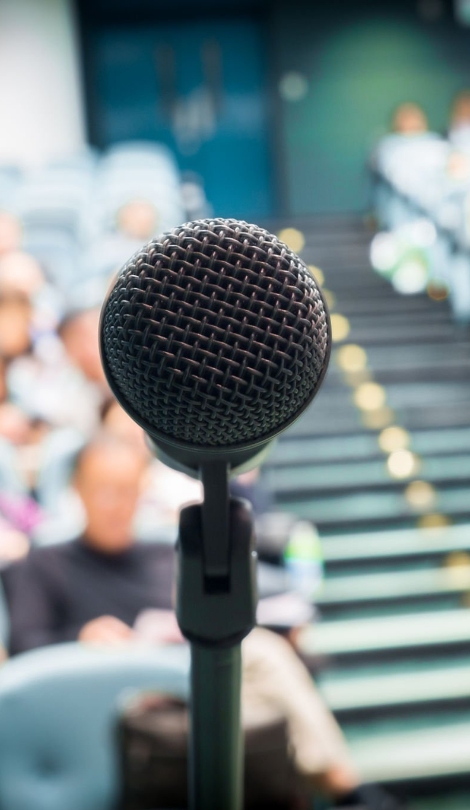 Other Speakers You May Like