Speech Topics
The United States Space Force was founded in December 2019. It is the world's only independent space force, an unparalleled accomplishment for the nation and for the Department of Defense. Gen Raymond served as our nation's first Chief of Space Operations and is recognized as the father of our newest branch of the Armed Services.
In this presentation, General Raymond uses a series of anecdotes and story vignettes that demonstrate what it's like to be a change-maker at the highest level of government. He describes designing and implementing a 21st century organization, building the force, developing its culture, and building global partnerships all while serving as a disruptive innovator for the Department of Defense. Audiences will hear the inside scoop on what it was like to develop a new branch of armed forces and leave with both the fascinating experience of hearing about this journey firsthand and the ability to utilize General Raymond's lessons within their organizations.
"Space has become essential to our security and prosperity – so much so that we need a branch of our military dedicated to its defense, just like we have branches of the military dedicated to protecting and securing the air, land, and sea."
Security in space is a vital national interest and a foundational aspect of the U.S.'s great power status. To demonstrate this, General Raymond begins by describing the complexity of today's strategic environment and how space is central to successfully navigating the complexity of the world that we live in. Woven throughout the speech, Gen Raymond shares stories and vignettes to highlight the need to streamline and flatten bureaucracy, develop strong global partnerships, acquire capabilities at the need of speed, develop a fused relationship with commercial industry, and to shift from a hardware-centric to a software and data-centric organization.
Biography
Gen. John W. "Jay" Raymond was the first Chief of Space Operations of the U.S. Space Force. As Chief, he served as the senior uniformed Space Force officer responsible for the organization, training and equipping of all organic and assigned space forces serving in the United States and overseas. As a member of the Joint Chiefs of Staff, the Chief of Space Operations and other service chiefs function as military advisers to the Secretary of Defense, the National Security Council, and the President.
Gen. Raymond was commissioned through the ROTC program at Clemson University in 1984. He commanded at squadron, group, wing, numbered air force, Major Command and Combatant Command levels. His notable staff assignments included serving in the Office of Force Transformation, Office of the Secretary of Defense; the Director of Plans, Programs and Analyses at Air Force Space Command; the Director of Plans and Policy (J5), U.S. Strategic Command; and the Deputy Chief of Staff for Operations, Headquarters U.S. Air Force.
Gen. Raymond deployed to Southwest Asia as Director of Space Forces in support of operations Enduring Freedom and Iraqi Freedom. Prior to leading establishment of the U.S. Space Force and serving as the first Chief of Space Operations, Gen. Raymond led the re-establishment of U.S. Space Command as the eleventh U.S. combatant command.
We always enjoy working with WWSG, and we thank you and your team for your diligence, thoroughness, and professionalism. Planning is already underway for next year's event (no rest for the weary). We hope to have every opportunity to work with you again in the near future.
David R. Cape, EVP of Business Development at Texas American Resources Company
Everything was buttoned up, from the initial outreach to the event execution and post follow-up. I have a great team of representatives from WWSG to work with, first class experience.
Raylene Wetzel, American Century Investments
The team at WWSG is certainly at the top of the scale. Building a long-term relationship with the client has really set WWSG apart and we clearly saw that with our partnership. WWSG found creative ways to build the partnership which results in a win-win for all.
Erik Qualman, Top Technology and Motivational Speaker, #1 Bestselling Author & Futurist
"After 20 years in the lecture series business, WWSG has become a valued partner. We produce over 24 speaking events a year and have worked with dozens of agencies. We appreciate WWSG's unparalleled professionalism, integrity, and creativity in suggesting speakers that are unique to the speaker circuit."
Sue Swan, Co-Founder of The Distinguished Speaker Series of Southern California
I hope to work again and again with Worldwide Speakers Group on the selection of our keynote and endnote speakers for our annual conference and other events. Our representative and her associate were terrific from my first communication to them until our speaking-event concluded... It is easy to see why many of the top speakers in the country work with Worldwide Speakers Group.
Gina Cohen, Chief Marketing Officer & Vice President of Communications for The National Recreation and Park Association
The consistent professionalism and quality for the way Worldwide Speakers Group handles events shows that they think of each detail and every contingency beforehand.
Newt Gingrich, Distinguished Leader, Visionary, & Political Vanguard; 2012 Republican Presidential Candidate; Speaker of the U.S. House of Representatives (1995-1999); Best-Selling Author
They provide us well-prepared and informed speakers who understand our expectations and unique format. With WWSG, we know that the speaker fees are fair and trust that the event will be a success.
Sue Swan, Co-Founder of The Distinguished Speaker Series of Southern California
Thanks again for all your help. Your entire team there is truly stellar.
Vice President of Communications; American Property Casualty Insurance Association
All timing and logistics were seamless, and the client was super engaged and thankful. I'm happy to report that we have another WIN for WWSG! Let's build on the momentum together!
Josh Linkner, Five-Time Tech Entrepreneur, Hyper-Growth CEO, Two-Time NY Times Bestselling Author, Venture Capitalist, and Keynote Speaker
The WWSG team are super responsive and flexible. I will definitely work with them again to find speakers for my next event.
Delia Setiawan, Ernst & Young LLP
Speaker News
Check Availability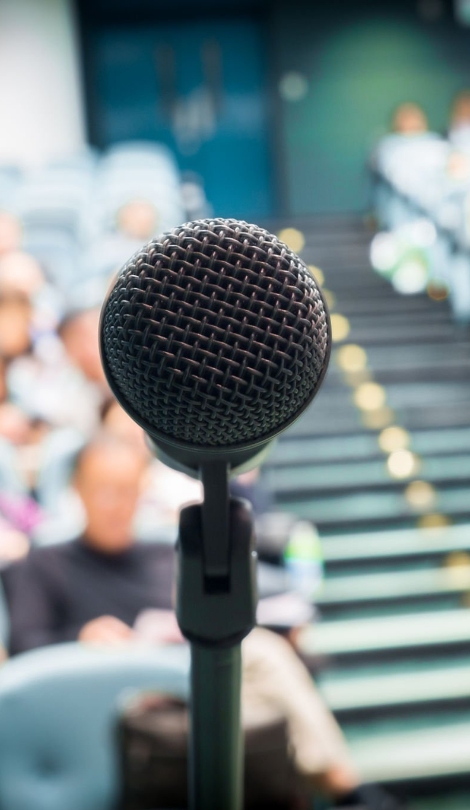 Other Speakers You May Like