Speech Topics
This presentation covers the importance of being a leader of the strongest character, a leader who is committed to life-long learning and the criticality of taking care of your people—one at a time. Gen(R) Abrams weaves in many supporting examples from his own career that are tailored for the audience.
In this interesting address, General Abrams shares lessons from the forgotten war today and why it is important. Audiences will hear a brief history of post-war Korea, the meteoric rise of Korea as a middle-weight power across the world's economy, its culture and arts, its technology and military, and why it all matters.
Gen(R) Abrams served in Korea for nearly 3 years across two U.S. administrations during unprecedented times. He shares unique insights into the political-military challenges of today and the future.
Biography
Over a span of 39 years of active-duty service, General (R) Robert B. "Abe" Abrams led troops through times of peace and war. Hardened on the E-W German border during the cold war, Abrams led combat troops in Saudi Arabia, Kuwait, Iraq, and Afghanistan during multiple combat tours. These tours spanned Operation Desert Storm, Operation Iraqi Freedom, and Operation Enduring Freedom including his command of the famed 3rd Infantry Division. He also commanded the Army's crown jewel of training, The National Training Center at Fort Irwin California. Serving as the Senior Military Assistant to the 24th Secretary of Defense during times of unprecedented uncertainty, volatility, and complexity – from Russia's invasion of Ukraine to the meteoric rise of ISIS – Abrams was provided with both unique and direct access to decisions made at the highest level of the DOD and U.S. government. Along with this, Abrams commanded the Army's largest formation of over 750K soldiers and DA Civilians for over 3 years and increased Army readiness by 500% across all three components, all while managing a $3.2B annual budget. His final assignment as the Commander of United Nations Command, the ROK-US Combined Forces Command, and U.S. Forces Korea spanned the period of two U.S. Administrations characterized by emerging détente, the breakdown in negotiations with North Korea, the increase in military tension and the first 18 months of the pandemic gave him incredible insight across the entire political-military sphere regarding Korean peninsula affairs.
The consistent professionalism and quality for the way Worldwide Speakers Group handles events shows that they think of each detail and every contingency beforehand.
Newt Gingrich, Distinguished Leader, Visionary, & Political Vanguard; 2012 Republican Presidential Candidate; Speaker of the U.S. House of Representatives (1995-1999); Best-Selling Author
The WWSG team are super responsive and flexible. I will definitely work with them again to find speakers for my next event.
Delia Setiawan, Ernst & Young LLP
All timing and logistics were seamless, and the client was super engaged and thankful. I'm happy to report that we have another WIN for WWSG! Let's build on the momentum together!
Josh Linkner, Five-Time Tech Entrepreneur, Hyper-Growth CEO, Two-Time NY Times Bestselling Author, Venture Capitalist, and Keynote Speaker
I hope to work again and again with Worldwide Speakers Group on the selection of our keynote and endnote speakers for our annual conference and other events. Our representative and her associate were terrific from my first communication to them until our speaking-event concluded... It is easy to see why many of the top speakers in the country work with Worldwide Speakers Group.
Gina Cohen, Chief Marketing Officer & Vice President of Communications for The National Recreation and Park Association
Everything was buttoned up, from the initial outreach to the event execution and post follow-up. I have a great team of representatives from WWSG to work with, first class experience.
Raylene Wetzel, American Century Investments
The team at WWSG is certainly at the top of the scale. Building a long-term relationship with the client has really set WWSG apart and we clearly saw that with our partnership. WWSG found creative ways to build the partnership which results in a win-win for all.
Erik Qualman, Top Technology and Motivational Speaker, #1 Bestselling Author & Futurist
They provide us well-prepared and informed speakers who understand our expectations and unique format. With WWSG, we know that the speaker fees are fair and trust that the event will be a success.
Sue Swan, Co-Founder of The Distinguished Speaker Series of Southern California
Thanks again for all your help. Your entire team there is truly stellar.
Vice President of Communications; American Property Casualty Insurance Association
"After 20 years in the lecture series business, WWSG has become a valued partner. We produce over 24 speaking events a year and have worked with dozens of agencies. We appreciate WWSG's unparalleled professionalism, integrity, and creativity in suggesting speakers that are unique to the speaker circuit."
Sue Swan, Co-Founder of The Distinguished Speaker Series of Southern California
We always enjoy working with WWSG, and we thank you and your team for your diligence, thoroughness, and professionalism. Planning is already underway for next year's event (no rest for the weary). We hope to have every opportunity to work with you again in the near future.
David R. Cape, EVP of Business Development at Texas American Resources Company
Speaker News
Check Availability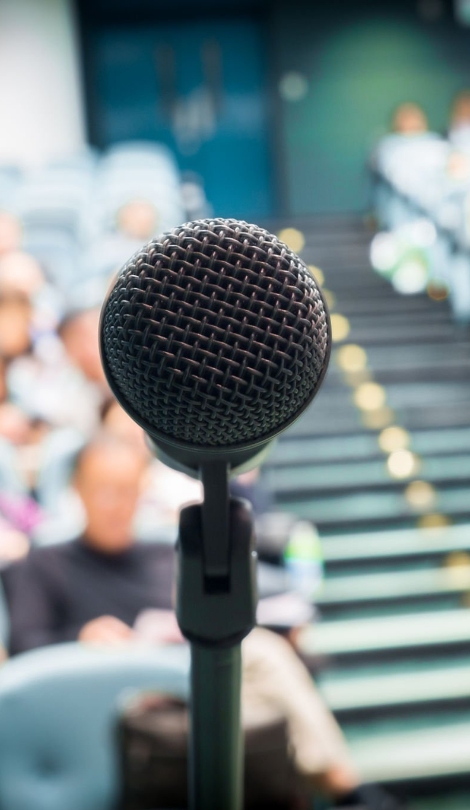 Other Speakers You May Like