Speech Topics
Ben's personal journey through recovering from a near fatal accident.
Vereen explores the past and the present, discussing the youth of the black history movement.
In schools today there is a lack of black history,
claims Ben Vereen. Join him as he poses the question, "How do we hold on to our heritage?"
Ben Vereen, who played "Chicken George" in the iconic miniseries Roots, talks about history through the lens of shooting Roots as well as through the scope of where black history is today.
Biography
Few entertainers today are as accomplished or versatile as Ben Vereen. His legendary performances transcend time and have been woven into the fabric of this country's artistic legacy.  His first love and passion is and always will be the stage. "The theatre was my first training ground. It taught me discipline, dedication and appreciation of hard work and values that will stay with me a lifetime. The stage sharpens the creative instrument and encourages you to go deeper inside and try new things," states Ben. On Broadway, Ben Vereen has starred in Wicked, Fosse, I'm Not Rappaport, Hair, Jesus Christ Superstar, Pippin, Grind, Jelly's Last Jam and A Christmas Carol. His role in Pippin garnered him both the prestigious Tony Award and the Drama Desk Award for "Best Actor in a Musical."
Ben wrapped the Chuck Lorre series B POSITIVE on CBS, and last season, completed multiple episodes of THE GOOD FIGHT, playing FREDERICK DOUGLAS, also on CBS.  He performed his concert act for the Star Trek Convention in Las Vegas, and has upcoming dates in Chicago, Las Vegas, and the Carolinas. Before Broadway reopened, Ben appeared in the national commercial to bring back NYC and Broadway "It's Showtime in NYC." In June, he was awarded the inaugural JUNETEENTH LEGACY AWARD from the Broadway League, as well as receiving the HERO'S AWARD from the First Responder's Children's Foundation due to his presence at Ground Zero in helping the first responders.  He was recently honored with the SIDNEY POITIER LIFETIME ACHIEVEMENT AWARD from the NATIONAL BLACK THEATRE FESTIVAL. Ben performed an abundance of virtual events during Covid in 2020 and most of all his deep passion for the Homeless, led him into producing, directing, and starring in a benefit for 'Care for the Homeless'.  His passion of the arts and education is ongoing and each year teaches classes online and in person.
Ben appeared in MAGNUM P.I. and BULL for CBS, multiple episodes of STAR for Fox, and the BET Series TALES.  Ben also co-starred with RICHARD GERE in TIME OUT OF MIND,  CHRIS ROCK in TOP FIVE, and was featured as Dr. Scott in the re-imagined THE ROCKY HORROR PICTURE SHOW for 20th Century Fox.  Bryan Cranston picked Ben to costar in SNEAKY PETE for Amazon.  Ben continues to tour the country with his concert act, motivational lectures, master classes. He performed sold out runs at Jazz at Lincoln Center, as well as in Toronto, Los Angeles, San Diego, Las Vegas, Pittsburgh, as well as a lecture at Tuskegee University for Black History Month. He won a Tony Award/Drama Desk for PIPPIN, starred in such musicals as Jesus Christ Superstar, Fosse, Hair, Jelly's Last Jam, Chicago, Wicked, I'm Not Rappaport, to name a few and is remembered for films like 'SWEET CHARITY', 'ALL THAT JAZZ,' and the Emmy winning role of Chicken George in the iconic ROOTS.
In March 2022 Ben starred in the video/recording of a new song, "We Sing For Ukraine." The proceeds from this song will benefit both UNICEF and Abundance International. He was featured on The Kelly Clarkson Show, Good Day New York, The Real, Entertainment Tonight, and in Town and Country magazine to name a few. Ben appeared on CBS's "Welcome Back Broadway" TV special. He was also chosen to be the face of "Welcome Back New York City" on a national commercial. During the pandemic, Ben performed with the NYPD Jazz orchestra for their Gala, and directed and performed in "Virtual Vereen and Friends," which benefited Care For the Homeless. In 2020, he participated in multiple performances for the Actor's Fund. The theatre 54 Below streamed one of his concerts benefiting first responders and in December 2020 he appeared in a program for Jewel's Wellness Experience through her Children's Foundation. Ben is an active member of Americans for the Arts, the largest advocacy group of the Arts in America. He went to Washington DC and spoke before Congress defending the National Endowment for the Arts against the proposed budget cuts. He also attended the Democratic National Convention where he spoke to various senators, congressmen, governors on the arts and education and later sang "WHAT THE WORLD NEEDS NOW" on television in front of the approximately 50,000 delegates.  Ben was inducted as an honorary member into Phi Beta Sigma and continues to be an active member.
Ben has received a number of awards including Israel's Cultural and Humanitarian Awards, three NAACP Image Awards, an Eleanor Roosevelt Humanitarian Award and a Victory Award. He has received honorary doctorates from the University of Arizona, Emerson College, and Columbia College in Chicago. He received an Achievement in Excellence Award from his alma mater, the High School of the Performing Arts. Ben has also been inducted into The Theatre Hall of Fame, the Dance Hall of Fame, and has received various Emmy and Golden globe nominations. In, New York City he received the Broadway World Cabaret Award for BEST CELEBRITY MALE VOCALIST and the Career Achievement Award (Le Prix International Film Star Awards Organization).  Ben produced an event for CARE FOR THE HOMELESS, served on Ballet Florida's Board of Directors, worked with the AMERICAN RED CROSS and SUDDEN INFANT DEATH SYNDROME ASSOCIATION, and THE ENTERTAINMENT COMMUNITY FUND. Ben spearheaded his own organization, CELEBRITIES FOR A DRUG FREE AMERICA which raised money for drug rehabilitation centers, educational programs and inner city community-based projects. The Community Mental Health Council awarded Ben with their 2004 Lifeline Celebration Achievement Award Scholarship for the Performing Arts, and in 2004, he received an Achievement in Excellence Award from his alma mater, the High School of the Performing Arts.  He is most proud of his ongoing work involving the Arts and Education, and providing the youth with arts programs across America.  Ben received the Lifetime Achievement Award from The Gold Coast International Film Festival, and he was honored as a living legend by THE AMERICAN BLACK FILM INSTITUTE.
His memorable television roles that have stood the test of time include Chicken George in ROOTS and Louis Armstrong in Louis Armstrong – Chicago Style.  Other television credits include How I Met Your Mother, Grey's Anatomy (Prism Award), Hot in Cleveland, NCIS, House of Payne, Law and Order: Criminal Intent, OZ, Star Trek – The Next Generation, The Jamie Fox Show, And Accidental Friendship (NAACP IMAGE AWARD) Fresh Prince of Bel-Air, Silk Stockings, Webster, and J.J. Starbuck and Booker, Anne Rice's Feast of All Saints, Intruders They Are Among Us (Emmy nomination), Faerie Tale Theatre's Puss N' Boots with Gregory Hines, The Jesse Owens Story, Ellis Island (Golden Globe Nomination), Lost in London, Salute to Liberty Special. Tenspeed and Brownshoe, The Muppet Show, The Carol Burnett Show, PippIn: His Life and Times, The Love Boat, 21 and Wake Up, SCTV, The Magic of David Copperfield, Jenny's Song, The Nanny, Touched by an Angel, Lois and Clark, Promised Land, and You Write the Songs.  His television special Ben Vereen: His Roots received Seven Emmy Awards. Not forgetting his younger audiences, Ben released a number of well-received children's Sing-Along musical video.  He also provided voice-overs for the show Wonder Pets for Nickelodeon was featured in Faerie Tale Theatre's Puss and Boots, Mother Goose Rock "n" Rhyme, The Kid Who Loved Christmas and played Mayor Ben in Hallmark's Zoobilee Zoo.
In February of 2011, Ben released his CD Steppin' Out Live with Ben Vereen and staged a triumphant return to Broadway with his concert "BEN VEREEN ON BROADWAY AT TOWN HALL". On January 30th, 2012, Ben was inducted in to The Theatre Hall of Fame. He performed for 100,000 people at the Washington Monument on July 4th and in August, Ben was inducted into The Dance Hall of Fame. In 2009, he performed at the Inaugural Ball with Peter Yarow and Paul Stookey of Peter, Paul and Mary. He then entertained at the reopening of the Ford Theatre in Washington, D.C., which was also attended by President and Mrs. Obama. Ben also received the Broadwayworld.com 2012 Cabaret Award BEST CELEBRITY MALE VOCALIST for his dazzling 2 week run at the New York City's latest music venue 54 Below. In May of 2013, Ben received his honorary degree from the LaGuardia School of Performing Arts. In 2017, the Friar's Club honored Ben Vereen for his lifetime achievements in the arts.
"It's always pleasant to spend time in the company of a survivor, a pro, and a performing prince. Ben Vereen is all three." – New York Times
All timing and logistics were seamless, and the client was super engaged and thankful. I'm happy to report that we have another WIN for WWSG! Let's build on the momentum together!
Josh Linkner, Five-Time Tech Entrepreneur, Hyper-Growth CEO, Two-Time NY Times Bestselling Author, Venture Capitalist, and Keynote Speaker
"After 20 years in the lecture series business, WWSG has become a valued partner. We produce over 24 speaking events a year and have worked with dozens of agencies. We appreciate WWSG's unparalleled professionalism, integrity, and creativity in suggesting speakers that are unique to the speaker circuit."
Sue Swan, Co-Founder of The Distinguished Speaker Series of Southern California
The WWSG team are super responsive and flexible. I will definitely work with them again to find speakers for my next event.
Delia Setiawan, Ernst & Young LLP
Everything was buttoned up, from the initial outreach to the event execution and post follow-up. I have a great team of representatives from WWSG to work with, first class experience.
Raylene Wetzel, American Century Investments
I hope to work again and again with Worldwide Speakers Group on the selection of our keynote and endnote speakers for our annual conference and other events. Our representative and her associate were terrific from my first communication to them until our speaking-event concluded... It is easy to see why many of the top speakers in the country work with Worldwide Speakers Group.
Gina Cohen, Chief Marketing Officer & Vice President of Communications for The National Recreation and Park Association
Thanks again for all your help. Your entire team there is truly stellar.
Vice President of Communications; American Property Casualty Insurance Association
The team at WWSG is certainly at the top of the scale. Building a long-term relationship with the client has really set WWSG apart and we clearly saw that with our partnership. WWSG found creative ways to build the partnership which results in a win-win for all.
Erik Qualman, Top Technology and Motivational Speaker, #1 Bestselling Author & Futurist
We always enjoy working with WWSG, and we thank you and your team for your diligence, thoroughness, and professionalism. Planning is already underway for next year's event (no rest for the weary). We hope to have every opportunity to work with you again in the near future.
David R. Cape, EVP of Business Development at Texas American Resources Company
They provide us well-prepared and informed speakers who understand our expectations and unique format. With WWSG, we know that the speaker fees are fair and trust that the event will be a success.
Sue Swan, Co-Founder of The Distinguished Speaker Series of Southern California
The consistent professionalism and quality for the way Worldwide Speakers Group handles events shows that they think of each detail and every contingency beforehand.
Newt Gingrich, Distinguished Leader, Visionary, & Political Vanguard; 2012 Republican Presidential Candidate; Speaker of the U.S. House of Representatives (1995-1999); Best-Selling Author
Check Availability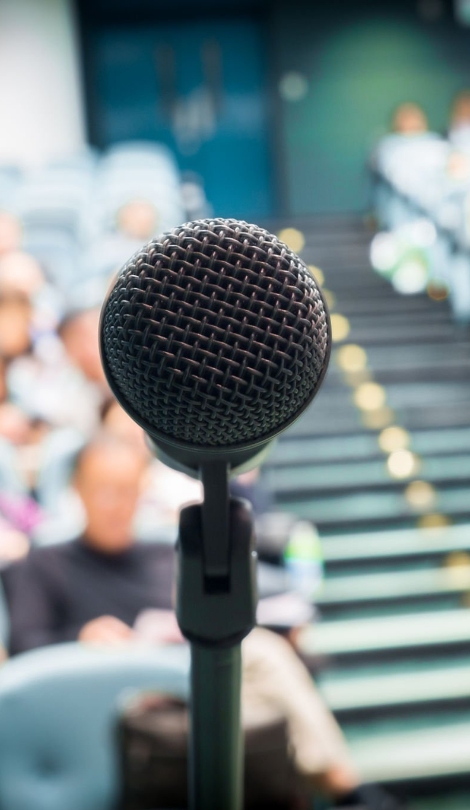 Other Speakers You May Like