Biography
Stanley Tucci is an Academy Award-nominated actor known for his versatility as an actor, writer, director, and producer. He has appeared in over 90 films, countless television shows, and more than a dozen plays on and off Broadway.
Stanley Tucci: Searching for Italy is one of Tucci's endeavors that was greeted with excitement and success from both its fans and critics. The show, a six-part series, follows the actor as he explores the culinary scene and regions throughout Italy.
Acclaimed for his work in all mediums, Tucci was nominated for an Academy Award, Golden Globe Award, BAFTA Award, SAG Award, and received a Broadcast Film Critics nomination for his performance in Peter Jackson's The Lovely Bones. He also won an Emmy and Golden Globe for his starring role as the fast-talking tabloid tattler Walter Winchell in the Paul Mazurksy- directed TV movie Winchell. He received another Golden Globe for his brilliant portrayal of Lt. Colonel Adolf Eichmann in HBO's Conspiracy.
With so many accolades for his performances on the screen, it is no surprise that his work as a writer, producer, and director is also widely celebrated. Big Night, Stanley Tucci's first pursuit as co-director, co-screenwriter, and actor on the same film earned him numerous honors, including The Waldo Salt Screenwriting Award at the 1996 Sundance Film Festival, Recognition of Excellence by the National Board of Review, an Independent Spirit Award, The Critics' Prize at the 1996 Deauville Film Festival, and honors from The New York Film Critics and The Boston Society of Film Critics.
He is also the author of two cookbooks. The Tucci Cookbook, released in October 2012, appeared on the New York Times Best Sellers List. His second cookbook, The Tucci Table: Cooking with Family and Friends, was released on October 28, 2014. The family-focused cookbook includes recipes from Tucci's traditional Italian roots as well as those of his British wife, Felicity Blunt.
In 2021, he released a memoir, Taste: My Life Through Food, which serves as a reflection on the intersection of food and life. The book is an intimate and charming reflection of Stanley's life and relationship to food. It features anecdotes and memories from his childhood as well as his culinary experiences preparing for roles in foodie films.
In 2018, Tucci underwent successful cancer treatment after a tumor was discovered on the base of his tongue. He opened up about watching his first wife, Kate, go through similar treatment years ago before sadly dying of breast cancer in April 2009.
Everything was buttoned up, from the initial outreach to the event execution and post follow-up. I have a great team of representatives from WWSG to work with, first class experience.
Raylene Wetzel, American Century Investments
We always enjoy working with WWSG, and we thank you and your team for your diligence, thoroughness, and professionalism. Planning is already underway for next year's event (no rest for the weary). We hope to have every opportunity to work with you again in the near future.
David R. Cape, EVP of Business Development at Texas American Resources Company
They provide us well-prepared and informed speakers who understand our expectations and unique format. With WWSG, we know that the speaker fees are fair and trust that the event will be a success.
Sue Swan, Co-Founder of The Distinguished Speaker Series of Southern California
"After 20 years in the lecture series business, WWSG has become a valued partner. We produce over 24 speaking events a year and have worked with dozens of agencies. We appreciate WWSG's unparalleled professionalism, integrity, and creativity in suggesting speakers that are unique to the speaker circuit."
Sue Swan, Co-Founder of The Distinguished Speaker Series of Southern California
All timing and logistics were seamless, and the client was super engaged and thankful. I'm happy to report that we have another WIN for WWSG! Let's build on the momentum together!
Josh Linkner, Five-Time Tech Entrepreneur, Hyper-Growth CEO, Two-Time NY Times Bestselling Author, Venture Capitalist, and Keynote Speaker
The consistent professionalism and quality for the way Worldwide Speakers Group handles events shows that they think of each detail and every contingency beforehand.
Newt Gingrich, Distinguished Leader, Visionary, & Political Vanguard; 2012 Republican Presidential Candidate; Speaker of the U.S. House of Representatives (1995-1999); Best-Selling Author
Thanks again for all your help. Your entire team there is truly stellar.
Vice President of Communications; American Property Casualty Insurance Association
The WWSG team are super responsive and flexible. I will definitely work with them again to find speakers for my next event.
Delia Setiawan, Ernst & Young LLP
The team at WWSG is certainly at the top of the scale. Building a long-term relationship with the client has really set WWSG apart and we clearly saw that with our partnership. WWSG found creative ways to build the partnership which results in a win-win for all.
Erik Qualman, Top Technology and Motivational Speaker, #1 Bestselling Author & Futurist
I hope to work again and again with Worldwide Speakers Group on the selection of our keynote and endnote speakers for our annual conference and other events. Our representative and her associate were terrific from my first communication to them until our speaking-event concluded... It is easy to see why many of the top speakers in the country work with Worldwide Speakers Group.
Gina Cohen, Chief Marketing Officer & Vice President of Communications for The National Recreation and Park Association
Speaker News
Check Availability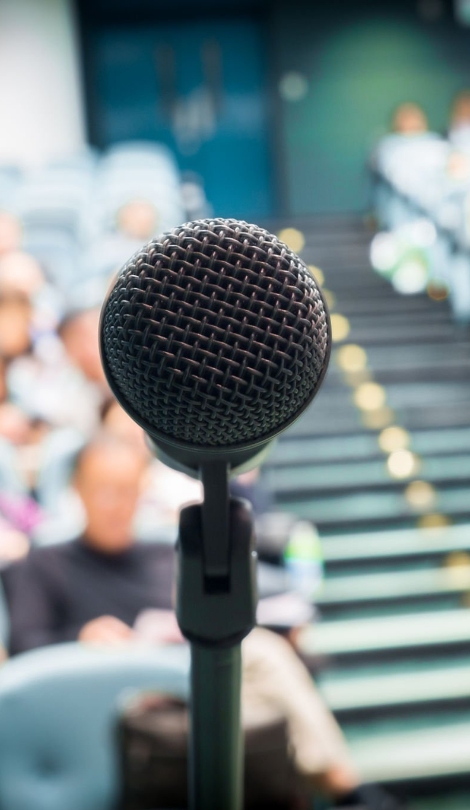 Other Speakers You May Like