Speech Topics
After medical oversights and a self-diagnosed battle with breast cancer, Dougherty learned that even the most healthy and physically active people can get cancer. In this encouraging talk, Dougherty teaches you to be your own advocate, learn the latest research, be aggressive and vigilant, and listen to your body!
In an industry focused primarily on outward appearance, Dougherty knows first-hand what it feels like to be a product. Her work depended on three-year contracts that could end if she gained weight, suffered bodily harm or changed in any way that would not be seen as camera-worthy. By sharing her experience as a woman in the media and her stories of the intense scrutiny of her image, she challenges audiences and women to ask why external influences such as the media and advertising make women feel so self-conscious about their looks.
Through television, web, radio, and beyond, modern propaganda drives information and decision-making beyond our societal conscience. Learn how we're all victims of political propaganda, and how it impacts your organization and your life.
Few people have spent time with the former KGB agent and polarizing world leader, Vladmir Putin. Dougherty has spent hours in the Kremlin with Putin. Before and after her time as CNN's Moscow Bureau Chief, she followed him on election campaigns and political appearances. Dougherty provides an up-close-and-personal account of the personality of the controversial Putin.
While living in Russia, Jill Dougherty covered many significant news events in Russia and the former Soviet Union for CNN, including the presidencies of Boris Yeltsin and Vladimir Putin, Russia's post-Soviet economic transition, the Beslan school massacre, the conflict in Chechnya, the arrest and trial of Yukos Oil company founder Mikhail Khodorkovsky, Georgia's Rose Revolution and Ukraine's Orange Revolution. She is currently covering the Sochi Olympics and the NSA-leaker Edward Snowden.
Traveling extensively with Secretaries of State Hillary Clinton and John Kerry, Jill Dougherty offers deep expertise and a rare insider's perspective on geopolitical trends, national security, foreign relations, politics, and current events. Jill has reported from over 50 countries in Europe, Asia, and the Middle East, covering conflict zones like Afghanistan, Iraq and Libya. She has secured exclusive interviews with world leaders including Mikhael Gorbachev, Vladimir Putin, Hillary Clinton and John Kerry.
Biography
A top CNN news anchor and the foreign affairs correspondent for CNN, Jill Dougherty provides an unparalleled perspective on international issues and U.S. foreign policy. She has reported from more than 50 countries, including Afghanistan, Iraq and North Korea. Recently, she traveled widely with Secretary of State Hillary Clinton to Europe, Asia and the Middle East. Previously, Dougherty served as CNN's Moscow bureau chief; she covered many significant news events in Russia and the former Soviet Union for CNN.
Dougherty was managing editor of CNN International Asia Pacific. Based at the network's regional headquarters in Hong Kong, she oversaw the regional news and feature programming produced in Hong Kong and coordinated CNN's newsgathering across the Asia Pacific region. She also served as CNN's White House correspondent from 1991-1996 and won the 1993 American Journalism Review Award for Best White House Coverage. Dougherty joined CNN in 1983.
As a well-respected news journalist with extensive experience abroad and with the State Department, Dougherty shares her unique global perspective with audiences to provide an overview of today's most complex international issues. She can also provide in-depth analyses on the state of U.S foreign policy as well as on specific countries such as Russia or regions such as Asia Pacific.
"Trustworthy and compelling…"
Speaker Resources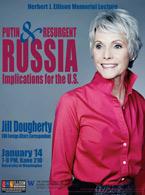 Speaker News
Check Availability