NFLPA's DeMaurice Smith on player vaccinations: 'No excuse not to be informed'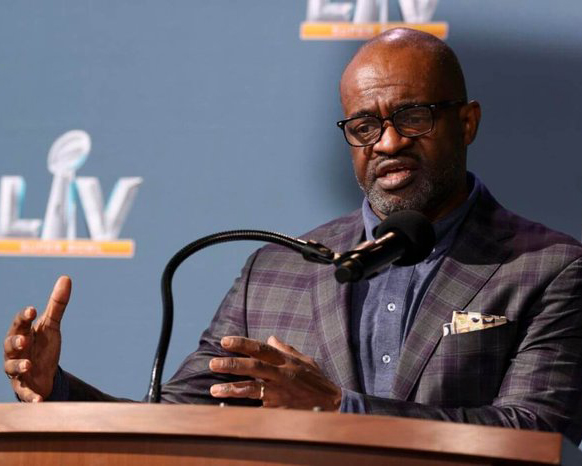 The NFL Players Association is encouraging union members to get vaccinated for COVID-19 and there "really shouldn't be any excuse" to be uninformed about the vaccines, executive director DeMaurice Smith said Thursday.
"We've talked about this now for four months," Smith said. "Their agents know, their contract advisors know, their financial advisors know. They've got access to team doctors, they've got access to our website, they have access to me, they have access to the folks who were touring and going around to camps now.
"There really shouldn't be any excuse for not having the answers to the questions that you have."
Smith added that the NFLPA will defend any players who choose not to get the vaccine.
"The union has protected its members where they cannot get cut and they will be paid whether they are vaccinated or not," he said.
NFLPA medical director Thom Mayer said he has taken calls from more than 200 players, along with some players' families, who have questions about the vaccines.
"They are grown-ass men and you give them grow-ass facts and they'll make grown-ass decisions," Mayer said. "I think what you're probably hearing (from players) is not that they don't have information, but that it's a difficult decision for people to make."
The union did not disclose league-wide vaccination rates for players but said it will release that figure when possible. Teams with at least 85 percent of players vaccinated will face significantly fewer restrictions among team members as the 2021 season nears.
New Panthers quarterback Sam Darnold said Wednesday that he has not been vaccinated yet.
"There's a ton of different things that go into it," he said. "I'm gonna evaluate that on my own and make the best decision that I feel is the best for myself."
Washington defensive end Montez Sweat said he was "not a fan" of his team bringing in vaccine experts to encourage players to get vaccinated.
"I probably won't get vaccinated until I get more facts and all that type stuff," he said Wednesday. "I'm not a fan of it at all."