Speech Topics
After years of uncertainty, people from all industries and walks of life are feeling tired, disillusioned and burnt out. They want a better way to succeed and stay at peak performance without the constant hustle and grind that ultimately leads them to burn out.
Helping leaders and organizations break free from burnout is Erin's mission with every keynote. Her three practical and easy-to-implement steps coupled with her unique and inspiring message lead to real, measurable outcomes. Audiences leave feeling excited, re-engaged, motivated and fired-up again, not only about their work, but their lives. And most importantly, they leave with a toolkit they can put to use immediately to start seeing results quickly.
Big, audacious goals are what drive successful individuals and companies forward. But often, these goals can feel so far out of reach for individuals and teams that they end up feeling stuck, scared and unsure of how to get started.
Based on personal experiences of spotting a seemingly unattainable desired outcome and conquering it anyway, and hundreds of interviews with some of the world's highest achievers who have done the same, Erin reveals a step-by-step approach to seizing the opportunities you crave without burning out along the way. If you want to supercharge your audience, help individuals and teams become more confident and self-reliant, even when facing challenges or starting over, build tenacity, resilience and courage, Erin's message will do just that.
Remote and hybrid work is here to stay. But keeping teams happy and productive has created a new paradigm. Leaders are struggling to recruit, engage and retain employees while maintaining a company culture that is strong, inclusive and thriving.
In this practical, tactical session, Erin lays out the exact three-step process she used as the head of marketing for the nation's largest healthcare staffing company to keep over fifty thousand clinicians and three thousand corporate employees engaged and connected, all while the company grew by 9x. If you want a new model and actionable tools to reinvigorate your workforce, create a thriving community, maximize retention and breathe life into a tired and overwhelmed group, Erin's message will do that and more.
Biography
Erin has blazed a trail of action-oriented success fueled by trial and error, bold decisions and unwavering self-confidence. Her figure-it-out mentality has shaped her career journey from being a fledgling public relations intern to a high-powered marketing executive at a hyper-growth company.
Erin is a multi-faceted, marketing jack-of-all-trades. Her career has stretched from Paris and London to LA and San Diego. As an MTV advertising executive, she's worked with the world's biggest brands including Apple, Nike, Coke and American Express. As a celebrity stylist and fashion journalist, she's dressed celebs for the Emmy's, Grammy's, and Academy Awards and has had her work featured in numerous international publications. As the head of marketing for the biggest healthcare staffing company in the country, Erin led marketing for the largest deployment of healthcare personnel in history while helping to grow the company by 9x in two years.
In short, Erin has surrounded herself with some of the most motivated, ambitious, famous overachievers in the world for her entire, diverse career—people at the highest levels of success, but who often think burnout is something that happens to weak people, lazy people, those people, not high-achievers like them. Yet leaders in all sectors today are suffering from severe cases of burnout as they struggle to adjust to a post-pandemic world and the pressures it put on their personal and professional lives.
Using lessons gleaned from her distinct international career and interviews with dozens of high-achievers from all walks of life, Erin shares impactful and inspiring mindset shifts for leaders to move from exhaustion and burnout to kicking ass and thriving again. Ultimately, Erin helps businesses revitalize their workforce by providing them with tools and tactics to sustain peak performance without burning out. Leaders experience a renewed excitement and engagement in their work and personal lives.
Erin's insights have been called upon by The Wall Street Journal, MSN, Vogue, Vanity Fair, The Style Network, The Orange County Register and a host of other global media outlets and organizations.
Erin was wonderful to work with from prep through execution. The presentation itself exceeded my expectations. With virtual events it always feels like no one is engaged because we're all on mute, but all of the feedback I've gotten has been great. I was really impressed with how she weaved in the details I'd shared - based on her excellent line of questioning - so it felt really custom.
Matt Dvorak, SVP Marketing & Communications at Primera
Erin's energy and message were just what we needed at our annual conference! I've had so many positive comments about her presentation, her story and all the practical take-aways she included. She made everything so easy to implement.
Andrea Ethridge, Member Services & Events Manager at Vizient
Erin's dynamic tone, contagious smile, and relatable self-reflection created a remarkable start to our conference. The tools she shared provided participants takeaways to remain high achievers among an ever-changing world with growing distractions and stressors. Erin's mindset shifts to overcoming burnout are unmatched.
Erika Leonard, CEO at Starling
Check Availability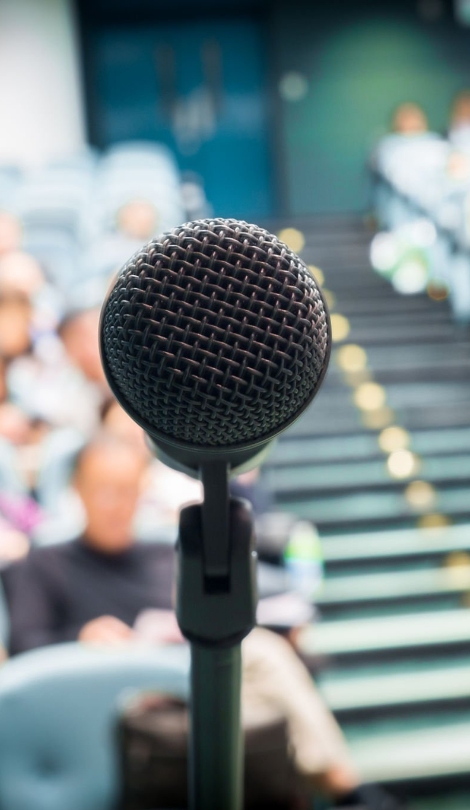 Other Speakers You May Like