Speech Topics
We learned in science that change needs a catalyst, but what about in life? Many professionals in today's ever-changing work environment feel stuck, complacent or even fearful about their professional growth. In order to get back on track it is necessary to reconnect with their passion and establish their "WHY".
In this inspiring program, Alana shares the events that ignited her life changing catalyst to demonstrate how purpose and passion reinforce one's personal and professional goals.
Through powerful storytelling, she will take the audience on a journey to discover their passions, talents, and path to being more resilient leaders. Alana's interactive delivery will leave the audience with immediate steps to move them forward in growth at work and home. Leading change…the Ms. Engineer Way®!
Learning Objectives:
Apply self-discovery strategies to uncover who you are and what you were made to do
Create a strategic plan and action items to create meaningful change in your life
Learn a proven model for leading change and building resilience
Leverage proven techniques to sustain lasting change in your personal and professional life
Diversity isn't just about color, but about recognizing different ideas, talents, and perspectives that varying cultures bring. In this thought-provoking program, Alana relies on her years as a change leadership expert to explore how to appreciate, champion, and lead DE&I initiatives. Learn best practices for getting executive and team buy-in to this vital component of organizational and team development. By understanding the benefits and value, leaders can greatly improve the impact that diversity has on employee belonging and team performance. Appreciating Diversity, Foster Belonging….the Ms. Engineer Way®!
Learning Objectives:
Communicate the business case for Diversity & Inclusion in their organization
Maximize the impact that different ideas have on innovation and creativity
Champion and promote diversity for the benefit of their team, organization, and industry
Evaluate their ability to have Emotionally Intelligent Conversations to advance DE&I
Your role as a change leader has always been dominated by your need to communicate. You communicate with your teams, stakeholders, and management team regularly. But are they getting the message? Leadership and communication techniques evolve just as people do. This engaging program will leave you with techniques to effectively communicate the change you are leading in your team or organization. If you're a leader and you want to win this game and the next, then this program is for you.
Learning Objectives:
Techniques for assessing needs so you can properly address them
The importance of key metrics to manage your change messaging
A change leadership framework that allows you to be strategic and adaptable
Do the talented individuals you lead need to be more effective? Does your team need to perform better and achieve their goals? We learned in science that change needs a catalyst, but what about in your team? In this inspiring program about team leadership, Alana demonstrates how purpose and passion can re-energize you and your team. Through engaging activities, she will take you on a journey to define your team's mission and strategic imperatives. You will learn strategies to help you connect with and impact each person you lead. This interactive program will leave you with strategies to grow you into a resilient change leader who influences their team and their organization. Leading change…the Ms. Engineer Way®.
Participants will learn:
Apply team development strategies to identify your team members' contributions
Create alignment with your team's mission and your organization's strategy.
Learn a proven model for leading change and building resilience
Leverage proven techniques to sustain lasting change in your team and your organization
Charles Darwin says that adaptability, not strength or intelligence, will determine one's survival. Alana has seen that firsthand: when she began to transition from leading oilfield operations to IT projects, she found herself searching for resources. Motivated by her desire to help people in her organization succeed, she began balancing her technical skills with leadership and human behavior insight. In this uplifting presentation about transition and continuous development, Alana reveals the secrets that helped her advance from a field engineer to an internationally recognized Project Management Consultant and Change Leadership Expert.
Learning Objectives:
Thrive during changes in their lives, industry, or organization
Ensure that their career is providing the results they desire
Identify resources to maintain their motivation for maximum success
Leverage proven techniques to create and sustain lasting change
Looking for ways to engage even your most difficult team members? Dealing with people on your team can often seem like dealing with an unruly child. Leaders need a clear understanding of Emotional Intelligence, behavior styles and conflict resolution. When equipped with the right tools, you can create a truly cohesive and collaborative environment. And when it's the responsibility of your team to innovate and create change, working well together can be even more challenging. In this humorous and thought-provoking session, Alana compares getting the best out of children to leading your talented team of adults. This presentation features techniques for improving accountability on your team to ensure that deadlines and goals are achieved, while keeping team morale high. Leading a team…the Ms. Engineer Way®.
Learning Objectives:
Leverage Emotional Intelligence to bring out the best in every team member
Recognize the 4 Extended DISC ® behavior styles and how they shape communication and conflict resolution
Implement the Firm But Fair approach to redirect uncooperative team members
Create and maintain an atmosphere with high morale AND high productivity
Biography
With over 25 years of cross-functional leadership and training expertise, Alana helps individuals and organizations accomplish their goals by utilizing sharp analysis, strategic planning, and interpersonal skills development. She helps leaders balance cognitive ability (IQ) and emotional intelligence (EQ) to improve team dynamics and performance. Alana provides her clients with a combination of critical thinking and compassionate leadership, which she labels "Leading Change the Ms. Engineer Way®". She has proudly served global Fortune 500 corporations, small technology companies, and non-profits. Her authenticity and adaptability make her an asset across the professional spectrum.
Before establishing 2Hill Consulting Services, Alana enjoyed a colorful career with the international technology corporation SLB (formerly Schlumberger) advancing from a Field Engineer to a Program Manager. In her tenure with the oilfield services giant, she not only managed multiple change initiatives, but she also learned to drive an 18-wheeler! She has been a valued champion for diversity, equity & inclusion, especially in STEM fields. Alana holds a B.S. in Petroleum Engineering from Texas A&M University.
Together with her husband, she has raised four handsome men as part of a beautiful blended family. As a passionate ministry leader and teacher, Alana continues to pour God's love into the children and youth she encounters. As an involved mother and mentor, she offers encouragement and advice to parents of children of all ages. Her faith, perseverance, and desire to encourage others fuels her speaking and writing. Her first two books use her gift of storytelling to help give meaning and purpose to many of life's challenges: Love is a Catalyst, where she shares her family's faith during their trials and triumphs over cancer; and Love is a Catalyst: The Pain Behind the Purpose, her inspiring memoir of overcoming adversity and growing in her faith. Through examples and exercises in her newest book, What's Your Catalyst? The Power of Managed Change, you will be taken on a journey to discover your passions, talents, and path to being a more effective leader at work and at home.
Alana is a servant leader and member of the National Speakers Association (NSA), Project Management Institute (PMI), Toastmasters International, and the Association for Talent Development (ATD Houston). As a strong advocate for corporate and personal philanthropy, Alana has donated her time and talents to local School Districts, Texas PTA, MD Anderson Cancer Center, and other civic and charitable organizations. When she is not traveling the globe, you will find her running and serving in her church and community. Alana resides in Richmond, TX.
"Alana has a keen eye for configuration and making the parts fit together. But her soothing approach to helping others adopt change really sets her apart. I have recommended her for many years, and will continue to do so"
F. Turchetti | Baker Hughes
Speaker News
Check Availability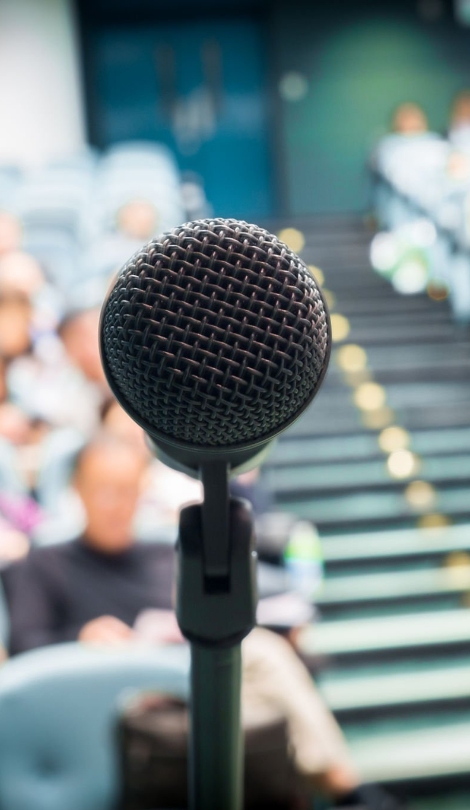 Other Speakers You May Like