Speech Topics
As President Trump's former campaign manager, David Bossie offers an exclusive insider's view of the key players and agenda of the new Administration. His insight through the campaign and overall knowledge of governing gives audiences a true understanding of how real world issues can reshape and refocus the initiatives of a presidency. Taking a look of Trump's first 100 days, Bossie speaks to Trump's agenda– what was promised, what promises were kept, and how the new President is changing Washington.
The Trump campaign was a personal victory for David Bossie in more ways than one. Election Day represented much more than just a new President, it was a true story of how an underdog ran an unconventional campaign and shocked the world. From the mainstream media to political professionals, D.C.'s elites and top thought leaders could have never predicted this outcome.
Bossie gives a behind the scenes look at how Donald Trump became a presidential candidate and went on to put together Trump's campaign team and defeat the Clintons.
As president of Citizens United Productions, Bossie has produced 25 documentaries since 2004. He has also co-produced six feature length films with Steve Bannon, most recently Torchbearer starring Phil Robertson in 2016.
Offering an in-depth of analysis of conservative film-making versus liberal Hollywood, Bossie tells audiences why he got into film production and why it is too important of a medium to forfeit it to the left. From inspirational figures such as Michael Moore to everyday voters who are influenced by Hollywood, Bossie gives a break down of everything you need to know about present-day media and culture.
David Bossie offers a first-hand account of how he took on the US Government and won in the case of Citizens United vs. Federal Election Commission. From the central argument of money in politics versus free speech, Bossie explains the "Saga of Citizens United" and explores if Democrats still want to overturn Citizens United more than 7 years later.
Audiences gain a full understanding of Citizens United's mission of restoring the US government to citizen's control through a combination of education, advocacy, and grass roots organization. David Bossie and Citizens United hope to restore the United States to  the founding fathers' vision of a free nation, guided by the honesty, common sense, and good will of its citizens.
"Free Speech", or the general assumption that one can speak freely, is under major attacks on college campuses. A place that used to be safe for robust free speech, is now only safe for free speech that one side agrees with. Is this a new phenomenon? Or has anti-conservative sentiment on campus been an issue for decades?
Liberal academia is overplaying their hand to the detriment of their student. David Bossie dives deep into how the mainstream media ignores the issue free speech on campus or the continuing lack of "free" speech.
David Bossie's coverage of The Clinton White House was quite different than others may assume. He uncovers his tales on the impeachment of Bill Clinton – where it started and how it happened. Furthermore, Bossie discusses how he became the leader of the Whitewater investigation and how his relationships with reporters during the investigation were greatly affected.
Major issues tackled during this era, such as uncovering key differences between congressional investigations and criminal investigations and how congressional investigations were quickly formed against The Clinton White House, played a significant role in Bossie's experiences in the White House.
Biography
David N. Bossie has served as president of Citizens United and Citizens United Foundation since 2001. Beginning in August 2016, Bossie took a five month leave of absence to serve as Deputy Campaign Manager for Donald J. Trump for President. He was then named Deputy Executive Director for the Trump Presidential Transition Team.
In 2016, Bossie was ranked number two in Politico's top 50 most influential people in American politics and was elected to serve as the Republican National Committeeman from Maryland. In 2010, under Bossie's leadership Citizens United won a landmark First Amendment decision at the United States Supreme Court in Citizens United v. Federal Election Commission. The case, which saw the government assert during oral arguments that it had the Constitutional authority to ban political books, struck down two decades of unconstitutional restrictions on free speech.
As president of Citizens United Productions, Bossie has produced 25 documentaries since 2004. Bossie has co-produced six feature length films with Steve Bannon, most recently Torchbearer starring Phil Robertson in 2016. Some of Bossie's other titles include Rocky Mountain Heist, hosted by Michelle Malkin, Occupy Unmasked featuring the late conservative icon Andrew Breitbart, Our Sacred Honor with Senator Rick Santorum, The Gift of Life with Governor Mike Huckabee, and the award-winning films on Pope John Paul, Nine Days That Changed The World and Ronald Reagan: Rendezvous with Destiny, hosted by Callista and Newt Gingrich.
Bossie is the former Chief Investigator for the United States House of Representatives Committee on Government Reform and Oversight. During Bill Clinton's two terms as president, he led investigations ranging from the Whitewater land deal to the transfer of dual-use technology to China and to foreign fundraising in the 1996 Clinton re-election campaign. He has authored four books, including the best-selling Intelligence Failure: How Clinton's National Security Policy Set the Stage for 9/11.
Born in Boston, Bossie attended the University of Maryland. He proudly served for 20 years as a volunteer firefighter in Montgomery County, Maryland where he resides with his wife, Susan, and their four children.
Citizens United was founded in 1988, and is the leading conservative advocacy group in the country with over 500,000 members and supporters. Through its films, op-eds, videos, and grassroots organizing, Citizens United seeks to reassert the traditional American values of limited government, freedom of enterprise, strong families, and national sovereignty and security.
They provide us well-prepared and informed speakers who understand our expectations and unique format. With WWSG, we know that the speaker fees are fair and trust that the event will be a success.
Sue Swan, Co-Founder of The Distinguished Speaker Series of Southern California
The consistent professionalism and quality for the way Worldwide Speakers Group handles events shows that they think of each detail and every contingency beforehand.
Newt Gingrich, Distinguished Leader, Visionary, & Political Vanguard; 2012 Republican Presidential Candidate; Speaker of the U.S. House of Representatives (1995-1999); Best-Selling Author
Everything was buttoned up, from the initial outreach to the event execution and post follow-up. I have a great team of representatives from WWSG to work with, first class experience.
Raylene Wetzel, American Century Investments
I hope to work again and again with Worldwide Speakers Group on the selection of our keynote and endnote speakers for our annual conference and other events. Our representative and her associate were terrific from my first communication to them until our speaking-event concluded... It is easy to see why many of the top speakers in the country work with Worldwide Speakers Group.
Gina Cohen, Chief Marketing Officer & Vice President of Communications for The National Recreation and Park Association
The team at WWSG is certainly at the top of the scale. Building a long-term relationship with the client has really set WWSG apart and we clearly saw that with our partnership. WWSG found creative ways to build the partnership which results in a win-win for all.
Erik Qualman, Top Technology and Motivational Speaker, #1 Bestselling Author & Futurist
Thanks again for all your help. Your entire team there is truly stellar.
Vice President of Communications; American Property Casualty Insurance Association
We always enjoy working with WWSG, and we thank you and your team for your diligence, thoroughness, and professionalism. Planning is already underway for next year's event (no rest for the weary). We hope to have every opportunity to work with you again in the near future.
David R. Cape, EVP of Business Development at Texas American Resources Company
All timing and logistics were seamless, and the client was super engaged and thankful. I'm happy to report that we have another WIN for WWSG! Let's build on the momentum together!
Josh Linkner, Five-Time Tech Entrepreneur, Hyper-Growth CEO, Two-Time NY Times Bestselling Author, Venture Capitalist, and Keynote Speaker
The WWSG team are super responsive and flexible. I will definitely work with them again to find speakers for my next event.
Delia Setiawan, Ernst & Young LLP
"After 20 years in the lecture series business, WWSG has become a valued partner. We produce over 24 speaking events a year and have worked with dozens of agencies. We appreciate WWSG's unparalleled professionalism, integrity, and creativity in suggesting speakers that are unique to the speaker circuit."
Sue Swan, Co-Founder of The Distinguished Speaker Series of Southern California
Speaker News
Check Availability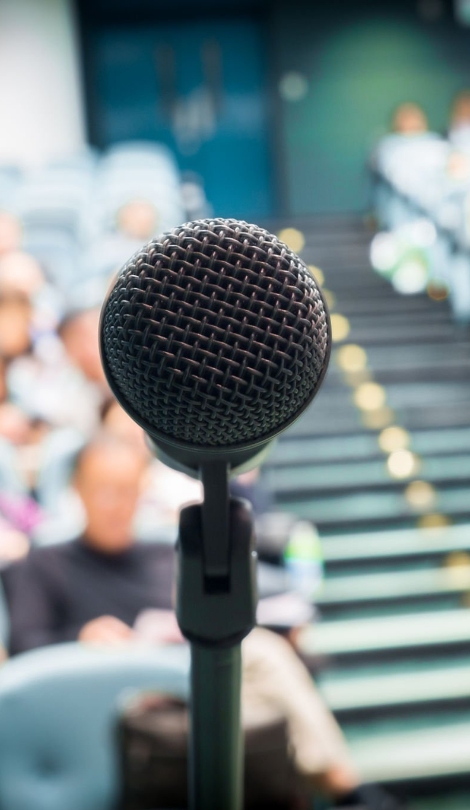 Other Speakers You May Like