Speech Topics
How can you build a life that results in genuine human flourishing? How does happiness ordinarily change over a lifetime and how can we get happier as we age?
Arthur Brooks reveals the answers to these questions by exploring together the advances in behavioral economics and social psychology, ancient wisdom, and art and music.
Based on his book Gross National Happiness and his documentary "The Pursuit," he extracts life lessons that can immediately help us pursue happiness, forge stronger relationships, and build more meaningful lives.
"To pursue the happiness within our reach, we do best to pour ourselves into faith, family, community and meaningful work," Brooks says. "Further, we need to share it with others with joy and confidence."
Audiences will take home tangible lessons on how they can be happier and more successful people – starting today.
It is an almost inevitable—and, to many of us, frightening—fact that our professional abilities decline as we age. As leaders, how can we prepare for the changes that come later in life, and how can we structure our lives in a way that uncovers new strengths and leads to lasting happiness? Blending the latest in behavioral social science research, ancient wisdom, and historical analysis, Professor Arthur Brooks will reveal how effectiveness and wellbeing at all stages of life come not from holding on to past achievements, but from cultivating new habits and a different understanding of success and fulfillment.
Organizational success begins with better leadership. So how can we become better leaders?
From more effective communication and self-management to risk-taking, Arthur Brooks lays out a series of practical strategies that can help each of us develop healthier leadership practices.
Relying on a quarter-century of academic study of entrepreneurship and ten years of management experience at the helm of one of the nation's leading public policy institutions, he shows that by looking in unexpected places and embracing unconventional ideas, we can all become better leaders – and better servants – to those placed in our care.
Those in attendance will learn valuable lessons on how to become more effective and successful leaders, who aspire to be authoritative – not authoritarian – in their efforts.
"Coercive leadership is a surrender to misery," says Brooks. "A real solution to our problems, one that lasts and works for us all, is authoritative leadership."
"While coercive leaders drive people away by belittling and blaming, authoritative leaders garner their support by offering encouragement and trust," he continues. "They foster a culture that affirms each team member's importance to the work being done, and in doing so convince individuals to invest deeply in the long-term prosperity of the organization."
In this age of divisive politicians, screaming heads on television, angry campus activists and twitter trolls, Arthur Brooks warns there is an "outrage industrial complex," that profits by setting American against American.
"It turns out most of what we 'know' about the other side is wrong," he says.
Public leaders and ordinary citizens alike are wondering how we can fight back against the bitterness and contempt washing over America. Conventional wisdom suggests that we need less disagreement, but Brooks recommends better, more loving disagreement.
It's not that we shouldn't disagree, Brooks says. "On the contrary, we shouldn't agree with each other, because we have a competition of ideas. That's a good thing."
Drawing on history, cutting-edge social science, and a decade of experience leading one of the nation's preeminent think tanks, Brooks shows that the country needs more love – not the mushy sentiment, but a commitment to the good of our fellow citizens.
Audiences will take home tangible lessons on how they can become healers in our nation, as well as happier people overall.
Biography
Arthur C. Brooks is a professor at the Harvard Kennedy School and the Harvard Business School, where he teaches courses on leadership and happiness. He is also a columnist at The Atlantic, where he writes the popular "How to Build a Life" column. Brooks is the author of 12 books, including the 2022 #1 New York Times bestseller From Strength to Strength: Finding Success, Happiness, and Deep Purpose in the Second Half of Life. He speaks all around the world about love and happiness, giving more than 150 speeches and lectures per year in the U.S., Europe, and Asia.
Brooks began his career as a classical musician, leaving college at 19, and performing with ensembles in the United States and Spain. In his late twenties, while still performing, he returned to school, earning a BA in economics through distance learning. At 31, he left music and earned an MPhil and PhD in public policy analysis, during which time he worked as a military analyst for the Rand Corporation. Brooks then spent the next 10 years as a university professor at Syracuse University, where he taught economics and nonprofit management. In 2009, Brooks became the president of the American Enterprise Institute in Washington, D.C., one of the world's most influential think tanks, which he led for a decade. During this period, he was selected as one of Fortune Magazine's "50 World's Greatest Leaders" and was awarded seven honorary doctorates.
"Dr. Brooks is a fascinating person – from his background as a musician to being a Harvard professor, he has so much knowledge to share. His presentation on finding happiness through work has left a lasting impact on our team."
Check Availability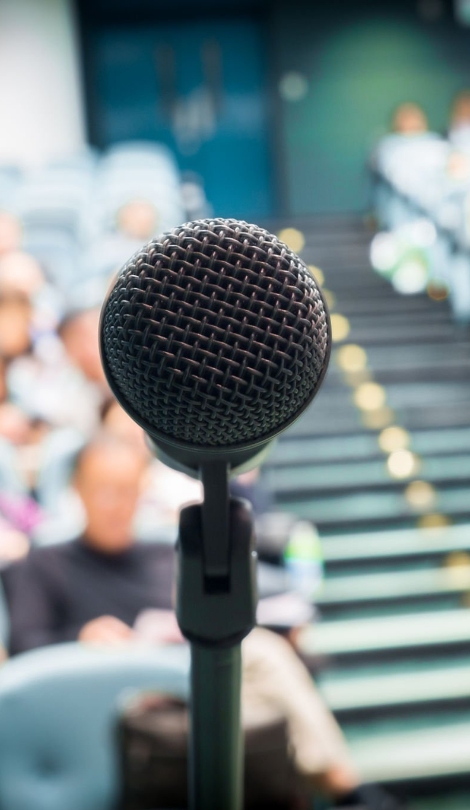 Other Speakers You May Like