(Podcast) What death can teach us about living well with Rana Adwish, MD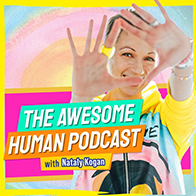 This special episode kicks off with a classical piano performance by Nataly's daughter Mia! (If you need some soul fuel, you will not want to miss it!)
–
Nataly then talks with Rana Awdish, MD, FCCP, who is the author of In Shock, a critically-acclaimed, bestselling memoir based on her own illness. Rana is a critical care physician and faculty member of Wayne State University School of Medicine in Detroit, Michigan and an artist.
–
Nataly and Rana talk about:
The power of compassion in medicine and as a way to heal ourselves
What coming close to death teaches us about what's truly important
How Rana's illness made her a better doctor
And much, much more!