Janet Yellen asked Bush Treasury chief Henry Paulson for advice on bank crisis: report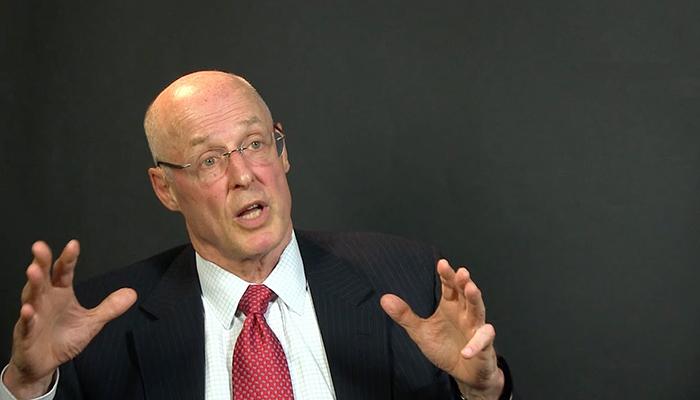 Treasury Secretary Janet Yellen sought out the advice of her predecessor from the George W. Bush administration on how best to navigate the crisis engulfing the banking sector, according to a report.
Yellen reached out to Henry Paulson, who ran the Treasury Department during the 2008 financial crisis, on what to do in order to reassure the public that the economy was stable, according to the Associated Press.
"It's really hard to stop or even slow down a bank run. And to do that requires a powerful and quick government response," Paulson told Yellen just before the treasury secretary announced on March 12 that the government would backstop all deposits that were controlled by failed lender Silicon Valley Bank.
At the time, Yellen was also holding emergency consultations with lawmakers, banking regulators, and Wall Street CEOs, including JPMorgan Chase boss Jamie Dimon, on how to stabilize the banking system.
Paulson told the AP that he told Yellen: "We are fighting for the survival of our regional banks."
He said "we're really fortunate to have a smart, experienced treasury secretary," describing Yellen as "one who reaches out to gets a range of opinions and talks to market participants on a real time basis."
But Yellen's detractors said that her administration is bailing out banks and essentially rewarding them for making risky investments.
Yellen was also faulted for causing stocks to fall earlier this month when she declined to guarantee "blanket insurance" for all regional bank depositors.
Paulson, a former CEO at Wall Street investment banking giant Goldman Sachs, was the top government official who spearheaded the $700 billion bailout of AIG and other firms to pull the country out of the 2008 financial crisis.
Regional bank stocks were trading higher on Monday as investor confidence that the crisis could be contained grew.
Shares of San Francisco-based lender First Republic Bank were trading some 10% higher as of around 1:30 p.m. Eastern time while PacWest Bank was up by around 2%.
Shares of Zion Bank were trading some 3% higher.
In Europe, shares of German lender Deutsche Bank rebounded after a brutal trading session on Friday while other banking stocks also saw gains.
Yellen sought Paulson's advice after the Federal Deposit Insurance Corporation took over SVB, which was victimized by a run on the banks that began earlier that week.
The move by the FDIC panicked shareholders and depositors, stirring stark reminders of earlier failures that triggered the Great Recession.