What Health Industry Leaders are Saying About AI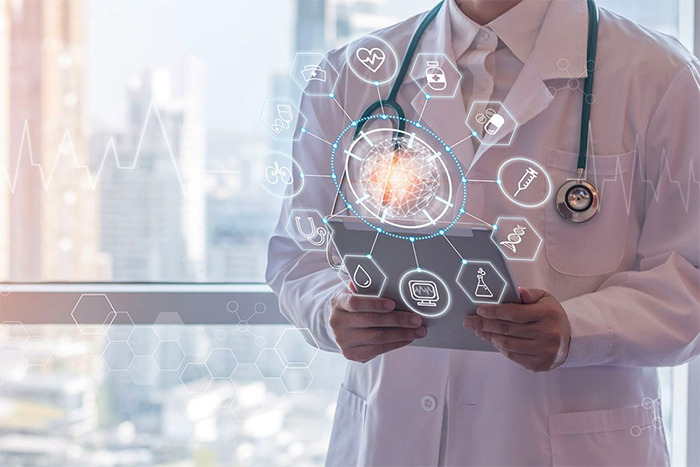 Artificial intelligence has been dominating the news on our social media feeds, email inboxes, and news channels. The potential effects of AI on health care are particularly intriguing, specifically how the implementation of AI has potential to be extremely advantageous but possibly harmful, too.
AI's role in the health sector is a complex issue. It will affect the cost of medicine, patient privacy, predictive analytics, health equity and more.
Our thought leaders provide comprehensive context to the issues surrounding AI's role in health care. If you're curious for more information about speakers who can discuss the various aspects of AI in healthcare and what the future holds, we have an array of speakers who can inform and educate your audience and help make sense of this complicated issue.
Dr. Deborah Birx told WWSG:
"Improving all aspects of healthcare, controlling current health pandemics, and being prepared for the future requires better real-time health data and critically better data analytics. The targeted use of AI to rapidly identify both positive and negative deviations in outcomes will allow not only physicians but individuals to rapidly evolve treatments. Interventions can become more individualized and targeted, resulting in improved outcomes without additional health care personnel, which will continue to be in short supply for the next decade.
AI used in a targeted manner can also be human capacity augmenting. Armed with 21st-century diagnosis technology and the positive components of AI, we can rapidly individualize cancer treatment and become much more effective in use of medications for diabetes and heart disease, improving outcomes while dramatically decreasing treatment side effects.
This is possible while protecting personal information with layered security matched with AI."
Ambassador (Dr.) Birx is a practicing physician and former United States diplomat. She is the former White House Coronavirus Response Coordinator and a former United States Global AIDS Coordinator. She is also Chief Medical and Scientific Adviser for ActivePure Technology and is the author of the bestselling book, Silent Invasion.
Dr. Dave A. Chokshi told us:
"Artificial intelligence, like any other health technology, should be subservient to the human relationships that characterize excellent care. Rather than starting with AI technology, we must start with what we're actually trying to accomplish on behalf of patients. What problem are we trying to solve? What service do we seek to improve? Then we can wrap around the technology to better serve those needs."
Dave A. Chokshi, M.D. is a prominent public health advocate and practicing physician. He served as the 43rd Health Commissioner of New York City during the Coronavirus pandemic and is a former White House Fellow.
Dr. Scott Gottlieb will soon publish an article for the Journal of the American Medical Association about the regulatory framework needed to suit the unique attributes of novel AI technologies in medical care. Dr. Gottlieb argues that global regulatory bodies such as the US Food and Drug Administration will struggle to apply their established norms to the new technology, even though "AI has the potential to help solve some of the most frustrating problems in public health," citing positive impacts on drug development and the accuracy of diagnosis and treatment.
The former FDA Chief says, "To foster innovation and ensure the safe, effective incorporation of AI in drug development and medical practice, the FDA will need to adopt regulatory policies tailored to the unique challenges and opportunities that these modern tools present." Dr. Gottlieb's JAMA article is posted here.
Scott Gottlieb, M.D. is a member of the board of directors to Pfizer, Inc.; llumina Inc.; and Tempus Labs; and a partner at the venture capital firm New Enterprise Associates. He is the former Commissioner for the Food and Drug Association and an exclusive thought leader with Worldwide Speakers Group.
Joseph Grogan told WWSG:
"AI will have a transformative impact on the healthcare space and will be a tool for improvements in patient care but is not without risks that may exacerbate present disparities in the healthcare system. Potential applications of this technology include enhancement in medical research and improvements to digital therapeutics, which are not currently reimbursed by Medicare but are proving safe and effective at treating a host of diseases.
Remote telehealth diagnostics have the potential to greatly improve diagnostics in underserved communities, as is the case with Digital Diagnostics AI test for diabetic retinopathy.
There is also a very real risk of regulatory overreach, which we may already be seeing at FDA and the Office of National Coordinator at HHS with government officials who have limited understanding suggest burdensome regulatory obligations.
There are also risks associated with AI that the industry will need to be careful to avoid if they don't want to provoke regulatory crackdowns. There are concerns about Medicare Advantage plans using AI to skim risk, tighten prior authorization, or increase coding intensity. This concern is not limited to Medicare Advantage; employers, Obamacare, Medicaid managed care, and fully insured health plans could also use this technology for similar purposes. But these same actors could also develop models to enhance preventive care for patients and help improve management of chronic conditions. These are just a few potential applications, positive and negative, for this still nascent yet transformative technology. The transformation our health system will undergo over the next 50 years means that our regulatory agencies will need to adjust to capitalize on AI's advantages while mitigating its risks."
Joseph Grogan is a prominent health care expert and Fellow at USC Schaeffer Center. He is also the Founder of Fire Arrow Consulting, former Assistant to the President, and former Director of the Domestic Policy Council.
Dr. Anand Shah told WWSG:
"Healthcare leaders struggle with how to translate seemingly disparate sources of data into actionable intel that advances discovery, care delivery, and patient outcomes. Artificial intelligence holds significant promise but is not without meaningful risk."
Anand Shah, M.D. is CEO of Aster Insights and Operating Advisor for CD&R. He is the former Deputy Commissioner for Medical and Scientific Affairs at the FDA, former Senior Medical Advisor for CMS, and former Chief Medical Officer for Center for Medicare & Medicaid Innovation.
To inquire about the availability of these industry leaders for speaking engagement, contact Worldwide Speakers Group today.