Exclusive Speaker Announcement: Ryan Dusick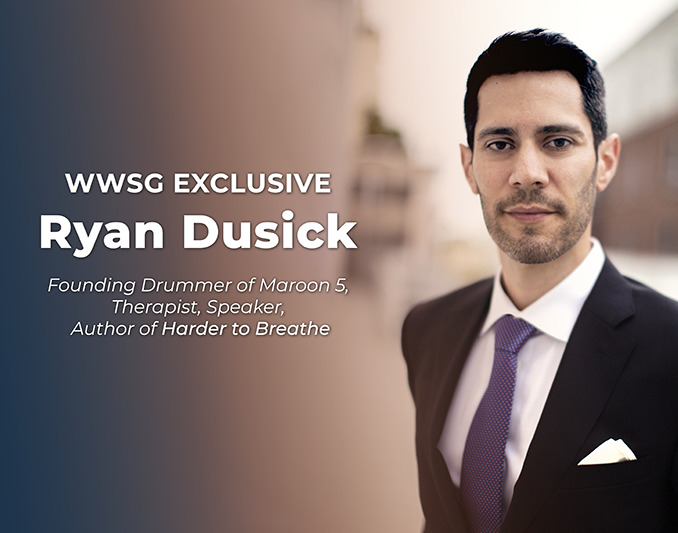 Ryan Dusick's many roles and titles include Associate Marriage and Family Therapist at The Missing Peace Center for Anxiety in Agoura Hills, CA; founding drummer of the world's most popular band, Maroon 5; mental health coach; public speaker; advocate; columnist for Variety Magazine; and author of the book, Harder to Breathe: A Memoir of Making Maroon 5, Losing It All, and Finding Recovery.
Forming a band in 1994 with best friends Adam Levine, Jesse Carmichael, and Mickey Madden; Ryan and his bandmates worked tirelessly for a decade before becoming the band we all know as Maroon 5. The band had multiple hit songs, two Grammy awards, and 20 million albums sold, but Ryan's career as a performer came to an end just as it was taking off and he consequently found himself directionless and coping with a loss of identity.In 2016, he began his journey of recovery, culminating in a new life path full of meaning, purpose, and fulfillment. Now working as a mental health professional and advocate, Ryan is spreading the message that recovery is possible and astounding things can come with it.
Check Availability
Selected Resources
Watch the Video: Maroon 5's original drummer Ryan Dusick talks about his new book 'Harder to Breathe'
Ryan Dusick's Speech Topics
• From Barely Breathing to Fully Alive
• Seeing Challenges Rather Than Threats: The Mindset of Growth
• A Purpose-Driven Life & Career