Speech Topics
Shubham Banerjee may be the youngest Silicon Valley-based tech entrepreneur to ever receive funding from a venture-capital firm, but at the end of the day he is still a typical teenager.
Banerjee's creation, which he constructed out of LEGOs for a science-fair project earlier last year, is a low-cost Braille printer that he hopes to one day sell for a fraction of its current $2,000 price tag.
"He's solving a real problem, and he wants to go off and disrupt an existing industry. And that's really what it's all about," Edward Ross, Director of Inventor Platforms at Intel.
Shubham offers a compelling insight (and remember – he is only 13-years old) on his journey in how he disrupted an industry with an estimated 285 million people that are visually impaired worldwide with 35 million legally blind worldwide, and 90 percent of these individuals live in developing countries, according to the World Health Organization.
"An inexpensive Braille printer could bring affordable, 21st-century computing to millions of people facing visual impairment," Shubham continues, "Technology should help us and not become a burden to high cost."
When not disrupting an industry, growing his company or pitching prospective clients, Shubham Banerjee can be found meeting his board, brainstorming with engineers or knocking on the doors of venture capitalists. Such is the life of a Silicon Valley's youngest entrepreneur.
In a half hour interview style format, the host will relive Shubham's journey as a seventh-grade student from Santa Clara, California to how he developed the Braille printer using toy construction LEGO pieces. The low-cost invention could be an accessible solution for blind and disadvantaged people across the globe.
The printer, dubbed Braigo (short for Braille with Lego), was created from the Lego Mindstorms EV3 set, which retails for $349. Banerjee also added $5-worth of additional materials, which means the finished product costs about $350. This makes Braigo much more affordable than other Braille printers, which can retail for more than $2,000. Shubham's story is filled with inspirational and motivational elements in how he viewed LEGOs more than just a toy.
Inspired by the beautiful mind of Shubham Banerjee, who combined his love of LEGO with the genuine desire to do something good for people, LEGO moved forward to create the 'Build for Good Challenge'. LEGO sent the same $350 LEGO EV3 kit that Shubham used to seven major companies (Amazon, Egencia, Expedia, HTC, Microsoft, Nordstrom, and Zulily) and asked them to create a robot that solves a 'human-interest problem'.
Through his inspiring journey, Shubham takes us from his proof of concept to show everyone that we can do better to help the people in need to why he had to form Braigo Labs Inc. to facilitate further research and development on many other similar solutions. Currently the company is working on different innovative ideas to bring to market alternative solutions to costly products currently available starting with braille printing/embossing technology.
Biography
When not disrupting an industry, growing his company or pitching prospective clients, Shubham Banerjee can be found meeting his board, brainstorming with engineers or knocking on the doors of venture capitalists. Such is the life of Silicon Valley's youngest entrepreneur.
Shubham Banerjee is the Evangelist and Founder of Braigo Labs Inc. and the inventor of Braigo.
At the age of 13, Shubham used Lego to create a low-cost Braille printer (a.k.a. Braigo) that he designed over long evenings at his family's kitchen table in Santa Clara, an hour south of San Francisco. The idea is to print Braille reading materials from a personal computer or electronic device on to paper using raised dots instead of ink.
His startup, Braigo Labs, has received an undisclosed investment amount from Intel Capital and Shubham is considered the youngest entrepreneur to receive venture capital.
Shubham devised the idea as a school science fair project, after he asked his parents how blind people read. "Google it," they replied. Shubham was shocked to discover that a market of 200 million people, most in developing countries, relied on clunky, expensive equipment. They are focused on bringing Braigo to market so real people can benefit and pay only a fraction of the original cost.
Shubham is regularly featured in International and National Media including CNN, NBC, ABC, PBS, NPR, CBC, BBC, Discovery, amongst others. He has had thousands of articles written about him in major publications and he holds several awards for innovation, to include:
• The White House – Honored Maker
• US News – Next Generation of STEM Leaders
• Popular Science – Greatest Innovations of the Year
• Trusted Reviews (UK) – Technology Innovation Awards
• Silicon Valley Business Journal 40 Under 40
• Maker Faire – Editors Choice Awards
• Readers Digest Best of America
• Fortune Magazine 18 Under 18 – The Young Innovators Who Are Changing The World
• The Guardian – Teen Powerlist
• Youngest Founder to Receive Venture Capital Funding for a Startup
His story has captured the imagination of many people, including industry veterans, and students alike who think Braigo will shake up the market for the visually impaired. He openly shares his story of innovation to inspire both adults and children alike. With his down to earth personality and young man sense of humor, Shubham has been well received by many different audiences.
Shubham, was born in Hasselt, Belgium. The family moved to San Jose, California when he was 4 years old. Currently, he is enrolled at UC Berkeley College of Engineering.
The consistent professionalism and quality for the way Worldwide Speakers Group handles events shows that they think of each detail and every contingency beforehand.
Newt Gingrich, Distinguished Leader, Visionary, & Political Vanguard; 2012 Republican Presidential Candidate; Speaker of the U.S. House of Representatives (1995-1999); Best-Selling Author
All timing and logistics were seamless, and the client was super engaged and thankful. I'm happy to report that we have another WIN for WWSG! Let's build on the momentum together!
Josh Linkner, Five-Time Tech Entrepreneur, Hyper-Growth CEO, Two-Time NY Times Bestselling Author, Venture Capitalist, and Keynote Speaker
They provide us well-prepared and informed speakers who understand our expectations and unique format. With WWSG, we know that the speaker fees are fair and trust that the event will be a success.
Sue Swan, Co-Founder of The Distinguished Speaker Series of Southern California
Thanks again for all your help. Your entire team there is truly stellar.
Vice President of Communications; American Property Casualty Insurance Association
I hope to work again and again with Worldwide Speakers Group on the selection of our keynote and endnote speakers for our annual conference and other events. Our representative and her associate were terrific from my first communication to them until our speaking-event concluded... It is easy to see why many of the top speakers in the country work with Worldwide Speakers Group.
Gina Cohen, Chief Marketing Officer & Vice President of Communications for The National Recreation and Park Association
We always enjoy working with WWSG, and we thank you and your team for your diligence, thoroughness, and professionalism. Planning is already underway for next year's event (no rest for the weary). We hope to have every opportunity to work with you again in the near future.
David R. Cape, EVP of Business Development at Texas American Resources Company
The WWSG team are super responsive and flexible. I will definitely work with them again to find speakers for my next event.
Delia Setiawan, Ernst & Young LLP
"After 20 years in the lecture series business, WWSG has become a valued partner. We produce over 24 speaking events a year and have worked with dozens of agencies. We appreciate WWSG's unparalleled professionalism, integrity, and creativity in suggesting speakers that are unique to the speaker circuit."
Sue Swan, Co-Founder of The Distinguished Speaker Series of Southern California
Everything was buttoned up, from the initial outreach to the event execution and post follow-up. I have a great team of representatives from WWSG to work with, first class experience.
Raylene Wetzel, American Century Investments
The team at WWSG is certainly at the top of the scale. Building a long-term relationship with the client has really set WWSG apart and we clearly saw that with our partnership. WWSG found creative ways to build the partnership which results in a win-win for all.
Erik Qualman, Top Technology and Motivational Speaker, #1 Bestselling Author & Futurist
Speaker News
Check Availability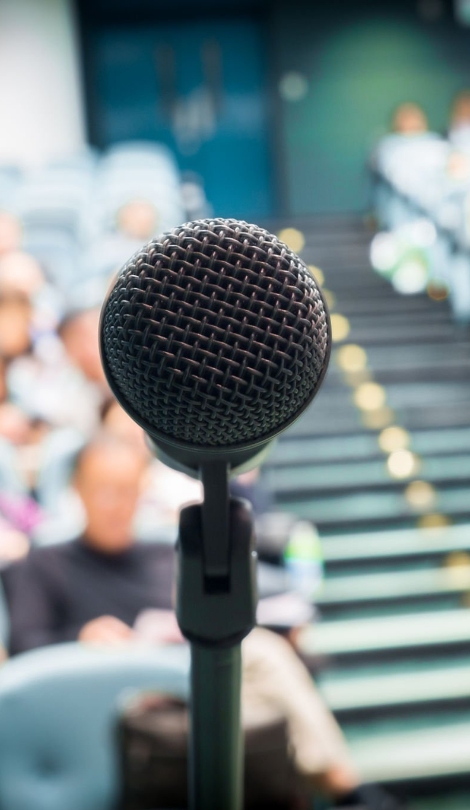 Other Speakers You May Like