Speech Topics
brainSHIFT is not just a wellness program for individuals and teams- but has become a movement to restore sleep, sanity & foster a sense of connection. How often do you or your staff have: Difficulty focusing at work? Racing thoughts before bed? Feelings of stress or anxiety and end up with too many visits to the doctor with no real answers? It's time to get to the issue's core and break your Stress-Success Cycle.  
In this 60-minute interactive training, attendees will:  
Score your current stress level by taking the Busy Brain Test. Learn if you have a Busy Brain or burnout?

Implement three basic steps to lead with calm, decision, and precision. 

Start a 7-day process to brainSHIFT from panic-induced symptoms to a PMA (Positive Mental Attitude). 

Join an interactive Q&A with Dr. Romie to get actionable stress management techniques.

Receive Digital Educational materials to implement the wellness and sleep programs. 

Learn practical mindful techniques to implement in the corporate workspace 
Due to the global pandemic, boundaries between work, family, and home life are blurred – fueling a women's health crisis. If you have difficulty focusing, anxiety, and disturbed sleep, it could be a Busy Brain. brainSHIFT for Women Leaders is a scientifically based program that will help you optimize your brain function to promote high performance, sanity, and sleep.  
Attendees will gain a unique perspective about:
Beyond berries and breathing: Let's get to the root cause of your Busy Brain

"Work-life" balance is a myth; implement the 3/30 method to balance your brain and then balance your priorities

Mental health and well-being answers for women's brains

How men can be allies using mindfulness-based techniques in the workplace
As healthcare and corporate America face record employee burnout rates, the answers are found beyond CE lectures and health fairs.  To change the state of our business and relationships, we must first address the state of our brain function. 
What is the difference between a workplace wellness initiative and a cultural movement in your organization? 

How the role of Chief Wellness Officer creates an impact in an organization.

Lessons learned from behind the scenes of scaling a mindfulness and wellness program to over 7000 employees in United States & Canada

Implement 4 leadership principles to create a culture of wellness in your organization
Change is a four-letter word that fosters fear. How will you lead your life without the worry and stress of change? Mindfulness teaches us that we are not just coping with "a new normal" but creating a new way of being. When we operate in the workplace from a subconscious realm of fear, stress-related symptoms of anxiety, panic, inability to focus, and insomnia predominate. The Power of Pause transforms us into mindful leaders who quickly face fears, rise above the panic, and find a path to calm consciousness. During this interactive mindfulness session, take a moment to pause, connect back to calm, and get refocused. We will practice scientifically proven breath and meditation techniques to use in the workplace and personally for improved focus, mood, and sleep.
Attendees will: 
Learn what happens to the brain under stress. Do you or your team have a "Busy Brain?"

Practice the Power of Pause: brain science-based mindfulness techniques for personal well-being, sleep and focus

Discover how to bring mindfulness to the workplace and foster mindful leaders.
Biography
Dr. Romila "Romie" Mushtaq, M.D., ABIHM, is a neurologist, mindfulness teacher, sought out keynote speaker, and never-to-recover chocolate addict. She is the first Chief Wellness Officer for a corporation of 5,000+ employees in the United States (Evolution Hospitality), integrative medicine specialist, and mindfulness expert who has impacted over 1.1 million lives across the world through her keynotes and corporate workshops on mindfulness and brain health.
Dr. Romie entered neurology at a time when less than 5% of neurologists were women. After reaching the pinnacle of "success" while working 80-100hr weeks and achieving her career milestones, she developed a rare, nearly-lethal health disorder. This experience sparked a shift towards mindfulness, meditation, and integrative medicine and led to her current path of shifting the minds of Fortune 500 leaders, organizations, and corporations through science-based meditation talks and workshops.
With nearly 20 years of expertise and her signature style, energy, and sass, Dr. Romie delivers dynamic corporate wellness keynotes and workshops, corporate leadership lectures, and business wellness consulting. She is an in-demand speaker with a popular TedX talk on "The Powerful Secret of Your Breath" and she is featured in NBC, Fox Business, Inc, CBS, Huffington Post, NPR, and dozens of other national media outlets. Dr. Romie has worked with Grammy-award winning musicians, top NBA/NFL/PGA athletes, and Fortune 500 company executives.
"Your virtual event pretty much mirrors your in-person engaging events." - Jeannette Smith, Vice President, Leading Authorities
Speaker News
Check Availability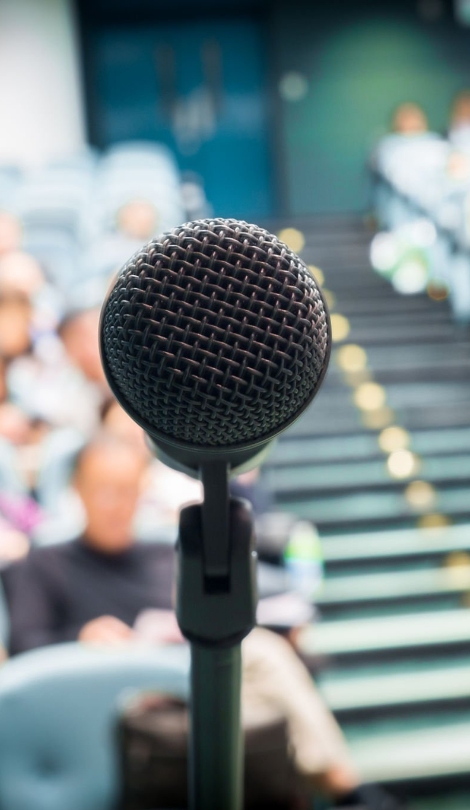 Other Speakers You May Like