Speech Topics
How can you unlock the power of trust?
Key themes: Capability, Character, Transparency
What are the core ingredients of a trusting culture?
Key themes: Diversity, Integrity, Humility
How can trust enable us to create something new or different?
Key themes: Risk, Growth, Change
Trust is both the foundation and the result of a strong culture. But, with hybrid work here to stay, it has never been more challenging to keep individuals and teams connected, engaged, and aligned with company values. Rachel is helping leaders navigate shifting power dynamics and employee expectations through the lens of trust.
Leading through uncertainty is a skill set and mindset many leaders need to develop. It requires rethinking the capabilities and character of a 'strong' and 'confident' leader. Rachel has been researching and teaching related themes on the connection between trust and doubt, humility and 'why comfortable cultures are a bad idea.'
Biography
Rachel Botsman has lived on four continents, given three celebrated TED talks, written two critically acclaimed books, and created Oxford University's first course on trust in the digital world at the Saïd Business School.
Her books have been translated into 14 languages. What's Mine is Yours predicted the rise of the 'sharing economy', and was hailed by TIME Magazine as one of "10 Ideas that Will Change the World."
Who Can You Trust? explores the profound ways trust is shifting; it was praised by Adam Grant, Marc Benioff, Sherry Turkle, and was named one of the best books of the year by WIRED.
Rachel is a regular contributor to The Guardian, Financial Times, The New York Times, WIRED, and Harvard Business Review. She is host of the podcast Rethink Moments and the BBC series Money, Money, Money.
She is a world-renowned speaker, known for her clear insights and warm storytelling. Past clients have included Salesforce, Goldman Sachs, the World Business Forum, Aspen Ideas Festival, Adobe, and Snapchat.
"The consistent professionalism and quality for the way Worldwide Speakers Group handles events shows that they think of each detail and every contingency beforehand."
Newt Gingrich, Distinguished Leader, Visionary, & Political Vanguard; 2012 Republican Presidential Candidate; Speaker of the U.S. House of Representatives (1995-1999); Best-Selling Author
"The team at WWSG is certainly at the top of the scale. Building a long-term relationship with the client has really set WWSG apart and we clearly saw that with our partnership. WWSG found creative ways to build the partnership which results in a win-win for all."
Erik Qualman, Top Technology and Motivational Speaker, #1 Bestselling Author & Futurist
"All timing and logistics were seamless, and the client was super engaged and thankful. I'm happy to report that we have another WIN for WWSG! Let's build on the momentum together!"
Josh Linkner, Five-Time Tech Entrepreneur, Hyper-Growth CEO, Two-Time NY Times Bestselling Author, Venture Capitalist, and Keynote Speaker
"Thanks again for all your help. Your entire team there is truly stellar."
Vice President of Communications; American Property Casualty Insurance Association
"I hope to work again and again with Worldwide Speakers Group on the selection of our keynote and endnote speakers for our annual conference and other events. Our representative, Vana Thayu and her associate Missy Simons were terrific from my first communication to them until our speaking-event concluded... It is easy to see why many of the top speakers in the country work with Worldwide Speakers Group."
Gina Cohen, Chief Marketing Officer & Vice President of Communications for The National Recreation and Park Association
"Everything was buttoned up, from the initial outreach to the event execution and post follow-up. I have a great team of representatives from WWSG to work with, first class experience."
Raylene Wetzel, American Century Investments
"The WWSG team are super responsive and flexible. I will definitely work with them again to find speakers for my next event."
Delia Setiawan, Ernst & Young LLP
"They provide us well-prepared and informed speakers who understand our expectations and unique format. With WWSG, we know that the speaker fees are fair and trust that the event will be a success."
Sue Swan, Co-Founder of The Distinguished Speaker Series of Southern California
"After 20 years in the lecture series business, WWSG has become a valued partner. We produce over 24 speaking events a year and have worked with dozens of agencies. We appreciate WWSG's unparalleled professionalism, integrity, and creativity in suggesting speakers that are unique to the speaker circuit."
Sue Swan, Co-Founder of The Distinguished Speaker Series of Southern California
Speaker News
Check Availability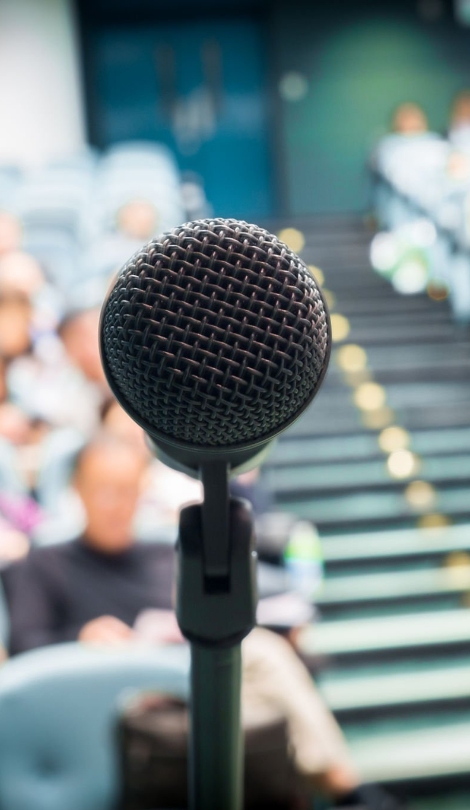 Other Speakers You May Like