Speech Topics
As an anchor of CNN Newsroom, Poppy Harlow is on the front lines of breaking news each day. In this talk, she draws on her years of journalistic experience to makes sense of the latest in global events, business, and economic news. With insider access from interviews with newsmakers and business leaders, she looks at the stories driving our daily conversations, offering her analysis and sharing her outlook for the future.
As host of the CNN podcast BossFiles with Poppy Harlow, Poppy Harlow hears business and leadership insights straight from the source. Conducting in-depth interviews with the world's leading entrepreneurs, CEOs, and innovators, she shares with audiences the proven strategies to succeed in the business world and what it takes to rise to the top and stay there.
In this talk, Poppy Harlow draws on her own upbringing and insider insights gleaned from hosting her segment American Opportunity to discuss the social issues of today. She explores income inequality across race, gender, and economic classes, while infusing stories from her interviews with the world's top CEOs and business leaders. Audiences will leave with a better understanding of the income and opportunity gap in America today, and inspired to make a difference in mitigating it.
A twice-Emmy nominated journalist, Poppy Harlow brings her extensive interview experience to the stage as a moderator. Having facilitated panels at major industry events like the World Economic Forum, the Microsoft CEO Summit, and the Fortune Most Powerful Women Summit, she provokes discussion, summarizes insights, and leads thoughtful Q&A with her signature journalistic polish and expertise.
Biography
Poppy Harlow anchors CNN Newsroom weekdays from 9-11am ET alongside Jim Sciutto. She is also the creator and host of the CNN podcast "BossFiles with Poppy Harlow."
Harlow imparts her deep economic knowledge by interviewing the world's top business leaders and CEOs including Warren Buffett, JPMorgan Chase CEO Jamie Dimon, Google CEO Sundar Pichai, Bill Gates and Melinda French Gates, among others. She has also interviewed Supreme Court Justice Ruth Bader Ginsburg, Canadian Prime Minister Justin Trudeau, and moderated two CNN Presidential Town Halls.
She has been nominated for multiple Emmy awards throughout her career and her reporting has won numerous industry awards, including the Gracie Award for Best online investigative feature on financial fraud, and SABEW's Best in Business award for online video.
Harlow is deeply focused in her reporting on income inequality and solutions to closing the opportunity gap for women and minorities. She launched the multi-media series "American Opportunity" shining a light on disparity across America.
In 2021, Penguin Random House published Poppy Harlow's The Biggest Little Boy, a children's book that reassures young readers that they are special just the way they are.
Harlow graduated Magna Cum Laude, Phi Beta Kappa with a bachelor's degree in Political Science from Columbia University. She holds a Masters in Studies of Law from Yale Law School. She is a member of the Council on Foreign Relations, as well as a member of the 2019 Class of Henry Crown Fellows within the Aspen Global Leadership Network at the Aspen Institute.
The team at WWSG is certainly at the top of the scale. Building a long-term relationship with the client has really set WWSG apart and we clearly saw that with our partnership. WWSG found creative ways to build the partnership which results in a win-win for all.
Erik Qualman, Top Technology and Motivational Speaker, #1 Bestselling Author & Futurist
Everything was buttoned up, from the initial outreach to the event execution and post follow-up. I have a great team of representatives from WWSG to work with, first class experience.
Raylene Wetzel, American Century Investments
All timing and logistics were seamless, and the client was super engaged and thankful. I'm happy to report that we have another WIN for WWSG! Let's build on the momentum together!
Josh Linkner, Five-Time Tech Entrepreneur, Hyper-Growth CEO, Two-Time NY Times Bestselling Author, Venture Capitalist, and Keynote Speaker
Thanks again for all your help. Your entire team there is truly stellar.
Vice President of Communications; American Property Casualty Insurance Association
The WWSG team are super responsive and flexible. I will definitely work with them again to find speakers for my next event.
Delia Setiawan, Ernst & Young LLP
We always enjoy working with WWSG, and we thank you and your team for your diligence, thoroughness, and professionalism. Planning is already underway for next year's event (no rest for the weary). We hope to have every opportunity to work with you again in the near future.
David R. Cape, EVP of Business Development at Texas American Resources Company
The consistent professionalism and quality for the way Worldwide Speakers Group handles events shows that they think of each detail and every contingency beforehand.
Newt Gingrich, Distinguished Leader, Visionary, & Political Vanguard; 2012 Republican Presidential Candidate; Speaker of the U.S. House of Representatives (1995-1999); Best-Selling Author
I hope to work again and again with Worldwide Speakers Group on the selection of our keynote and endnote speakers for our annual conference and other events. Our representative and her associate were terrific from my first communication to them until our speaking-event concluded... It is easy to see why many of the top speakers in the country work with Worldwide Speakers Group.
Gina Cohen, Chief Marketing Officer & Vice President of Communications for The National Recreation and Park Association
They provide us well-prepared and informed speakers who understand our expectations and unique format. With WWSG, we know that the speaker fees are fair and trust that the event will be a success.
Sue Swan, Co-Founder of The Distinguished Speaker Series of Southern California
"After 20 years in the lecture series business, WWSG has become a valued partner. We produce over 24 speaking events a year and have worked with dozens of agencies. We appreciate WWSG's unparalleled professionalism, integrity, and creativity in suggesting speakers that are unique to the speaker circuit."
Sue Swan, Co-Founder of The Distinguished Speaker Series of Southern California
Speaker News
Check Availability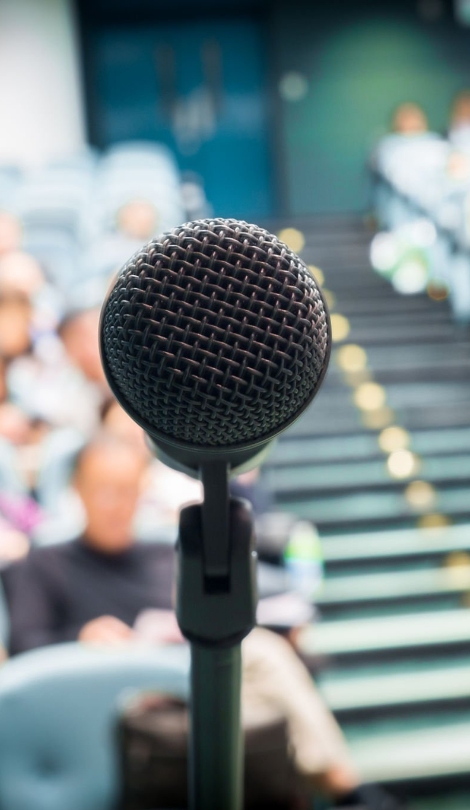 Other Speakers You May Like