Speech Topics
Tens of millions of Boomers are entering their retirement years just as Americans are living longer than ever before. As a result, the timing, power, and purpose of maturity are being dramatically re-imagined. Learn how the exciting spectrum of new lifestyle choices across adulthood will affect every area of our lives.
This impactful new presentation unveils Age Wave's highly acclaimed research and explores a wide range of potentially game-changing questions for business leaders across every industry:
How will the distribution of learning, work, and leisure be transformed by our longer lifespans?
How is retirement being re-defined and re-imagined?
What are the changing roles within families?
Will encore careers and giving back become the norm?
How can health be optimized, and will it be affordable?
What changes are needed to make our homes and communities "aging friendly"?
What are the ideal roles for 21st century "modern elders"?
What is the new measure of success?
Increasing longevity, declining fertility, and aging Baby Boomers are triggering an enormous age wave. This demographic tsunami has the potential to create tremendous marketplace and work/talent opportunities—and brings with it equally pressing social and financial challenges.
This enlightening and entertaining presentation encapsulates key learnings from Age Wave's highly acclaimed research and explores some of the most pressing questions faced by individuals, governments, and businesses today.
How will people use their newfound longevity?
How will a cyclic lifeplan replace the traditional linear model?
How will aging Boomers change established paradigms of work, leisure, learning, and retirement?
What's the most effective way to market and sell to "middlescent" Boomers?
Why is managing a four-generation workforce the new diversity mandate?
What new social and political challenges are being created by this age wave?
The convergence of rising longevity, today's uncertain economy, and widespread insufficient savings has reset the retirement clock. Highly acclaimed Age Wave research reveals that the new retirement could be a good thing—for individuals, the consumer marketplace, and financial-planning professionals.
This presentation explores the most important questions in retirement planning today, illustrates groundbreaking research, and reveals how to safeguard a successful retirement while avoiding the "wildcards" that threaten to shatter dreams.
Why financial peace of mind has become far more important than wealth
The "family bank" phenomenon and how it could jeopardize retirement
How women's rising financial power is transforming the field of retirement planning
How a new model of work can add fulfillment, stimulation, and financial security
How the demands of eldercare, sibling care, grandparenthood, singlehood, and "rehirement" will impact retirement planning
The rising financial power of women may be the most important demographic trend of the coming years. A critical mass of women—bolstered by education, unprecedented levels of workforce participation, and escalating income and wealth—are assuming increasingly influential roles in their family's financial management.
Drawing on insights from decades of Age Wave research, including a recent study on "Women and Financial Wellness" and Maddy Dychtwald's landmark book Influence: How Women's Soaring Economic Power Will Change Our World for the Better, this illuminating and engaging presentation gives straightforward and though-provoking answers to the questions that are transforming the financial services industry and the lives of women and families across the nation.
How will greater longevity catalyze women to plan more effectively for longer lives?
How do new family interdependencies impact women and their approach to money?
What are the core values and characteristics defining women investors?
What will the next generation of financially savvy young women look like?
How can financial service professionals most effectively communicate with and meet the needs of women?
Biography
Maddy Dychtwald is an internationally recognized author, entrepreneur, business advisor, and thought leader on the age wave—and how longevity and the ascent of women are transforming the marketplace, the workplace, the retirement scape, and how we do business. Since co-founding Age Wave more than 30 years ago, Maddy and her team have worked with more than half of the Fortune 500 in industries ranging from pharmaceuticals and medical technology to financial services and marketing.
Maddy has led numerous studies on the subject of women and money, including "Women and Financial Wellness: Beyond the Bottom Line" for Bank of America Merrill Lynch, "The Allianz Women, Money, and Power Study," and "A New Era of Women and Financial Planning" for LPL. In addition, she has been deeply involved in research on a variety of aspects of longevity, retirement, and the age wave.
Maddy is a member of the Wall Street Journal's Expert Panel on Retirement in which she had the top wealth-management expert post for 2017 based on reader traffic. She is the author of three books, Influence: How Women's Soaring Economic Power Will Transform Our World for the Better; Cycles: How We Will Live, Work, and Buy, and Gideon's Dream: A Tale of New Beginnings. She is also regularly featured in prominent national media, including Bloomberg Businessweek, Forbes, Newsweek, Time, U.S. News & World Report, Fox Business News, CNBC, and NPR.
She is one of the founders of the nonprofit Women Against Alzheimer's and serves as a board member of the BrightFocus Foundation, a non-profit that funds research to eradicate diseases of the brain and eye. She is also a founding member of the XPRIZE Alzheimer's Braintrust gearing up to globally crowdsource innovative solutions to end Alzheimer's disease.
Maddy is passionate not just about longevity as a demographic phenomenon, but also about living a long life with good health, vitality, financial wellness, and purpose. She is personally focused on fitness, eating well, meditation, and traveling the world with her family.
[Maddy's] entire presentation was spectacular and the clips [she] wove in were hilarious at times and certainly right on cue for our audience."
Speaker Resources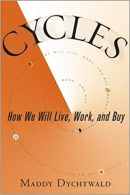 Check Availability