Speech Topics
Lewis is the only person to have completed a long distance swim in every ocean of the world. To date he has pioneered more swims around famous landmarks than any other swimmer in history. Each of these seemingly impossible feats was done to raise awareness about the vulnerability of our oceans and their importance to humanity. And he's not finished yet.
Lewis is a vivid storyteller. His address on leadership at the Business Innovation Forum in Rhode Island was voted as one of the "7 Most Inspiring Videos on the Web".
Over 7 million people have viewed his TED talks, and countless others have followed him on BBC, Good Morning America, CNN, Jon Stewart, National Geographic, Sky News, Al Jazeera, Jay Leno and more. His autobiography "Achieving the Impossible" is a Bestseller and was chosen for Oprah's Exclusive Book List.
Lewis has received a number of awards including France and South Africa's highest honours, as well as the Freedom of the City of London. In 2010, the World Economic Forum named him a Young Global Leader for his "potential to contribute to shaping the future of the world through inspiring leadership" and in 2013 the United Nations Environment Programme appointed him "Patron of the Oceans."
Lewis's ability to make his story matter has made him one of the world's leading inspirational speakers.
On their 125th anniversary, Coca-Cola asked Lewis to address their world-wide leadership team. When Unilever decided to double their business and halve their environmental footprint, they chose Lewis to motivate their management team. And when Lloyd's Agency Network turned 200 years old, they asked Lewis to help them visualize their future in an increasingly unpredictable world.
And earlier this year he addressed the world's business leaders at the World Economic Forum in Davos.
As an ocean advocate, pioneer swimmer and explorer, Lewis puts his hard-learned lessons into the context of a corporate environment. He shares the visualization that enabled him to undertake the first swim across the sub-zero waters of the North Pole.
And he shares the "radical tactical shift" that he used to complete the first swim across a glacial lake on Mt Everest. Most importantly, he inspires people to reach for the dream of achieving their own impossible.
What are the qualities that make Lewis Pugh one of the world's leading inspirational speakers? What is it about his talks that bring audiences to their feet? What is it about him that captured the imaginations of world leaders like Bill Clinton, Ted Turner and Desmond Tutu?
Lewis goes to extremes. He's been to the world's most inaccessible places. He's put his body through unimaginably difficult conditions. He's learned how to harness the energy that comes from overcoming extraordinary odds. And he knows how to inspire audiences to rise to their own internal challenges. His talks make a difference, to individuals, and to organizations.
His dream is that they will make a difference to the world.
Biography
Lewis Pugh was the first person to complete a long-distance swim in every ocean of the world.
Over a period of 30 years he has pioneered swims in the most challenging environments on earth and developed an understanding of the beauty and fragility of life and its many ecosystems.
In 2007 he undertook the first long-distance swim across the North Pole, wearing just Speedo swimming trunks, to highlight the melting of the Arctic sea ice. He followed this up with a swim across a glacial lake on Mt Everest to draw attention to the melting glaciers in the Himalayas. Most recently he became the first person the swim the 528km length of the English Channel.
Lewis's driving purpose is to protect our oceans.
In 2016 he played a pivotal role in creating the largest marine reserve in the world in the Ross Sea off Antarctica. The media coined the term "Speedo Diplomacy" to describe his efforts swimming in the icy waters of Antarctica and shutting between the USA and Russia to help negotiate the final agreement.
Lewis is a vivid storyteller. He talks about the methods he uses to undertake swims, which were deemed "impossible" – choosing the right team, meticulous preparation, the right mind-set, never quitting, and changing when circumstances dictate. TED describe him as a "master story-teller" and his speech at the 2008 Business Innovation Forum in Rhode Island was voted as one of the "7 Most Inspiring Speeches on the Web".
Lewis has received many awards for his work. In 2010 he was selected as a Young Global Leader by the World Economic Forum. In 2013 he was chosen to be the first UN Patron of the Oceans. And last year he was appointed an Adjunct Professor of International Law at the University of Cape Town.
They provide us well-prepared and informed speakers who understand our expectations and unique format. With WWSG, we know that the speaker fees are fair and trust that the event will be a success.
Sue Swan, Co-Founder of The Distinguished Speaker Series of Southern California
Everything was buttoned up, from the initial outreach to the event execution and post follow-up. I have a great team of representatives from WWSG to work with, first class experience.
Raylene Wetzel, American Century Investments
All timing and logistics were seamless, and the client was super engaged and thankful. I'm happy to report that we have another WIN for WWSG! Let's build on the momentum together!
Josh Linkner, Five-Time Tech Entrepreneur, Hyper-Growth CEO, Two-Time NY Times Bestselling Author, Venture Capitalist, and Keynote Speaker
The consistent professionalism and quality for the way Worldwide Speakers Group handles events shows that they think of each detail and every contingency beforehand.
Newt Gingrich, Distinguished Leader, Visionary, & Political Vanguard; 2012 Republican Presidential Candidate; Speaker of the U.S. House of Representatives (1995-1999); Best-Selling Author
I hope to work again and again with Worldwide Speakers Group on the selection of our keynote and endnote speakers for our annual conference and other events. Our representative and her associate were terrific from my first communication to them until our speaking-event concluded... It is easy to see why many of the top speakers in the country work with Worldwide Speakers Group.
Gina Cohen, Chief Marketing Officer & Vice President of Communications for The National Recreation and Park Association
The team at WWSG is certainly at the top of the scale. Building a long-term relationship with the client has really set WWSG apart and we clearly saw that with our partnership. WWSG found creative ways to build the partnership which results in a win-win for all.
Erik Qualman, Top Technology and Motivational Speaker, #1 Bestselling Author & Futurist
We always enjoy working with WWSG, and we thank you and your team for your diligence, thoroughness, and professionalism. Planning is already underway for next year's event (no rest for the weary). We hope to have every opportunity to work with you again in the near future.
David R. Cape, EVP of Business Development at Texas American Resources Company
The WWSG team are super responsive and flexible. I will definitely work with them again to find speakers for my next event.
Delia Setiawan, Ernst & Young LLP
"After 20 years in the lecture series business, WWSG has become a valued partner. We produce over 24 speaking events a year and have worked with dozens of agencies. We appreciate WWSG's unparalleled professionalism, integrity, and creativity in suggesting speakers that are unique to the speaker circuit."
Sue Swan, Co-Founder of The Distinguished Speaker Series of Southern California
Thanks again for all your help. Your entire team there is truly stellar.
Vice President of Communications; American Property Casualty Insurance Association
Speaker Resources
Speaker News
Check Availability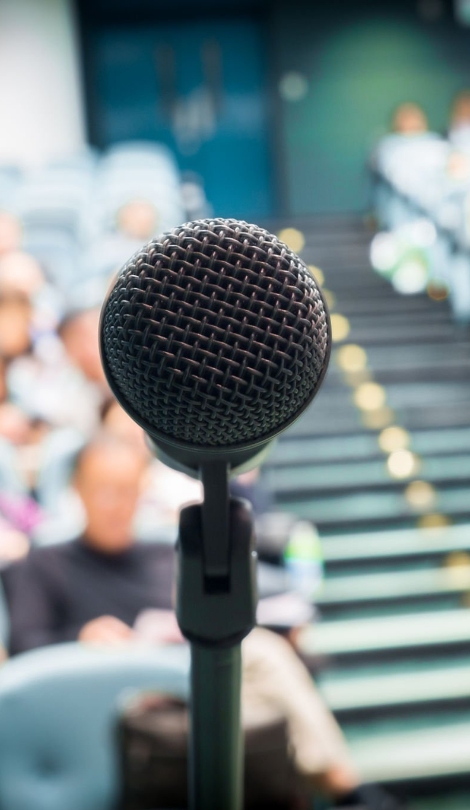 Other Speakers You May Like