Speech Topics
We live in an accelerated age of technology, disruption, volatility, and uncertainty. It demands that we lead our teams and organizations in radically new ways. We need to leverage creative problem-solving to innovate and do more with less. 
Globally ranked management thinker Kaihan Krippendorff has studied and analyzed the strategies of thousands of companies to uncover how they were able to beat competitors to lead across industries and markets. In this entertaining, interactive, and practical keynote, Kaihan will teach you the creative secrets of companies that outperform. He will guide you through his 4th Option® IDEAS Framework, a learnable and repeatable process for generating strategic breakthrough ideas, innovations, and business models to drive growth and keep you relevant in the future. 
Detailed in his best-selling book, Outthink the Competition, Kaihan's 4th Option® IDEAS Framework and tools have been used in hundreds of companies ranging from high-growth startups to industry-leading public and private global corporations. 
Ninety-five percent of leadership teams that have enlisted Kaihan's guidance through IDEAS report having at least one transformative idea to take action on and to date have generated in excess of $2.5B in new annual recurring revenue. 
In this keynote, Kaihan will entertain and engage your audience members with stories and cases customized for your company. They'll walk away with rigorously researched practical tools they can apply to find their 4th Option®. 
The audience will leave with:  
A proven framework for growth & innovation, the 4th Option IDEAS Process

 

The top five moves of the Outthinker Playbook

 
A simple tool to avoid killing off "crazy" (valuable) ideas and turn them into winning moves

 

A common language and energized mindset that enables and encourages innovation throughout the organization

 
A program for leaders & teams who want to:  
In need of delivering faster growth

 
Seeking ways to overcome heavy competition and disruptors

 

Looking for a repeatable process to drive innovation and unleash creative thinking

 

Worried they will not keep up with the pace of change

 
In our accelerated world of technology and disruption, the benefits of turning employees into Intrapreneurs are well documented. Companies that treat their people as Intrapreneurs have innovation infused into their DNA. Transformation becomes a toned muscle and capability that can be exercised repeatedly as needed. Best-selling author and globally ranked innovation expert Kaihan Krippendorff's research shows companies with active Intrapreneur networks are 3X more likely to be in the top quintile of financial performance and enjoy a 2.5X advantage in their ability to recruit and retain top talent. 
The IN-OVATE framework provides a specific and practical approach to turn your employees into Intrapreneurs, and build capacity for enterprise-wide transformation and smart innovation. 
In this inspiring, timely, and high-impact keynote, Kaihan shows how organizations can unlock the power of Intrapreneurship, and how you, the individual Intrapreneur, can navigate barriers, overcome resistance, and take the initiative to drive transformation across your organization. 
The audience will leave with:  
A framework to identify and overcome the seven blockers of innovation

 

The six characteristics, mindsets, and habits of successful Intrapreneurs

 

Appreciation and understanding of the human side of innovation and how to spread Intrapreneurship across the organization

 

Inspiring and memorable stories to fuel their Intrapreneurial journey

 
 A program for leaders & teams who want to:  
Motivate people to be more innovative

 

Move from a culture of permission-seeking to a culture of proactivity

 
Transform employees into Intrapreneurs Spark creativity and innovation

 

Gain traction on or accelerate transformation

 
When we say "innovation" we almost always mean "product innovation". We talk about R&D and possible new solutions to fulfill unmet needs. This is a one-dimensional and incomplete approach to innovation. Dissect the highest performing and most innovative companies of the last decade and you will see that great innovators disrupt their markets by reaching beyond the product. Oftentimes their success rests on choices that have little to do with new product innovations. 
In this practical, high-impact keynote, globally recognized innovation expert Kaihan Krippendorff will share entertaining and engaging examples from your industry and beyond that breakdown how companies that outperform their competition seek disruptive innovation across eight dimensions known as the "8Ps". The "8Ps" is a proven framework that enables organizations to move beyond "business as usual" to explore and uncover new competitive advantages, innovations, and business models. 
The audience will leave with: 
A framework to systematically uncover areas for growth, innovation, and advantage

 

Knowledge of how to construct a business model that doesn't conflict with your core business

 

A list of actionable ideas to grow your business or make it more competitive

 
A feeling of being energized and empowered to innovate, regardless of their title or role

 
A program for leaders & teams who are: 
In need of delivering faster growth

 

Seeking ideas to innovate their business model

 
Worried about being commoditized and want to find new sources of differentiation 

 

Looking for a repeatable process to drive

 

innovation and unleash creative thinking

 
We are experiencing a historic acceleration in the pace of change in our world. Artificial intelligence, digitization, robotics, 3D printing, climate change, political instability, deglobalization, and the rise of purpose-driven enterprises are reconfiguring how every conceivable industry operates. 
These changes are dividing us into two camps: the "Disruptors" and the "Disrupted". 
Bestselling author and globally recognized innovation expert Kaihan Krippendorff has spent more than two decades studying patterns of disruption. What makes some companies thrive and causes others to fall behind? What are the current and emerging ways in which companies create competitive advantage? How do organizations successfully transform on a continual basis? 
Lean into change and choose to be The Disruptor in this keynote where Kaihan will break down the underlying patterns of disruption and walk the audience through the 4th Option® IDEAS Framework, a rigorously researched and tested framework for generating disruptive ideas and business models. Inspiring stories of successes, failures, and tactics of the world's greatest innovators will entertain and engage the audience who will come away with a list of actionable ideas they can use for their own business.  
The audience will leave with: 
An understanding of emerging trends and disruptors thatwill shape the future off their industry

 
A proven framework to generate disruptive 4th Option ideas

 

The Outthinker Playbook: the top 5 strategic moves being used by disruptors today

 

Knowlege of how to to avoid killing off "crazy" (valuable) ideas and turn them into winning moves

 
 A program for leaders & teams who are: 
In need of delivering growth in the face change Facing heavy competition and disruptors

 

Looking for a repeatable process to drive innovation and unleash creative thinking

 

Struggling to keep up with the pace of change
In a world marked by accelerated change, disruption, and volatility, leaders must be able to rapidly observe, analyze, and connect information in order to seize opportunity and defend against possible threats to their business. Mental agility and agile adaptation are now a non-negotiable part of the business skillset. 
In this interactive and practical keynote, globally recognized strategy expert and best-selling author Kaihan Krippendorff will guide the audience through a simple framework they can use to problem solve and unleash agile in their own work. Inspiring case studies and stories handpicked for your event and unique company context will lay out a playbook of the top five strategies being used today by agile disruptors to beat the competition. 
The audience will leave with: 
A framework for agile thinking and analysis that can be applied to any situation

 

Increased ability to connect seemingly unrelated information to recognize opportunity

 

A playbook of the top five strategies used by agile disruptors today to beat the competition

 
A boost of energy and confidence to think differently and problem solve

 
A program for leaders & teams who are: 
Feeling pressure to deliver growth

 

Worried that the thinking inside their organization is going stale

 
Looking for a repeatable process to maintain high levels of innovation

 

Facing turbulence and chance they may not be ready for

 
Biography
Kaihan Krippendorff has made a commitment to helping organizations and individuals thrive in today's era of fast-paced disruptive technological change.
He began his career with McKinsey & Company before founding the growth strategy and innovation consulting firm Outthinker. His growth strategies and innovations have generated over $2.5B in revenue for many of the world's most recognizable companies including Boeing, Citibank, CVS Health, L'Oréal, Microsoft, and Verizon.
Named to the Thinkers50 list of the 30 management thinkers most likely to shape the future of how organizations are managed and led, Kaihan is a best-selling author of five books, most recently the Edison Award nominated, Driving Innovation From Within: A Guide for Internal Entrepreneurs.
Kaihan is founder of the Outthinker Strategy Network, an exclusive network of Chief Strategy Officers from large organizations with over $1B in revenue. A trusted advisor to these Fortune 500 Strategy Executives, Kaihan is known for facilitating powerful conversations that create strategic clarity and yield actionable and impactful ideas for this diverse cross-industry group.
Amidst his dizzying schedule of keynote speeches, consulting projects, ongoing research and writing, Kaihan still finds time to teach at business schools throughout the US and internationally(including NYU and FIU), contribute regularly to Fast Company and other major business media outlets, host the Outthinkers Podcast, and play an active advisory role on the board of a growing roster of both high-growth startups and established companies.
He holds degrees from the University of Pennsylvania School of Engineering, Wharton, Columbia, and London Business Schools and a doctorate in strategy. With a mother from Bangladesh, father from Germany, and wife from Latin America––Kaihan brings a holistic, diverse, and global perspective to everything he does.
"We recently had Kaihan speak at our annual winter meeting to our council members. Not only was Kaihan's presentation the most thought provoking and inspiring aspect of our meeting he was an absolute pleasure to work with leading up to the event. Kaihan spent extra time listening to us to learn more about our industry. His passion and enthusiasm came across extremely well to our audience. I would highly recommend Kaihan for your next event." –ELECTRI International
Speaker News
Check Availability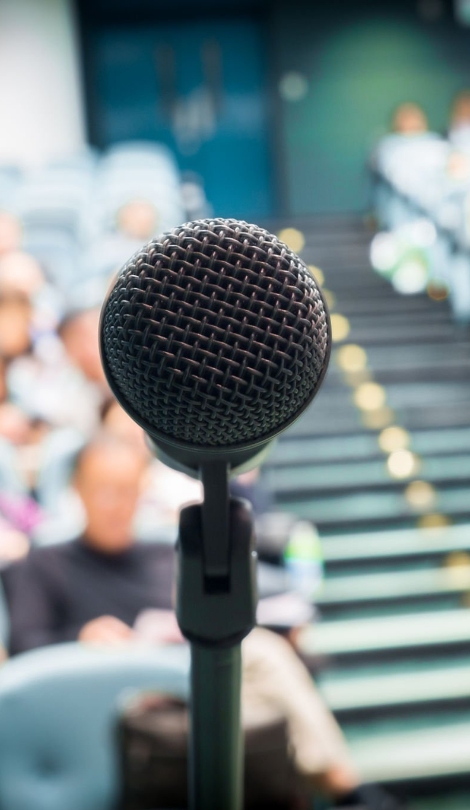 Other Speakers You May Like