Speech Topics
Dr. Gerberding spent more than 6 years as a global health diplomat, traveling to 32 countries to promote health, encourage prevention of disease, and motivate preparedness for new threats. These travels introduced her to remarkable women in some of the most challenging regions of the world. Their stories often begin with a description of the countless hours spent, day after day, locating water, hauling water, cooking with water, and washing in water. The never-ending quest for water, and the lack of basic sanitation, keeps these women on a treadmill of poverty and threatens their children's survival. Nevertheless, in villages across the world, many are creating innovative solutions for themselves and hope for their children. The stories of their struggles to overcome thirst, poor hygiene, and lack of access to education not only incite outrage at their circumstances, but also inspire awe of their determination to survive and thrive. Dr. Gerberding uses these stories to inform the audience about two of the most challenging root causes of extreme poverty – lack of water and the profound socio-economic suppression of women. She also inspires a hopeful view of how our nation's health development investments can better support sustainable solutions. These perspectives are timely, as the United States debates "smart power," and the role of development and health diplomacy in our national strategy.
In her 7 years as a senior leader at CDC, Dr. Gerberding was at the helm of the public health response to more than 40 domestic or international emergencies. Beginning with the terrorist and anthrax attacks in 2001, her tenure encompassed complex outbreaks and crises (including SARS, monkey pox, avian influenza, staphylococcal infections, and numerous food safety issues) as well as natural disasters (like the Asian tsunami, hurricanes, floods, power outages, and similar threats to health). Each of these events had far-reaching social, health, economic, and sometimes national security consequences. Dr. Gerberding makes a strong case that now is not the time for complacency; changing climate, global financial crises, and the expanded population of vulnerable groups predispose people everywhere to ongoing global threats. Smart organization will prioritize steps to ensure their resilience and prepare for natural disasters, global infectious disease outbreaks, and other emergencies. Dr. Gerberding shares her assessment of current risks, the key lessons learned from previous emergency responses, and a short list of health protection priorities to help government agencies, business leaders, non-profit organizations, and families everywhere remain a resilient as possible, whatever new threat emerges.
Americans spend more on health care than other nation, but we are far from the healthiest. Unless we take effective action, our children will be the first generation to have shorter expected life spans than their parents. We have invested far too little on protecting our health. As a result, families, governments, and businesses are paying the high price of the epidemic of chronic illnesses that require expensive treatments and add to our economic crises. As the director of CDC, the nation's frontline of health protection, Dr. Gerberding championed private-public partnerships that can help business leaders translate prevention science into best practices to improve health and productivity, lower health care costs, and contribute to sustainable health among employees, their families and communities in which they live. Dr. Gerberding shares her insights and experience with successful partnerships, the state-of-the-science for health protection and disease prevention in the private sector, and health protection successes culled from a variety of businesses. She also provides compelling arguments for why business leaders should join other stakeholders to put health, not just health care, at the center of the policy debate on health system transformation, and help America become the healthiest nation.
Biography
Dr. Julie Gerberding analyzes health risks and their related social and economic consequences and defines the necessary strategies and steps to assure we not only have the resilience to address urgent crises, but also the investments necessary to improve our overall health and wellness.
From her days as a young scientist at the University of California, San Francisco while AIDS unfolded to her 6.5 years as the first woman director of the Centers for Disease Control and Prevention (CDC), Dr. Julie Gerberding has provided effective leadership and a calming voice to the public during more than 40 public health emergencies—including the anthrax attacks of 2001, SARS, and avian influenza. As Director of the CDC, she successfully faced the challenge of balancing the need to address urgent realities—like obesity, tobacco use, and diabetes—with preparedness for new urgent threats. She is internationally recognized as a consistent champion for the science, policies, and practices that protect health—through promotion of healthy lifestyles, prevention of diseases and injuries, and preparedness for emergencies. Her own experiences, in committing CDC to be the "exemplar" of a healthy, safe, and sustainable work environment, while at the same time managing a dramatic expansion in its mission, resources, and global reach in more than 40 countries, is a great resource for organizations undergoing similar complex changes in the small world of global threats to health and economic success.
"They provide us well-prepared and informed speakers who understand our expectations and unique format. With WWSG, we know that the speaker fees are fair and trust that the event will be a success."
Sue Swan, Co-Founder of The Distinguished Speaker Series of Southern California
"I hope to work again and again with Worldwide Speakers Group on the selection of our keynote and endnote speakers for our annual conference and other events. Our representative, Vana Thayu and her associate Missy Simons were terrific from my first communication to them until our speaking-event concluded... It is easy to see why many of the top speakers in the country work with Worldwide Speakers Group."
Gina Cohen, Chief Marketing Officer & Vice President of Communications for The National Recreation and Park Association
"After 20 years in the lecture series business, WWSG has become a valued partner. We produce over 24 speaking events a year and have worked with dozens of agencies. We appreciate WWSG's unparalleled professionalism, integrity, and creativity in suggesting speakers that are unique to the speaker circuit."
Sue Swan, Co-Founder of The Distinguished Speaker Series of Southern California
"Everything was buttoned up, from the initial outreach to the event execution and post follow-up. I have a great team of representatives from WWSG to work with, first class experience."
Raylene Wetzel, American Century Investments
"The consistent professionalism and quality for the way Worldwide Speakers Group handles events shows that they think of each detail and every contingency beforehand."
Newt Gingrich, Distinguished Leader, Visionary, & Political Vanguard; 2012 Republican Presidential Candidate; Speaker of the U.S. House of Representatives (1995-1999); Best-Selling Author
"The WWSG team are super responsive and flexible. I will definitely work with them again to find speakers for my next event."
Delia Setiawan, Ernst & Young LLP
"The team at WWSG is certainly at the top of the scale. Building a long-term relationship with the client has really set WWSG apart and we clearly saw that with our partnership. WWSG found creative ways to build the partnership which results in a win-win for all."
Erik Qualman, Top Technology and Motivational Speaker, #1 Bestselling Author & Futurist
"Thanks again for all your help. Your entire team there is truly stellar."
Vice President of Communications; American Property Casualty Insurance Association
"All timing and logistics were seamless, and the client was super engaged and thankful. I'm happy to report that we have another WIN for WWSG! Let's build on the momentum together!"
Josh Linkner, Five-Time Tech Entrepreneur, Hyper-Growth CEO, Two-Time NY Times Bestselling Author, Venture Capitalist, and Keynote Speaker
Speaker News
Check Availability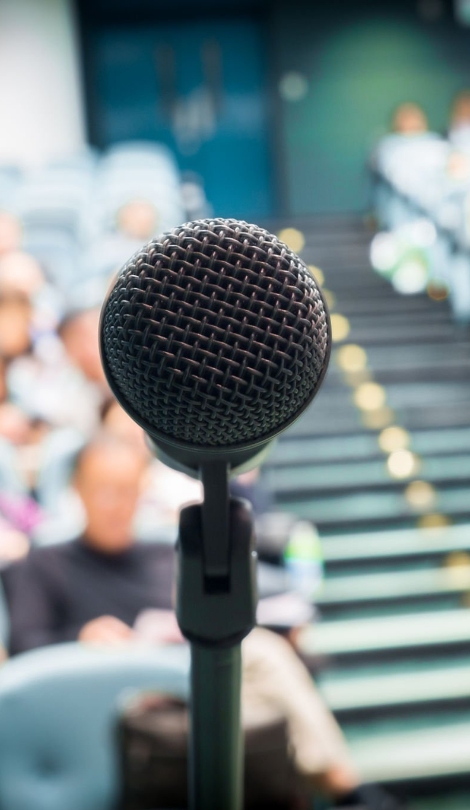 Other Speakers You May Like