Speech Topics
Is capitalism ethical? This question has been debated for centuries, but few have answered it like Ayn Rand. Through her novels The Fountainhead and Atlas Shrugged, Rand advanced a new and deeply influential defense of capitalism on ethical grounds. Drawing on her exclusive research in Ayn Rand's personal papers, Jennifer Burns traces the remarkable life of this writer who fled Soviet Russia and emerged as one of America's most famous—and hated—public intellectuals. Burns explains Rand's major ideas and shows how their legacy shaped libertarians and the conservative movement across the twentieth century and into the present.
The return of inflation to the United States after decades of stable prices has stirred new interest in the nation's foremost thinker on inflation: the Nobel prize winning economist Milton Friedman. Tracing the history of ideas and economic policy making, Jennifer Burns covers critical episodes in the nation's financial history through the lens of Friedman's ideas and life. Beginning with Friedman and Anna Schwartz's groundbreaking re-interpretation of the Great Depression as a monetary event, A Monetary History of the United States, Burns details the fraught relationship between Friedman and the institution he loved to criticize. In a talk that is at once humorous, erudite, and moving, she shows how Friedman's relentless criticism pushed the Fed towards transparency; covers his famous 1967 speech predicting the emergence of stagflation; describes the fracturing of his lifelong friendship with Federal Reserve Chair Arthur Burns during the great inflation; and summarizes his reaction to the Volcker shock. She considers what remains of Friedman's monetarism nearly twenty years after his death, leaving audiences with a new perspective on today's inflation debate.
It's an old adage that behind every great man is a great woman. In the case of the Nobel Prize winning economist Milton Friedman, there were several, ranging from his wife Rose to his great collaborator Anna Jacobson Schwartz. In this compelling and moving talk based on over a decade of research in Friedman's papers, Jennifer Burns explores the hidden lives and stories of the four women economists who were pivotal to Friedman's career, but received little recognition in their lifetimes. She explains the groundbreaking contributions these women and Friedman made to understanding the Great Depression, analyzing the dynamics of inflation, challenging Keynesian economics, and making the case for free markets. Both uplifting and poignant, this talk opens a rare human angle on the history of economics and economic policy making across the twentieth century.
Are we at the end of one economic era, and at the start of a new one? Observing the pandemic, the rise of populism, and the turn against free trade, many commentators have asserted that we are. To gain insight on this question, Jennifer Burns introduces audiences to Milton Friedman, one of the twentieth century's most influential economists. Along with John Maynard Keynes, for decades Friedman set the terms of debate about the relationship between states and markets around the world. Friedman lived through the Great Depression and became a driving force in the Chicago school of economics, which argued that capitalism was necessary for both individual freedom and greater social equality. Burns covers central episodes in Friedman's thought, including his surprising – and previously overlooked – collaborations with women economists. Those new to Friedman will gain a basic understanding of his ideas and the broad sweep of economic thought in the twentieth century. Listeners who know Friedman well will be surprised by the insights Burns offers, based on over a decade of research in Friedman's papers. This deep immersion in the life and ideas of a great thinker is necessary context for anyone concerned about the pressing questions of today.
The Nobel Prize winning economist Milton Friedman was famous for arguing that capitalism and freedom went together. Friedman asserted that the spread of capitalism around the world would lead to political openness and democracy. This optimistic vision, first articulated at the height of the Cold War, became widely influential in the 1980s and 1990s. It shaped both domestic politics within the United States and the broad "Washington consensus" that guided development policy across the world. Less well known is the story of how Friedman's ideas on the relationship between economic and political freedom evolved as he travelled outside the United States and watched globalization unfold in the last years of his life. Drawing on research from her biography of Friedman, Stanford historian Jennifer Burns revisits this iconic debate. How did Friedman understand the tensions between free markets and democracy? Nearly twenty years after his death, why have these questions re-emerged? In an era of renewed challenge to liberal democracy, what remains of Friedman's vision and his longstanding influence on the political right?
Universal basic income (UBI) is one of the hottest progressive policy ideas today – but few know that its greatest early champion was the conservative economist Milton Friedman. First, this talk introduces listeners to the concept of a universal basic income – generally conceptualized as a cash grant provided by the state to alleviate poverty. Then, listeners travel through the looking glass to a topsy-turvy political world where Friedman collaborates with a socialist and Richard Nixon touts a UBI for families. It traces many twists and turns in the idea's evolution, and its eventual emergence in the 1970s as the Earned Income Tax Credit, a policy widely recognized today as the most successful anti-poverty program in the nation. The talk ends with a look at recent champions of the idea, from Silicon Valley elites to Andrew Yang's presidential campaign to coronavirus relief funding, which followed the basic structure of a UBI. Discussing recent pilot programs in cities, new interest in family policy among conservatives, and the introduction of a family allowance in Congress, this talk assesses the prospects and problems of universal basic income as social policy. Audiences will leave with new insight both into UBI and the possibilities and perils of bipartisan political dialogue.
Biography
Jennifer Burns is an Associate Professor of History at Stanford University and a research fellow at the Hoover Institution. She is the author of Milton Friedman: The Last Conservative, the first full biography of America's most renowned economist. Milton Friedman was named one of The New York Times's 33 Nonfiction Books to Read This Fall, a most anticipated fall book by the Chicago Tribune and Bloomberg, and a best book of 2023 by Tyler Cowen's Marginal Revolution blog. It was hailed by NPR as "more than a biography of one controversial person, it's an intellectual history of twentieth century economic thought," while Project Syndicate called it "a tour of the broader debate about capitalism."
She is also the author of Goddess of the Market: Ayn Rand and the American Right, the first biography of the iconic author based upon exclusive access to her personal papers. Goddess of the Market was named a Bloomberg News 2009 Top Nonfiction Book.
Burns has written for numerous publications including The New York Times, The Wall Street Journal, and The Financial Times. She has been interviewed by NPR's Marketplace, CNN's book TV, and the EconTalk podcast, and was a featured guest on The Daily Show with Jon Stewart and The Colbert Report.
In addition to numerous talks at colleges and universities, she has spoken to leading financial firms, done historical briefings for policymakers, and keynoted at Hoover's annual Monetary Policy Conference. Prior to teaching at Stanford, she was an Assistant Professor at the University of Virginia. She holds an M.A. and PhD. in American History from the University of California, Berkeley, and is a graduate of Harvard College.
"After 20 years in the lecture series business, WWSG has become a valued partner. We produce over 24 speaking events a year and have worked with dozens of agencies. We appreciate WWSG's unparalleled professionalism, integrity, and creativity in suggesting speakers that are unique to the speaker circuit."
Sue Swan, Co-Founder of The Distinguished Speaker Series of Southern California
Thanks again for all your help. Your entire team there is truly stellar.
Vice President of Communications; American Property Casualty Insurance Association
The WWSG team are super responsive and flexible. I will definitely work with them again to find speakers for my next event.
Delia Setiawan, Ernst & Young LLP
We always enjoy working with WWSG, and we thank you and your team for your diligence, thoroughness, and professionalism. Planning is already underway for next year's event (no rest for the weary). We hope to have every opportunity to work with you again in the near future.
David R. Cape, EVP of Business Development at Texas American Resources Company
All timing and logistics were seamless, and the client was super engaged and thankful. I'm happy to report that we have another WIN for WWSG! Let's build on the momentum together!
Josh Linkner, Five-Time Tech Entrepreneur, Hyper-Growth CEO, Two-Time NY Times Bestselling Author, Venture Capitalist, and Keynote Speaker
I hope to work again and again with Worldwide Speakers Group on the selection of our keynote and endnote speakers for our annual conference and other events. Our representative and her associate were terrific from my first communication to them until our speaking-event concluded... It is easy to see why many of the top speakers in the country work with Worldwide Speakers Group.
Gina Cohen, Chief Marketing Officer & Vice President of Communications for The National Recreation and Park Association
The consistent professionalism and quality for the way Worldwide Speakers Group handles events shows that they think of each detail and every contingency beforehand.
Newt Gingrich, Distinguished Leader, Visionary, & Political Vanguard; 2012 Republican Presidential Candidate; Speaker of the U.S. House of Representatives (1995-1999); Best-Selling Author
Everything was buttoned up, from the initial outreach to the event execution and post follow-up. I have a great team of representatives from WWSG to work with, first class experience.
Raylene Wetzel, American Century Investments
The team at WWSG is certainly at the top of the scale. Building a long-term relationship with the client has really set WWSG apart and we clearly saw that with our partnership. WWSG found creative ways to build the partnership which results in a win-win for all.
Erik Qualman, Top Technology and Motivational Speaker, #1 Bestselling Author & Futurist
They provide us well-prepared and informed speakers who understand our expectations and unique format. With WWSG, we know that the speaker fees are fair and trust that the event will be a success.
Sue Swan, Co-Founder of The Distinguished Speaker Series of Southern California
Speaker News
Check Availability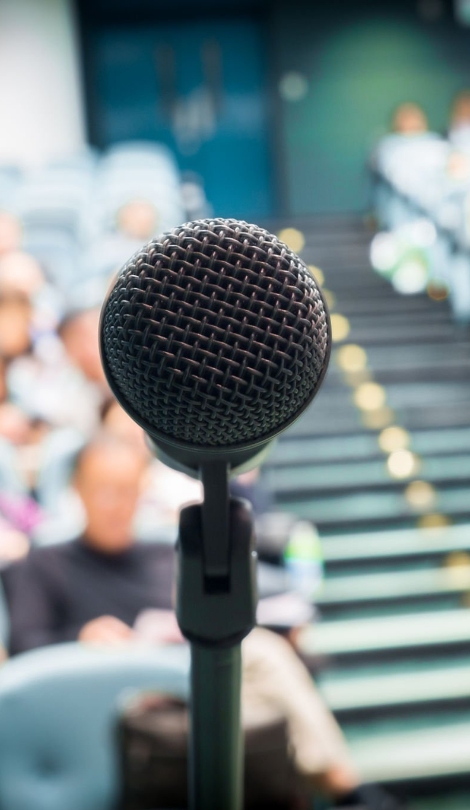 Other Speakers You May Like