Speech Topics
Do you view the future with hope and possibility? Or do you allow fear to cloud your thinking, creating insecurity and stress?
Do you know how to apply your imagination to generate creativity, motivation, happiness and hope?
In these uncertain, challenging and complex times, success literally depends on the importance of knowing how to manage your thinking. As Einstein said: "Imagination is more important than knowledge. It is a preview of life's coming attractions."
 In this cutting-edge, practical and entertaining program, James captures and holds the audience's attention with dynamic, compelling stories and inter-active demonstrations that leave no doubt that you can achieve what you imagine.
Exceptional individuals in all walks of life are distinguished by their capability to think creatively and perceive new opportunities for innovation. They have mastered the skill of "visualization" and can clearly communicate a dynamic, compelling, optimistic vision of the future.
James Mapes, the world's foremost authority on the psychology of "applied imagination" and creator of Quantum Leap Thinking™," demonstrates how success can be achieved by understanding and applying these concepts. James skillfully stretches perceptions to see new possibilities. He guides his audience to recognize how the powerful mental pictures we all carry around definitely impact the opportunities we see and the choices we make.
The audience leaves this thought-provoking, interactive, fascinating and inspiring journey having learned:
How to replace old beliefs with a compelling new vision that energizes at every level.
How to recognize, break through and let go of fears that sabotage success.
How to reduce negative stress and become more mindful.
How to motivate and propel to action by identifying core values.
How to improve productivity using 'stretch goals' and applied imagination.
Brain science studies prove that how we think impacts our health.
As a speaker, performance coach, medical facilitator, clinical hypnotist, writer and performer, James Mapes knows first-hand the importance of managing our thinking and reducing negative stress.  He integrates lessons learned from more than three decades of experience and his own open-heart surgery. He is truly a speaker who lives what he preaches.
In MIND OVER BODY, audiences gain a fresh, unique perspective on health, wellness and productivity.   James simplifies the latest research in brain science into easy and enjoyable solutions.  James projects an amazing, positive energy, radiating passion about the elegance of the imagination and the incredible power of the human mind and spirit.
The attendees will leave this interactive, thought-provoking and inspiring program having learned:
How to influence the subconscious with optimistic, affirmative suggestions.
How use mental imagery to reduce anxiety.
How to "reframe" negative thinking to instill hope and confidence.
How to create a personal vision to inspire wellness and achieve goals.
How to meditate in five minutes for mindfulness.
How to recognize and break through the fear that impedes wellness.
This presentation can be tailored to your organization's specific needs as either a keynote or workshop.
What is a leader?   Have you assessed your leadership skills lately?
The business world is awash with leadership philosophies, how-to books and training institutes that can leave even the savviest manager perplexed as exactly how to encourage employees to develop their own leadership style.
In our confusing and complex business world, it is important to push aside the clutter and get back to a fundamental understanding of why "true" leadership traits are essential for success.
The adage "leaders are born, not made" is questionable, since it takes hard work to craft a leadership style that works for each individual.
In this provocative, lively and interactive presentation, renowned "evangelist of the imagination," brain researcher, break-through thinking coach and best-selling author, James Mapes, incorporates his legendary humor with an array of audience exercises to reveal:
The five "culturally and morally neutral" traits of all successful leaders.
Why morality, a nice disposition and power do not necessarily make a great leader.
A guide to transform and enhance a personal leadership style.
How to craft an emotionally charged, clearly compelling and realistic future vision.
Biography
An extraordinary keynote speaker for the uncertainty of 2017, James Mapes defies categorization. When philanthropist/Microsoft co-founder Paul Allen quizzed Mapes as to how one person could do so much during his life, James' answer was simple: "Because no one told me I couldn't."
A true Renaissance man, James is considered the world's foremost authority on applied imagination, having studied human behavior for more than 30 years. Since childhood, James wanted to make the impossible into the possible. This has led to a life-long fascination with the subconscious and the power of the imagination.
Speaker, coach, best-selling author, clinical hypnotist and performer, Mapes is recognized for his ability to inspire, motivate, educate and guide others to develop and enhance the unlimited potential of their creative imagination and incalculable powers of the mind. His programs address creativity, motivation, leadership, change, wellness and peak performance.
As creator of Quantum Leap Thinking™ and the Transformational Coach™, James Mapes is one of the most sought-after international speakers in the corporate industry today. He has worked with hundreds of public and private companies in more than 70 countries.
"You did a great job getting everybody engaged and keeping their focus and attention."
Speaker Resources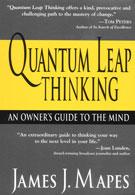 Check Availability