Speech Topics
If there is one thing we've all learned in the past months, it is that the future is impossible to predict. Knowing that, how do we build teams that thrive in the weeks, months and years to come? The answer lies in one-degree shifts: small, consistent changes that enable teams to build trust, remove friction, and build a culture of innovation.
In this engaging, and takeaway-loaded presentation, workplace expert Eric Termuende shares what years of research, stories, and insights uncover about the one-degree shifts leaders use to adapt to an ever-changing world around them and build incredible teams. From Domino's Pizza to the British Cycling Team, discover how the consistent application of small, incremental changes improves camaraderie, belonging, psychological safety, and engagement. While the future of work is certain to be uncertain, there is nothing to say we can't still thrive in it.
In this presentation, leaders will learn the secret of a one-degree shift to:
-Reduce friction and build trust
-Increase effectiveness of remote/hybrid teams
-Build a culture of innovation
-Understand your role in creating a 'greatest place to work'
-Discover what cilantro teaches us about strong workplace culture
It is no secret that the world of work has evolved an incredible amount in the past two years. From how we communicate, where we work, and what is expected from our leaders, trying to keep up with the changes has been downright exhausting. And while managing the day-to-day has been challenging enough, a storm has been brewing and the clouds are rolling in. A talent crisis is on the horizon and COVID isn't the only thing to blame.
In this research-heavy, eye-opening, and actionable presentation, learn from leadership and workplace culture expert Eric Termuende as he shares what is really casing The Great Resignation, a looming national talent shortage, and the key steps we can take today to build incredible teams, sustain growth, and thrive in the future of work.
Attendees will learn:
– 6 factors contributing to the talent crisis
– Why COVID is only partly responsible for The Great Resignation
– How to attract top talent and stand out
– Why the best attraction strategy is a good retention strategy and how to build it
– What key actions leaders can take to build trust, engagement, and belonging on their teams
Having studied some of the world's best leaders and surveyed thousands of employees, workplace expert and bestselling author Eric Termuende knows that those who lead remote teams do three things effectively: They communicate well, reduce friction, and build a deep sense of trust. With the world changing at a break-neck pace, there are key steps we can take today to ensure that we're mitigating burnout and getting the most out of our teams whether working remotely or together in the office.
In this fully customized, insightful, and takeaway-filled keynote, Eric Termuende shares leadership stories from the Cleveland Browns to Chicago's Holy Cross Hospital to uncover what separates incredible hybrid workplaces from those that are losing talent and suffering as a result. Building stronger remote teams requires a deeper understanding of how we use our time, connect with our people, and tie recognition back to our values. While the future is anything but certain, the actions we take today are sure to prepare us for whatever the world throws our way.
Leaders will learn:
– Three simple shifts to deepen trust, belonging, and psychological safety
– A framework to boost innovation and creativity
– What to expect in the future of work and how to evolve accordingly
– The difference in communication with remote and in-person team members
– How to get more smiles from the team and reduce friction
Regardless of which research we subscribe to; the outlook is bleak: employees coast-to-coast are transitioning jobs at rates we haven't seen since the Vietnam War. And while many of us think this is a threat to our workplace culture and organizational success, the truth is that the opportunity has never been greater to establish a one-of-a-kind culture that attracts and keeps an incredible team. Instead of calling it 'The Great Resignation', perhaps it should be called 'The Great Reconfiguration'. After all, people aren't leaving the workforce, they're aligning with a lifestyle that suits them. This is where the secrets lie.
In this head-scratching, insight-filled, and unexpectedly funny keynote, workplace culture and future of work expert Eric Termuende takes us on a journey filled with out-of-the-box ideas that are budget-free and immediately actionable as we work to not just survive 'The Great Resignation' but thrive through it. Just because there is a national talent shortage, doesn't mean our team has to have one too.
In this presentation, attendees will learn:
-What it means to 'plant your flag' and how to do it
-How to tell a better story to attract top talent
-Why the best defence is a good offence and how to retain your best people
-Where your best recruiters are (hint* they're closer than you think) and how to give them the free tools they need to build the team
-What cilantro teaches us about workplace culture and attracting top talent
-Why all of your eggs should actually be in one basket
Biography
Eric Termuende is the co-founder of NoW of Work, author of the bestselling book Rethink Work, and global keynote speaker. Having been on hundreds of stages and worked with and studied the greatest places to work in the world, he knows what it takes to build incredible teams that are resilient, innovative, and ready for the future of work.
A former World Economic Forum Global Shaper and recognized as one of the Top 100 Emerging Innovators under 35 by American Express, his ideas have been featured in Forbes, Thrive Global, The Huffington Post, The Globe and Mail, and many more.
"We had the opportunity to bring Eric in as the keynote speaker for our annual strategic planning workshop with all of our senior leaders. Eric did an excellent job of helping us understand and connect the links between strategy and culture with some 'one degree shifts' in our thinking about people and process. This slight change in our thinking was a great catalyst for the subsequent discussions as we built out our strategies for the coming year."
Dan Klassen, Vice President of Human Resources at Toyota Material Handling
"Today's presentation was great and I'm delighted at the response from the team. The videos, the customization, and Eric's presence, knowledge, and energy made it a huge success! I've contracted and supported many Executive Leadership Summits for the agency over the years and it is not often that they say, 'This is the best Summit we've ever had!' There's been a lot of that type of feedback today and it is much deserved and well-earned praise."
Susan Schoenberg, Nuclear Regulatory Commission
"In October 2020, in the middle of the pandemic crisis, we had the pleasure to work with Eric for one of our episodes of our Dell Technologies Thought Leader Series. In addition to being a very fun person to work with, Eric was very generous of his time and an amazing presenter that our customers love! His story was very inspiring and helped people with a different perspective during difficult times."
Michel Lagacé, Dell Technologies
"Wow, just WOW. Safe to say that was the best virtual presentation we've done yet, and not just for this event! The comments section definitely showcased that. Thank you very much for that incredible presentation."
Nadia Ahmed, Senior Conference Producer at Key Media
"Eric delivered an engaging, inspiring and thought-provoking session to our audience. It was a pleasure working with Eric—he delivered the perfect presentation. Eric is a charismatic and passionate storyteller with great insights, real-world experience and exceptional presentation skills. It was a pleasure to work with him and I would highly encourage any organization to invite Eric to present to their community!"
Joshua Zaporzan, University of Manitoba, STU Clark Centre for Entrepreneurship
Check Availability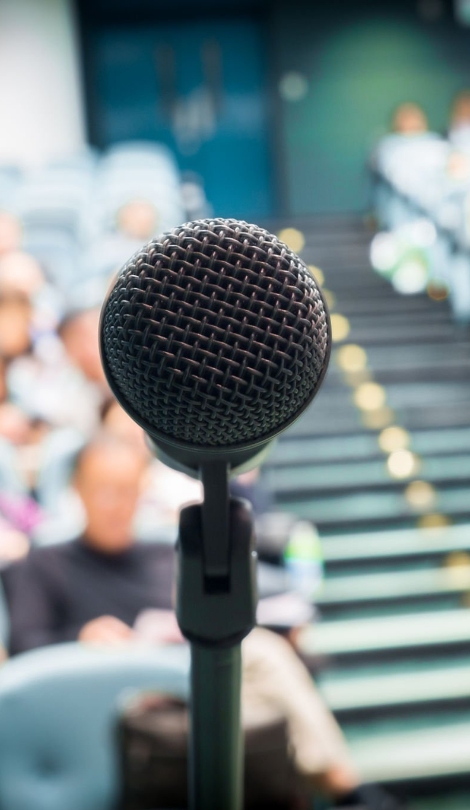 Other Speakers You May Like