Speech Topics
In this presentation, David discusses the increasing tension between the U.S. and China and why Americans must care about worsening ties. David will address:
• China's control tactics: How the Chinese Communist Party is using Covid-19 fear to further tighten its grip over its 1.4B people
• Xinjiang Allegations: What it's like to travel to and speak with those living in the most heavily surveilled region of China–a place where the U.S. and other western powers allege China is carrying out widespread violations of human rights abuses
Covering China from 2019-2022, David was among a rapidly dwindling number of foreign correspondents and draws upon his experiences to inform this presentation.
In this discussion, David speaks on the evolution of journalism and the changing tactics of newsgathering in China and the world as a result of the pandemic. This discussion emphasizes the growing importance of international news in the daily lives of Americans and the need for a public focus and interest in current affairs.
David also anecdotally recounts the challenges of reporting abroad while living far from the comforts of home and family. David lived away from his family and loved ones for more than 2.5 years, since China's Covid controls and limitations on foreign reporters made it nearly impossible to exit and reenter.
David Culver is a rockstar commencement speaker, connecting with and engaging driven groups of college and university. David's story of success and message of following your dreams resonates with students. He is also available for guest lectureships and tailors these remarks to the needs of the audience.
David has experience hosting numerous charity events and has emceed for various charities that address cancer, hemophilia, epilepsy, heart disease; as well as religious and social organizations like Catholic Charities, Latino-related foundations, LGBT+ communities, and more. As an emcee, David shares personal anecdotes that relate to the charity's mission.
Of Cuban-American descent, David has made multiple trips to the island-nation as a journalist and produced an NBC piece called "Rediscovering Cuba: A Journey Home." wherein he brought his mother and grandmother back to their native homeland for the first time in 54 years.
Biography
David Culver is a foreign correspondent for CNN based at the network's Los Angeles bureau. Since joining the network in 2019, Culver has been primarily based in China as an international correspondent tasked with covering a wide-range of major news stories impacting the world. Culver's extensive reporting from the Asia-Pacific region has led to him being awarded the Walter Cronkite Award for Excellence in Journalism, the Overseas Press Club of America's David Kaplan Award, and the George Polk Award, marking the first time in the 73-year history of the Awards that the top honor for Foreign Reporting went to a television journalist.
Culver has had a front-row seat reporting on the coronavirus outbreak beginning with the unprecedented lockdown from the original epicenter of Wuhan in 2020 and more recently as the only American TV news correspondent living through and documenting the crippling Shanghai lockdown. His work at the start of the outbreak, and subsequent broadcasting from the confines of hotel quarantine in Beijing, led Culver and his team to receive multiple awards and recognitions. Additionally, a report he filed chronicling his dramatic escape from Wuhan at the outset of the pandemic is now the most viewed hard news video on Facebook, with more than 200 million views.
Culver's work in China also includes coverage of heightened U.S-China geopolitical tensions, the NBA controversy, and the 70th anniversary of the founding of the People's Republic of China, chronicling the military and economic superpower's rapid rise. He also reported on China's alleged human rights abuses. In 2021, Culver and his team traveled to China's far-western Xinjiang region to investigate the forced separation of children from their families. His investigation aired as a 15-minute primetime special report for AC360.
Prior to joining CNN, Culver spent more than six years as an anchor and reporter for NBC Washington, covering a range of topics, including crime, politics, and education. He also reported on multiple national breaking news events, covering the Parkland Florida school shooting, the Pittsburgh synagogue shooting and various hurricanes that ravaged parts of the US.
Of Cuban-American descent, Culver has travelled multiple times to Cuba, reporting on the reopening of the U.S. Embassy, Pope Francis' visit and the death of Fidel Castro. He produced a 30-minute Emmy award-winning documentary, "Rediscovering Cuba: A Journey Home", which chronicles his mother and grandmother's return to their native Cuba more than 50 years after they fled the island-nation. Before NBC Washington, Culver was an anchor and reporter for WAVY-TV in Hampton Roads, Virginia.
Culver graduated with a Bachelor's degree in Hispanic Studies from the College of William & Mary in Williamsburg, Virginia. He minored in Middle Eastern Studies and studied Arabic. He is fluent in Spanish.
"After 20 years in the lecture series business, WWSG has become a valued partner. We produce over 24 speaking events a year and have worked with dozens of agencies. We appreciate WWSG's unparalleled professionalism, integrity, and creativity in suggesting speakers that are unique to the speaker circuit."
Sue Swan, Co-Founder of The Distinguished Speaker Series of Southern California
Everything was buttoned up, from the initial outreach to the event execution and post follow-up. I have a great team of representatives from WWSG to work with, first class experience.
Raylene Wetzel, American Century Investments
All timing and logistics were seamless, and the client was super engaged and thankful. I'm happy to report that we have another WIN for WWSG! Let's build on the momentum together!
Josh Linkner, Five-Time Tech Entrepreneur, Hyper-Growth CEO, Two-Time NY Times Bestselling Author, Venture Capitalist, and Keynote Speaker
They provide us well-prepared and informed speakers who understand our expectations and unique format. With WWSG, we know that the speaker fees are fair and trust that the event will be a success.
Sue Swan, Co-Founder of The Distinguished Speaker Series of Southern California
The team at WWSG is certainly at the top of the scale. Building a long-term relationship with the client has really set WWSG apart and we clearly saw that with our partnership. WWSG found creative ways to build the partnership which results in a win-win for all.
Erik Qualman, Top Technology and Motivational Speaker, #1 Bestselling Author & Futurist
We always enjoy working with WWSG, and we thank you and your team for your diligence, thoroughness, and professionalism. Planning is already underway for next year's event (no rest for the weary). We hope to have every opportunity to work with you again in the near future.
David R. Cape, EVP of Business Development at Texas American Resources Company
The WWSG team are super responsive and flexible. I will definitely work with them again to find speakers for my next event.
Delia Setiawan, Ernst & Young LLP
Thanks again for all your help. Your entire team there is truly stellar.
Vice President of Communications; American Property Casualty Insurance Association
I hope to work again and again with Worldwide Speakers Group on the selection of our keynote and endnote speakers for our annual conference and other events. Our representative and her associate were terrific from my first communication to them until our speaking-event concluded... It is easy to see why many of the top speakers in the country work with Worldwide Speakers Group.
Gina Cohen, Chief Marketing Officer & Vice President of Communications for The National Recreation and Park Association
The consistent professionalism and quality for the way Worldwide Speakers Group handles events shows that they think of each detail and every contingency beforehand.
Newt Gingrich, Distinguished Leader, Visionary, & Political Vanguard; 2012 Republican Presidential Candidate; Speaker of the U.S. House of Representatives (1995-1999); Best-Selling Author
Speaker News
Check Availability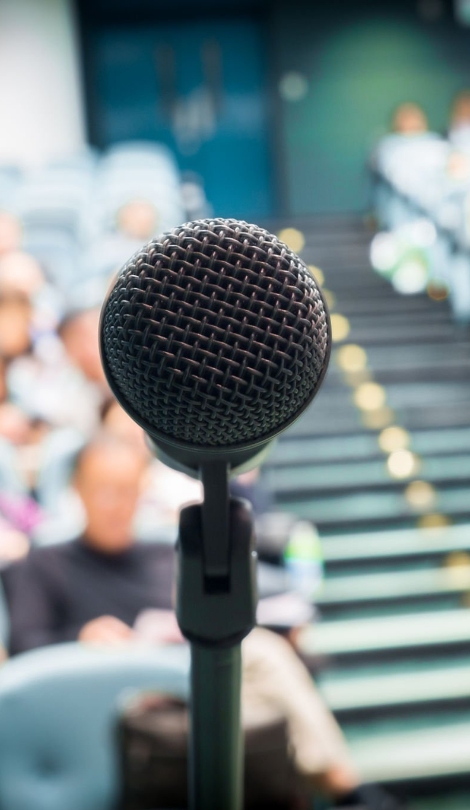 Other Speakers You May Like