Speech Topics
Why is there a pervasive belief that our individual contributions will not count? This presentation offers riveting accounts of tipping points when one person steps up and changed the future for others. Consider the quote attributed to John Wesley, "Do all the good you can. By all the means you can. In all the ways you can. In all the places you can. At all the times you can. To all the people you can. As long as ever you can."
Based on the Maori traditional view of time, the Ambassador shares how civic engagement defines community.
The Ambassador shares how growing up on the Southside of Chicago instilled values that gave rise to adventures in local, state, national and international government.
Observations with humor on the history, foibles and challenges of the US political system.
From her unique perspective the Ambassador offers an approach to capitalism that places precedence on meeting the needs of the whole community.
The institution of slavery has had a profound and lasting effect on American history. James Baldwin is quoted as saying, "Racism may be American's original sin." The 1858 Lincoln and Douglas presidential debates focused on slavery and this was the first time candidates took their arguments directly to the people and the volatility of the slavery issue gave the debates special importance. As a former presidential candidate, the Ambassador has an exceptional perceptive of this historic event and how it shaped American politics.
Biography
Born in Chicago, Ambassador Carol Moseley Braun is first and foremost a lawyer— graduating from the University of Chicago law school and advancing her career as Assistant U.S. Attorney for the Northern District of Illinois. She subsequently served as United States Senator and United States Ambassador to New Zealand. Though Ambassador Braun has served at all levels of local, state, national and international government in nearly 30 years of public service, she has always maintained a strong connection to the Chicago and greater Illinois communities.
Ambassador Braun began her legal career as a prosecutor in the United States Attorney's office in Chicago where she practiced from 1973 to 1977, primarily in the civil and appellate divisions. While in that role, Ambassador Braun's work in housing, health policy, and environmental law won her the Attorney General's Special Achievement Award.
Ambassador Braun held her first political post as a member of the Illinois House of Representatives beginning in 1978. Her tenacity and diligence quickly earned her the position of Assistant majority leader and spokesperson for the Mayor of Chicago. The Ambassador served in the Illinois State legislature until 1987 when she was elected Recorder of Deeds and Registrar of Titles for Cook County, Illinois.
In 1991 she ran for and won a contested primary election for the Democratic nomination for United States Senator.
On November 3, 1992, Ambassador Braun made history when she won election and became the first – and still only –African American woman to be elected to the United States Senate.
Ambassador Braun was first permanent female member of the Senate Finance Committee, and served on the Judiciary and Banking committees, as well as sub committees on international trade and small business. While in the United States Senate, Ambassador Braun advanced retirement security and health care support legislation for working men and women. She proposed the first modern federal school construction legislation and the first women's pension equity laws. Ambassador Braun also sponsored environmental justice legislation, historic preservation of the Underground Railroad, and the first federal support of Lupus research. She was a co-sponsor of a Balanced Budget Constitutional Amendment, and defeated a patent for the Confederate flag. She helped establish the first public military high school, and effected funding for infrastructure and housing projects throughout Illinois.
After serving one term in the Senate, she was nominated to be the United States Ambassador to New Zealand and Samoa. Her Ambassadorship was confirmed by the Senate on November 10, 1999 in a 98-2 vote. Ambassador Braun held her diplomatic post for two years.
She has often been characterized as a pioneer and a champion for social justice and fiscal responsibility. She is also a former candidate for the Democratic nomination for President of the United States.
Ambassador Braun remains active as a business consultant and entrepreneur. She currently serves as Founder and President of Good Food Organics, a premium, certified organic food and beverage company. She continues to serve the community as a board member of the Episcopal Cathedral Shelter, the National Organization for Women, the Michael Fields Agricultural Institute, the Bretton Woods Foundation and the Association of African American Ambassadors. She has joined Tetzlaff Law Offices as "Of Counsel".
Ambassador Braun earned a Bachelor of Arts degree in Political Science from the University of Illinois in 1969 prior to earning a Juris Doctor from the University of Chicago in 1972. She holds 11 honorary degrees and has participated as a Harvard Kennedy School fellow.
Throughout the Ambassador's professional and other activities, she remains in frequent and close contact with public officials at all levels of government throughout the United States. She remains involved with the international diplomatic community. Accordingly, she is well positioned – and well received – to advance our clients' interests in all levels of government and foreign affairs.
She enjoys modest French fluency and has traveled extensively in Europe, Africa and Asia. She is the mother of an adult son, and is a member of St. Paul and the Redeemer church.
"After 20 years in the lecture series business, WWSG has become a valued partner. We produce over 24 speaking events a year and have worked with dozens of agencies. We appreciate WWSG's unparalleled professionalism, integrity, and creativity in suggesting speakers that are unique to the speaker circuit."
Sue Swan, Co-Founder of The Distinguished Speaker Series of Southern California
All timing and logistics were seamless, and the client was super engaged and thankful. I'm happy to report that we have another WIN for WWSG! Let's build on the momentum together!
Josh Linkner, Five-Time Tech Entrepreneur, Hyper-Growth CEO, Two-Time NY Times Bestselling Author, Venture Capitalist, and Keynote Speaker
I hope to work again and again with Worldwide Speakers Group on the selection of our keynote and endnote speakers for our annual conference and other events. Our representative and her associate were terrific from my first communication to them until our speaking-event concluded... It is easy to see why many of the top speakers in the country work with Worldwide Speakers Group.
Gina Cohen, Chief Marketing Officer & Vice President of Communications for The National Recreation and Park Association
Everything was buttoned up, from the initial outreach to the event execution and post follow-up. I have a great team of representatives from WWSG to work with, first class experience.
Raylene Wetzel, American Century Investments
The team at WWSG is certainly at the top of the scale. Building a long-term relationship with the client has really set WWSG apart and we clearly saw that with our partnership. WWSG found creative ways to build the partnership which results in a win-win for all.
Erik Qualman, Top Technology and Motivational Speaker, #1 Bestselling Author & Futurist
We always enjoy working with WWSG, and we thank you and your team for your diligence, thoroughness, and professionalism. Planning is already underway for next year's event (no rest for the weary). We hope to have every opportunity to work with you again in the near future.
David R. Cape, EVP of Business Development at Texas American Resources Company
They provide us well-prepared and informed speakers who understand our expectations and unique format. With WWSG, we know that the speaker fees are fair and trust that the event will be a success.
Sue Swan, Co-Founder of The Distinguished Speaker Series of Southern California
The consistent professionalism and quality for the way Worldwide Speakers Group handles events shows that they think of each detail and every contingency beforehand.
Newt Gingrich, Distinguished Leader, Visionary, & Political Vanguard; 2012 Republican Presidential Candidate; Speaker of the U.S. House of Representatives (1995-1999); Best-Selling Author
The WWSG team are super responsive and flexible. I will definitely work with them again to find speakers for my next event.
Delia Setiawan, Ernst & Young LLP
Thanks again for all your help. Your entire team there is truly stellar.
Vice President of Communications; American Property Casualty Insurance Association
Check Availability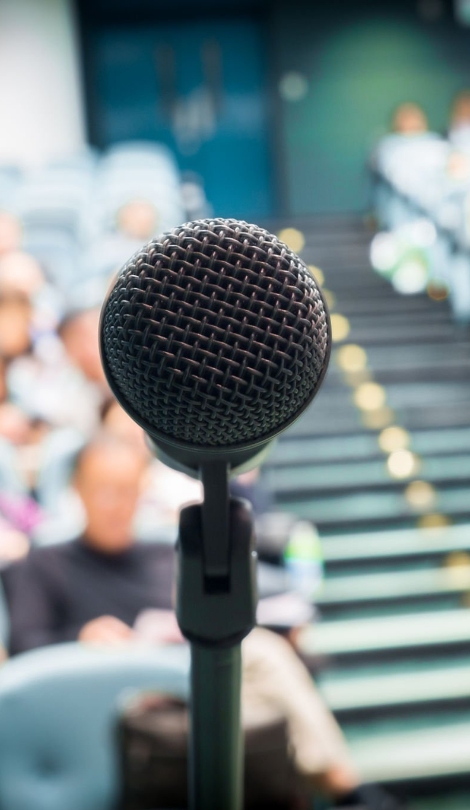 Other Speakers You May Like