Speech Topics
OVERVIEW: Women are the engine of the global consumer economy.  They drive 70-80% of all consumer spending with their buying power and influence, and they've never had more options for what or where to buy.  The question is: are they buying enough from you?  In a lively presentation based on her acclaimed book (called "essential reading" by The Wall Street Journal), Brennan educates audiences on how to evaluate sales, marketing, product design and customer service practices from a female perspective. She provides relevant and practical business applications that marketing and sales teams can apply immediately to their jobs.  You'll learn enduring principles and major trends that combine to give you a powerful competitive edge. Also available for a  business-to-business audience.
PARTICIPANTS WILL LEARN: 
The biggest trends driving women's purchasing patterns
The key to appealing to women without alienating men
Communication strategies that resonate with women consumers
Strategies for driving an emotional connection to your brand
Best practices from leading-edge businesses
OVERVIEW: When she was in college, Bridget Brennan never thought she'd become an acclaimed author, a CEO, a counselor to Fortune 500 companies, an advisor to an NFL team, a professional speaker, the world's leading expert on women consumers, the top-ranked public relations professional in the U.S. and a global business "road warrior" whose work takes her around the world. In an inspiring talk infused with humor and candor, Bridget provides students with powerful lessons on what can happen in your career when you're willing to take chances, follow your instincts and stay focused on achieving your goals. Bridget has built her career on bringing the voices of women into the corporate world. In this talk, she shares with students her wisdom on topics like:
How to Create Your Own Competitive Edge
How to Build a Meaningful Network Even if You're Starting at Zero
Why Your Career May Surprise You — And Why That's a Good Thing
The Corporate Trends that Positively Impact Women Entering the Workforce
OVERVIEW: Every moment counts when people are trained to click on a better option if they feel unwelcome or uninspired in your place of business. Mastering the customer experience is crucial, especially when it comes to serving the world's most powerful consumers: women. In this powerful speech, Brennan teaches audiences how to amplify key elements of the service experience to create an emotional connection that drives repeat business, positive reviews and referrals. The critical elements of the customer experience are completely within your control. Yet, lackluster service, poor merchandising and low customer engagement are still too prevalent, and represent just as a great a threat to consumer businesses as anything else. Many of the world's biggest brands and retailers have sought Brennan's advice: let her bring it directly to you.
PARTICIPANTS WILL LEARN: 
Five important ways selling is different now
A roadmap of the biggest trends driving women's purchasing patterns
Four key motivators that inspire spending and loyalty
What not to do
"Monday Morning" strategies that can be implemented immediately
OVERVIEW: Bridget Brennan, the world's leading expert on women consumers, reveals the most common behaviors that alienate women in marketing and sales, and simple ways to course-correct and kick-start growth in your business.  Women are the world's most coveted consumers because they drive 70-80% of all purchasing decisions and buy for everyone in their lives.  This makes for powerful math when building your customer base, but only if you do it right. Avoid the classic mistakes and learn how to be best-in-class.  Bridget will cover the big trends driving female spending, best practices on how to sell to women and Monday morning strategies to implement immediately.  Winning becomes a whole lot easier when you are the business that women choose, instead of your competitors. If you're a business looking to grow your appeal with women consumers, this is the presentation for you.
PARTICIPANTS WILL LEARN: 
Why women often view the sales process differently from men, and what this means to your communications style
How to create an inspiring service environment
Four key motivators that drive women's purchasing decisions
"Watch outs" to avoid at all costs
"Monday Morning" strategies that can be implemented immediately
OVERVIEW: Raise your game, increase sales and set yourself apart from the competition by developing the skill set that earns the business of women buyers.  Elevating the person-to-person customer experience is opportunity number one for traditional salespeople, and it can be your most powerful differentiator against online competitors. When there are literally hundreds of places where a customer can buy your product or service, why should they buy from you?  In this highly practical and thought-provoking presentation, Why She Buys author and Female Factor CEO Bridget Brennan educates sales representatives and client service executives (of both genders) on relationship-building skills that increase their ability to earn the confidence of women buyers. She sets the foundation for win-win client relationships that generate sales, referrals and repeat business. Participants will be inspired by Brennan's galvanizing message that even in the smartphone age, nobody makes a buying decision with their thumbs.  There is a heart and mind behind every purchase.
PARTICIPANTS WILL LEARN: 
What Selling Looks like Now
Four powerful ways to leverage the "human" advantage
Strategies for engaging your customers
How to Instill Confidence in You and Your Products
"Monday Morning" strategies that can be implemented immediately
OVERVIEW:  As society changes, so does the practice of marketing to women. Strategies that were viewed as contemporary only a few years ago may be viewed as patronizing today.  Is your marketing keeping up?  Why She Buys author and Female Factor CEO Bridget Brennan provides insights, education and context for the major trends driving women consumers. She distills the deeper meanings behind these trends, and helps your team apply this knowledge to increase the effectiveness of your marketing efforts. From broad demographic changes to gender culture and the global patterns in the way women make purchasing decisions, Brennan offers techniques for breaking through the clutter and staying relevant with the world's most powerful consumers.
PARTICIPANTS WILL LEARN: 
The most important trends driving women's purchasing patterns, and the business implications of each
What gender culture means to marketers
Techniques for staying relevant to female culture over the long term
The motivators that matter most
Best practices from across industries
OVERVIEW:  Myth-busting, thought provoking and packed with practical ideas, Bridget Brennan provides powerful insights on the generation of women who are now in their prime purchasing years: Millennials, born between 1980-2000. We often learn about Millennials as a collective group, but what are the distinctions among Millennial women, who are a driving force in consumer spending?   Attendees will learn the cultural dynamics that have shaped Millennial women and modern parenting styles, and the subsequent impact on their purchasing behaviors, marketing responses and sales effectiveness.
PARTICIPANTS WILL LEARN: 
How the mass documentation of Millennials' lives impacts brand choice
What Millennials' parenting styles mean to brand aspirations and purchasing
Why inspiration is a crucial component for this age group
How expectations for the sales experience are changing
Best practice examples from leading-edge brands and businesses
Biography
Bridget Brennan is an innovator in marketing and selling to women, and author of the acclaimed book, "Why She Buys: The New Strategy for Reaching the World's Most Powerful Consumers" (Crown Business). She is the Founder and CEO of the strategic consultancy, Female Factor, and one the world's top experts on the subject of women's impact on the consumer economy. She is a contributing writer for Forbes.com and Paris Retail Week, and is currently at work on her second book.
Brennan has devoted her career to bringing the importance of women consumers to the forefront of businesses around the world. Through her firm, Female Factor, she has conducted research with thousands of women on their purchasing habits and preferences, and provides counsel to companies on how to better serve women as customers, clients and decision-makers. As a renowned speaker on the subject, she brings the voices of women consumers into the boardrooms of the corporate world. Brennan was named a "Woman to Watch in Retail Disruption" by the think tank Remodista, and is a member of the Vikings Women Advisory Board of the Minnesota Vikings.
Brennan is a frequent guest lecturer at top universities, such as The University of Notre Dame, Northwestern University, the Kellogg School of Management (one of the top-ranked business school in the U.S.) and many others. She developed her expertise as an agency executive, creating programs for major clients such as Whirlpool, Johnson & Johnson, Pizza Hut, Colgate-Palmolive, United Airlines and AT&T, among others.
Prior to founding Female Factor, Brennan ran the consumer marketing practice of Edelman's Zeno Group, and founded that agency's Speaking Female division. A graduate of Texas A&M University, she is based in Chicago, the headquarters of Female Factor.
They provide us well-prepared and informed speakers who understand our expectations and unique format. With WWSG, we know that the speaker fees are fair and trust that the event will be a success.
Sue Swan, Co-Founder of The Distinguished Speaker Series of Southern California
We always enjoy working with WWSG, and we thank you and your team for your diligence, thoroughness, and professionalism. Planning is already underway for next year's event (no rest for the weary). We hope to have every opportunity to work with you again in the near future.
David R. Cape, EVP of Business Development at Texas American Resources Company
The consistent professionalism and quality for the way Worldwide Speakers Group handles events shows that they think of each detail and every contingency beforehand.
Newt Gingrich, Distinguished Leader, Visionary, & Political Vanguard; 2012 Republican Presidential Candidate; Speaker of the U.S. House of Representatives (1995-1999); Best-Selling Author
The WWSG team are super responsive and flexible. I will definitely work with them again to find speakers for my next event.
Delia Setiawan, Ernst & Young LLP
The team at WWSG is certainly at the top of the scale. Building a long-term relationship with the client has really set WWSG apart and we clearly saw that with our partnership. WWSG found creative ways to build the partnership which results in a win-win for all.
Erik Qualman, Top Technology and Motivational Speaker, #1 Bestselling Author & Futurist
All timing and logistics were seamless, and the client was super engaged and thankful. I'm happy to report that we have another WIN for WWSG! Let's build on the momentum together!
Josh Linkner, Five-Time Tech Entrepreneur, Hyper-Growth CEO, Two-Time NY Times Bestselling Author, Venture Capitalist, and Keynote Speaker
Thanks again for all your help. Your entire team there is truly stellar.
Vice President of Communications; American Property Casualty Insurance Association
"After 20 years in the lecture series business, WWSG has become a valued partner. We produce over 24 speaking events a year and have worked with dozens of agencies. We appreciate WWSG's unparalleled professionalism, integrity, and creativity in suggesting speakers that are unique to the speaker circuit."
Sue Swan, Co-Founder of The Distinguished Speaker Series of Southern California
Everything was buttoned up, from the initial outreach to the event execution and post follow-up. I have a great team of representatives from WWSG to work with, first class experience.
Raylene Wetzel, American Century Investments
I hope to work again and again with Worldwide Speakers Group on the selection of our keynote and endnote speakers for our annual conference and other events. Our representative and her associate were terrific from my first communication to them until our speaking-event concluded... It is easy to see why many of the top speakers in the country work with Worldwide Speakers Group.
Gina Cohen, Chief Marketing Officer & Vice President of Communications for The National Recreation and Park Association
Check Availability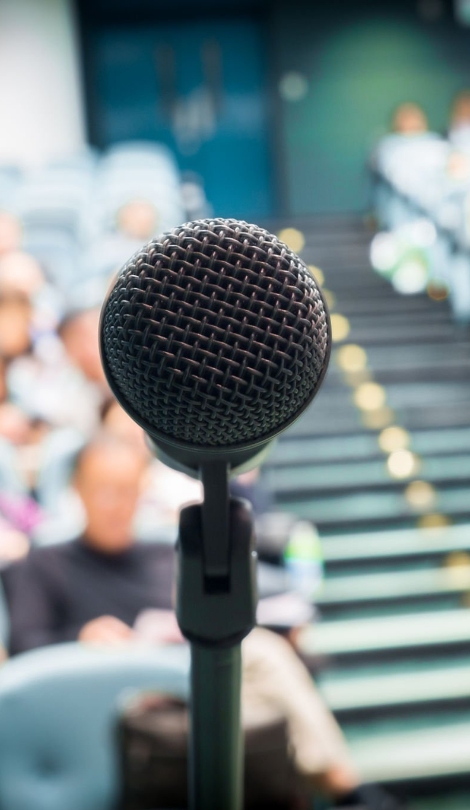 Other Speakers You May Like