Speech Topics
Benjamin Zander's presentation takes audiences on a journey that offers a startling new perspective on leadership. Through stories, music and concepts, it causes a radical shift in perception. This is not a speech, it is an experience!? In this new model of leadership, the conductor sees his job as awakening possibility in others. The orchestra is a group of highly trained individuals poised to coalesce into an effective whole. Passion, creativity and the desire to contribute are basic human instincts to be released. World famous conductor Benjamin Zander uses the metaphor of the orchestra and a life-time of experience conducting, coaching and teaching musicians to work his magic to overcome barriers to corporate productivity. This presentation sources fundamental changes in organizations.
Biography
Hailed by Tom Peters as "the hottest property on the business guru circuit" and by 60 Minutes as "the Energizer Bunny of Classical Music," Benjamin Zander engages passionately with orchestras and audiences the world over, enticing people to go beyond their customary barriers to accomplish truly extraordinary results.
Combining his extensive experience as Conductor of the Boston Philharmonic Orchestra and his exquisite talent as a teacher and communicator, Zander uses the analogy of the orchestra to demonstrate how an organization can come together as a team and unleash its full potential. His bestselling book, The Art of Possibility: Transforming Personal and Professional Life, has been translated into 16 languages and provides breakthrough practices for bringing creativity into all human endeavors. Whether he is addressing top executives of Fortune 500 companies or conducting world-class orchestras, Zander never fails to challenge, enthuse and energize.
"Exciting and memorable!"
Speaker Resources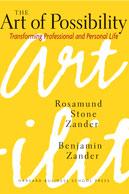 Check Availability