Visiting speaker Marc Short shares about his community of faith while working as Mike Pence's chief of staff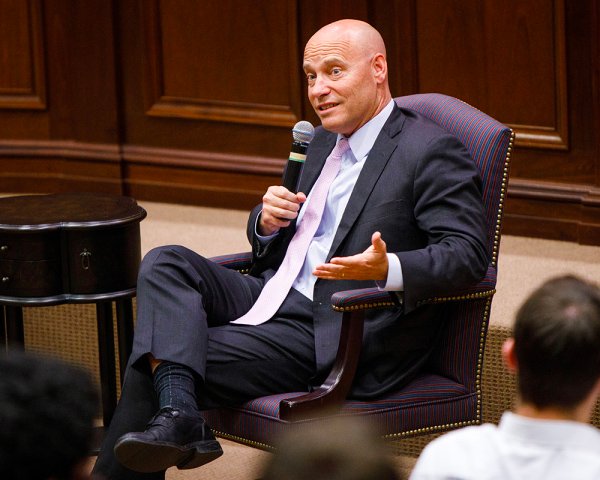 Former Chief of Staff to Vice President Mike Pence Marc Short spoke at the Liberty University School of Law's final Professionalism Event of the semester on Wednesday, imploring Liberty Law and government students to model humility and servant leadership in their daily lives and future careers.
"We need good people who are serving in our country in these (leadership) roles," he said. "Having a servant's heart in those roles is just as essentially important. Knowing why you are there and knowing that you are serving the American people opposed to serving your own interest is a really important attitude to maintain."
Short's address capped off the semester-long series that included appearances by Former Director of Public Affairs and Counselor to Attorney General William P. Barr for the Department of Justice under President Donald J. Trump, Liberty alumna Kerri Kupec, and former Virginia Govs. George Allen and Bob McDonnell. Short is also participating this week in Liberty's Equity for Africa summit hosted by the School of Business and has spent time speaking in classes in Liberty's Helms School of Government.
Before serving under Vice President Pence, Short was an Assistant to the President and Director of Legislative Affairs at the White House for President Donald J. Trump. As the legislative affairs director, he worked to successfully pass tax cuts and the Jobs Act and shepherded through the nomination of Justice Neil Gorsuch to the United States Supreme Court.
Speaking on his time with Pence, Short shared the benefits of working with a fellow Christian.
"I've been fortunate to work for a lot of great people, but I've never known somebody who I view as a servant leader as much as Mike Pence," he said.
While working with Pence on Capitol Hill, Short said their office abided by a list of rules. These rules, which started with glorifying God, were painted on the office's walls. The list continued with: "Serve all House Republicans," "Have fun," and "Live with a servant's heart."
Short said that having commonality in faith and worldview gave Pence's team unity, as they would often gather in prayer to ask the Lord for the wisdom they knew they needed in order to assist in leading the country.
"There's no doubt his faith guides a lot of his decisions and gives him a lot of peace in those moments. I've heard him say many times that the safest place to be is in the center of God's will," Short said.
Short reminded Liberty's law students to trust God's sovereignty more than worrying about their future careers and not to get caught up in the often-asked question, "Where do you see yourself in five years?"
"I didn't know the answer to the five-year question," he said. "Some of you might not either. Please take comfort in that because I certainly have learned a lot from looking back on my career and knowing that Somebody else has a plan for us and we don't need to put so much pressure on ourselves and try to figure out the answer to that question ahead of time."
Short also offered encouragement by noting that although President Trump and Pence did not share all the same ideas, Pence's humble disposition and desire to serve contributed to the duo's productivity while in office.
"I think that ultimately their skill sets complemented each other significantly, and I think that's what helped them achieve so much together," Short said.
Short has worked as a partner at GuidePost Strategies, a commentator for CNN, and senior fellow at the University of Virginia's Miller Center. Prior to joining the Trump/Pence campaign, Short was president of Freedom Partners Chamber of Commerce, the largest free-market business league in the U.S. with an annual budget exceeding $300 million. He also served as Chief of Staff for the House Republican Conference, chaired by Congressman Mike Pence (R-IN) and for Senator Kay Bailey Hutchison (R-TX). In his early career, Short was the executive director of the Reagan Ranch from 1998- 2001 and served as the executive director of Freedom Alliance from 1995-98.
Short graduated from Washington and Lee University and received his master's degree from the Darden Graduate School of Business Administration at the University of Virginia. He lives in Arlington with his wife and their three children.