Ready to Bet on Success? Follow Molly Bloom's Playbook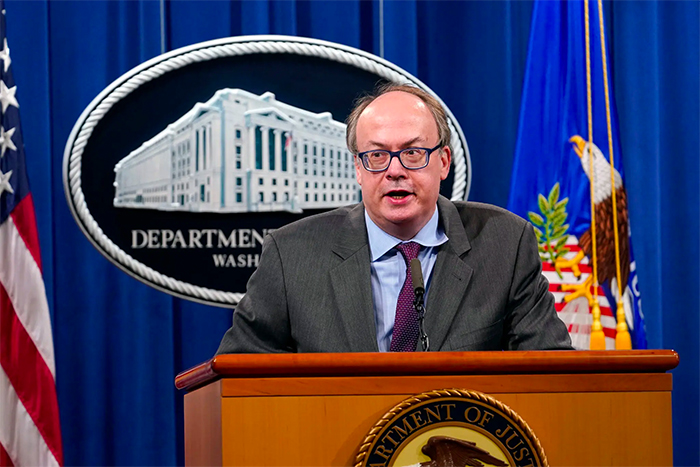 Molly Bloom is no stranger to reinvention.
From spinal reconstruction to Olympic hopeful. From starting a multimillion-dollar business to burning that business—and her life—to the ground. From the mobs to the feds to Hollywood, her life, she says, has been quite a journey.
"The interesting part for me, though, and the part that gives meaning to it all, are the lessons in reinvention," she told a full house at the 2022 NCSL Legislative Summit in Denver during a session titled "Molly's Playbook for Success: Champion Mindset." And it was through these lessons, she adds, that she built her own playbook for success.
Lesson 1: Find discipline in both your habits and mind
With early Olympic mogul-skiing dreams, Bloom, who grew up in Colorado, was 12 when she was diagnosed with severe scoliosis and told she'd need spinal surgery—which would end her skiing career.
But following the surgery, she got back on the mountain. "It was hard, and my mind was filled with a lot of doubt and a lot of fear," the sister of Olympic skier and former NFL star Jeremy Bloom says. "But I had a coach who really believed in me, and he taught me a profoundly important lesson and that is that I had to not only discipline my body—my habits as an athlete and as a human being—but I had to disciple my mind."
And the way to do that? Train. Both physically and mentally.
Bloom, the author of "Molly's Game" (made into a 2017 major motion picture), says learning to keep a positive mindset helped her make the U.S. Ski Team at 19, become third-ranked in the North American Cup at 20 and an Olympic qualifier at 21. "I stood on top of that mountain that day and thought this is the moment of my life," she says. "And it was not lost on me how close it came to not happening."
But when she got on the course, a freak accident—a frozen pine bough caused one of her skis to release leading to a devastating crash—forced her into an early retirement from the sport. "It wasn't because I didn't show up or because I didn't work hard," she says. "It was because I literally tripped on a stick. And sometimes that happens in life."
Lesson 2: Life is about relationships
Bloom finished her degree in political science and was applying to law schools, but opted to take a year off and moved from Colorado to Beverly Hills, Calif., where she found work as a personal assistant.
Asked by her boss to serve drinks at his poker game, a pastime she knew nothing about, Bloom walked into the room to find actors Ben Affleck and Leonard DiCaprio, powerful CEOs and politicians. "I realized as the night wore on what an opportunity this was, to have proximity to information and to learn from these people," she says. "I really wanted to stay in this room."
So, Bloom learned all she could about poker—and turned to her mom for advice. Her mom said, "Life is about relationships and relationships are about showing up for each other. It's not a transactional thing. Think about how you can be of service to these people. Think about how you can cultivate real and authentic relationships."
Bloom says she focused on relationship building for the next couple of months, and it started to pay off. She decided she didn't want to simply serve drinks in this room, she wanted to own this room.
After consulting with attorneys, she took the risk of starting her own poker game business. "And when I staged my first game the next month, every single person showed up because I had showed up for them," she says.
Focusing on the customer experience, she took detailed notes on how she could make improvements. And it worked. For the next six years, her game was the game everyone attended, she made millions of dollars, had an incredible network and was continually learning. But at the end of the sixth year, a famous actor who had developed an obsession with the game demanded Bloom cap her salary or give him a piece of it. She refused and he took the game from her.
"So, just like tripping on a stick in the Olympic qualifiers, in a moment everything was over and what do you do?" she says. "I probably should have gone back to school … but I really felt like I had something to prove so I decided, being young and a little dumb, that I was going to build the biggest poker game in the world just to show them."
Lesson 3: Look for opportunities to innovate
Bloom headed to New York City in 2008, did her homework and, learning things in the Wall Street gambling world hadn't changed in decades, she took the opportunity to innovate. "I would make these games safe, secure and fair," she says. By the end of the year, she built the biggest poker game in the world with a $250,000 buy-in and soon expanded, running multiple games at all times. But, she says, something inside her had changed.
"I became about the money and greed and I started to lose my way and things started to go south," she says. Coupled with the realization some of the big players she had recruited were running the largest insurance fraud ring in New York history and had ties to the Russian mob, along with terrifying and violent threats from the Italian mob, Bloom says she also went from operating legally on tips and making $4 million to $6 million a year to taking a "rake," or a percentage of the pot, which is illegal.
Turns out the FBI had been investigating her and the agency soon seized everything. After moving home and feeling sorry for herself for a few weeks, she decided it was time to take responsibility for her actions.
"This spot I was in was 100% my fault," she says. "Nobody tricked me into doing this. … And I had to own that and start to try to move forward."
Lesson 4: Commit to integrity
With her once-flourishing network destroyed, Bloom says she finally found a job back in California a few years later, but a week later "was arrested by 17 FBI agents with machine guns." She found a "heroic, generous attorney" who agreed to take her case and went into it with the strategy of integrity.
"Man, that just hit me right in the gut," she says. "Because really that's who I was raised to be, that's who I wanted to be. I had gotten so far from that, and I knew that was the way home."
Bloom pleaded guilty to her part in running an illegal betting operation and, in 2014, was sentenced to one year of probation, fined $1,000 and ordered to perform 200 hours of community service.
"I needed a massive comeback," she says. "And one thing I know is when you don't like the way a story is going, you can rewrite it. And so I decided to quite literally do that."
She wanted to write a book, but publishers would only offer her big deals if she would name names. Having already decided to never stray from her integrity or compromise her morals again, she passed until she finally found a publisher willing to work on her terms. Eventually, she convinced Oscar-winning screenwriter Aaron Sorkin to write the movie and "Molly's Game" was released.
"Eight years ago, I was pleading guilty in federal court thinking that my life was absolutely over," she says, "and a couple years ago I got to go the Oscars with 'Molly's Game.' … Ever since I was a little kid I wanted a big life, and I chased the things that I thought would bring it to me to some pretty dark places."
She says it wasn't a bestselling book or an Oscar-nominated movie that brought her back. "It was truly a recommitment to integrity, to decency and to a moral way of life," she says. "I guess what I've discovered about this playbook for success is it really has less to do with conquering the world, and so much to do with conquering ourselves and kind of everything to do with how we show up for each other."