Introducing President Sasse's transition team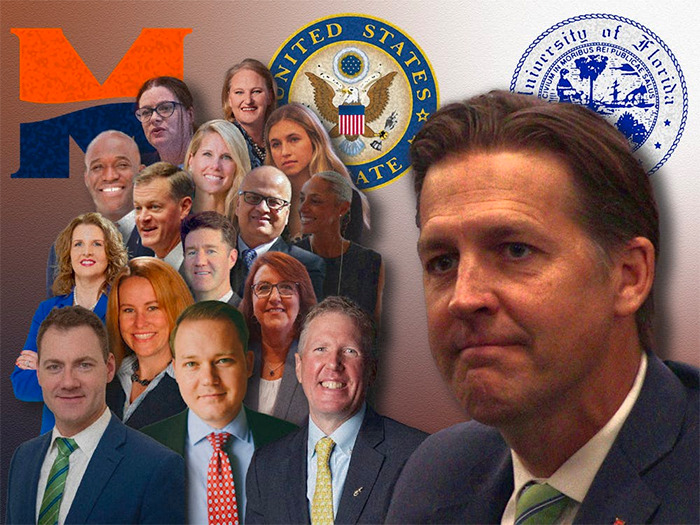 Team includes UF officials, U.S. Senate employees and Midland University staff
As UF President Ben Sasse transitions from politician to university president, he has maintained his relationships with key officials from his office in the U.S. Senate.
Sasse's transition team includes members of the presidential cabinet and staff, the UF Board of Trustees, members of Sasse's office in the U.S. Senate and ex-Midland University officials.
An informal member list of Sasse's transition team was revealed in a public records request obtained by The Alligator.
"Like every College President and CEO, Ben has a ton of advisers and mentors in his kitchen cabinet — about two dozen college presidents and big brains on everything from finance and technology to national security and law," the UF Public Records Request Center wrote in the letter.
Several members of Sasse's transition team have no prior affiliation with UF, namely Raymond Sass, James Wegmann and Toby Stock.
"Ray and James worked with Sasse in the Senate [and] have been working as presidential advisors in Tigert Hall since February," the public records center wrote.
Both worked for Sasse until his resignation from the U.S. Senate in January 2023.
James Wegmann
Wegmann joined Sasse's team as press secretary in 2015 and became communications director in January 2016.
Raymond Sass
Sass acted as Sasse's Chief of Staff from 2017 until his resignation from the Senate in January 2023. Additionally, Sass acted as the Director of the MBA Program at Midland University from 2011 to 2014 while Sasse was university president.
Toby Stock
Stock currently acts as the Chief Strategy Officer for the National Constitution Center, a private, nonprofit organization that "serves as America's leading platform for constitutional education and debate," according to their official website.
Stock has held executive positions in several conservative organizations, including the American Enterprise Institute, a center-right public policy think tank based in Washington D.C.
He is the co-founder and former President of The Dispatch, an online magazine dedicated to "fact-based reporting and commentary, informed by conservative principles."
"Toby was formerly the Harvard Law School Assistant Dean for Admissions and, given his experience in higher education and philanthropy, has been advising in the Foundation since March," the public records center wrote.
A majority of Sasse's transition team were affiliated with UF prior to his nomination by the Board of Trustees and several are active members of the presidential cabinet.
Amy Hass
Hass currently serves as the UF vice president and general counsel.
Chris Cowen
Last month, it was announced Cowen would step down as senior vice president and chief financial officer July 1 to take a position at Cornell University.
Mary Parker
Parker currently serves as the UF vice president for enrollment management and associate provost.
Scott Stricklin
Stricklin currently serves as the UF athletic director.
Heather White
White holds the position of UF vice president of student life.
Melissa Curry
Curry has served as the interim vice president for Human Resources since July 2022.
Melissa Orth
Orth holds a position on the presidential staff as director for presidential athletics. She oversees all aspects of the football President's Suite as well as tickets and special events for other Gator sports, according to the official UF Presidential staff website. Additionally, Orth has acted as associate secretary to the UF Board of Trustees since 2016. Her responsibilities in the role include identifying and managing board operations, strategy and long-range planning.
Lauren Lemasters
Lemasters acted as the 2022-2023 student body president, which granted her a seat on the UF Board of Trustees. The board voted unanimously in favor of Sasse's confirmation in November 2022. In response to Lemasters' vote in favor of Sasse's confirmation, the Student Senate Change Caucus submitted a resolution to impeach her on charges of malfeasance. The Student Government Judiciary Committee postponed the resolution indefinitely, which allowed Lemasters to finish her term.
Amanda Phalin
Phalin presided as the 2022-2023 faculty senate chair. She faced a failed vote of no confidence in her vote in favor of Sasse's confirmation due to the Faculty Senate's previous resolution of no confidence in the presidential search process. Danaya Wright will replace Phalin as Faculty Senate chair June 1.
The role of some members in Sasse's transition team, including Saby Mitra, Duane Mitchell and Lynda Tealer remains unclear.
Duane Mitchell
Mitchell occupies several positions within the university administration, including Assistant Vice President for Research, Associate Dean for Clinical and Translational Sciences at the UF College of Medicine and Director for the UF Clinical and Translational Science Institute.
Saby Mitra
Mitra has been the Dean of Warrington College of Business since August 2020.
Lynda Tealer
Tealer has been the Executive Associate Athletic Director at UF since 2004.
This team is designed to help Sasse get up to speed on various challenges and opportunities to plan for UF's next chapter. Further updates on Sasse's administration are expected to be reported on throughout the semester.