Former VP Mike Pence talks critical race theory, Ronald Reagan during Ashland appearance
ASHLAND – Critical race theory, Ronald Reagan and problems within the Biden administration.
Mike Pence touched on them all and had the crowd applauding and cheering during a 30-minute speech Friday night at the 34th annual Ashbrook Memorial Dinner at Ashland University's John C. Myers Convocation Center.
Remembering Colin Powell:Ashbrook Center remembers the late Colin Powell, first Black secretary of state
It was the 48th vice president's third visit to Ashland and Richland counties since 2016, when he campaigned for the White House on the Trump-Pence ticket.
Pence told the crowd of more than 550 that Republicans will take back the House next year and soon after, the White House. He did not reference any of his own campaign plans, but Pence has been making a series of recent appearances, including a stop in Virginia Thursday.
Here's what Mike Pence said in Ashland
We are "going to win back America in 2024," he said to a round of applause at Friday's appearance in Ashland, where he touched on a number of topics:
On Ronald Reagan: He is "truly one of a kind," he said. "He set our nation on a new course of freedom," noting he became a Republican because of Reagan.
On President Joe Biden and Vice President Kamala Harris: Pence criticized the Democratic administration's liberal policies saying they created the worst border crisis in the country's history. "Now more than ever we need to dedicate ourselves to the founders' vision," Pence said.
On critical race theory: It "is nothing short of state-sponsored racism," Pence said, … "actually teaching children as young as kindergarten to be ashamed of their skin color."
Ashbrook center hosts Judge O'Connor:Ohio Supreme Court Justice Maureen O'Connor speaks at Ashbrook Lecture Series at AU
Before his remarks, Pence accepted the John M. Ashbrook Award. The Ashbrook Center, dedicated in 1983 by then-President Reagan, is named for the late Congressman Ashbrook, who represented Ohio's 17th district for 21 years.
Pence also touted effective and safe COVID-19 vaccines quickly developed during the Trump administration when Pence led the White House Coronavirus Task Force.
Ohio Republicans on hand for Pence's visit to Ashland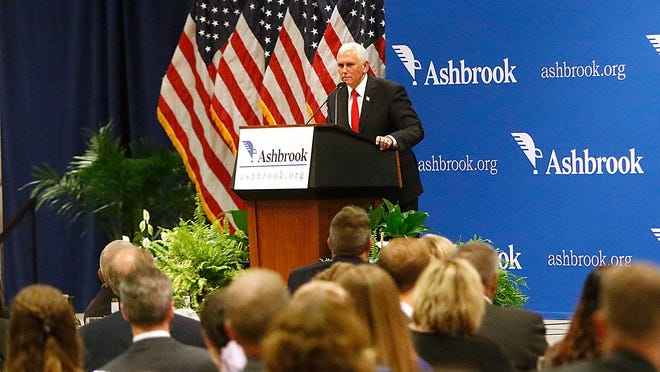 Ashland County Prosecutor Chris Tunnell, Mayor Matt Miller and former Prosecutor Bob DeSantos were in attendance, along with Ohio legislators state Sen. Mark Romanchuck, U.S. Rep. Bob Gibbs, Lt. Gov. Jon Husted, Sec. of State Frank LaRose and U.S. Rep. Troy Balderson.
Five-hundred and seventy-four seats were set for the event, Ashland University's Linda McFarlin said.
"This is a very prestigious event," McFarlin said. "A lot of hard work goes into this event," which helps support Ashbrook Scholars in the liberal arts politics and history program.
Past speakers have included Ronald Reagan, George H.W. Bush, Dick Cheney, Margaret Thatcher, Benjamin Netanyahu, Clarence Thomas, Mitt Romney, and Tucker Carlson.
The dinner staff was lean, relying on volunteers from the university's men's basketball team and band members, according to McFarlin.
McFarlin said she found the former vice president to be "quite a nice man, very humble and soft-spoken."
Five-hundred and sixty meals were prepared, according to Ashland University chef Kevin Burke.
Dinner is prepped nearly two days ahead, Burke said, noting kitchen staff came in at 5 a.m. Friday to prepare for the 7 p.m. event. Some worked up to 15 hours, he noted.
"We enjoy doing it " Burke said.
Despite political tensions, Pence, a devout Christian, said he has faith in the American people.
"This is a nation of faith," Pence said. "I saw it everywhere I went. … The foundation of America is freedom. The foundation of freedom is faith."
He enjoyed a standing ovation at the end of his speech.