Expect the world's ungoverned places to export instability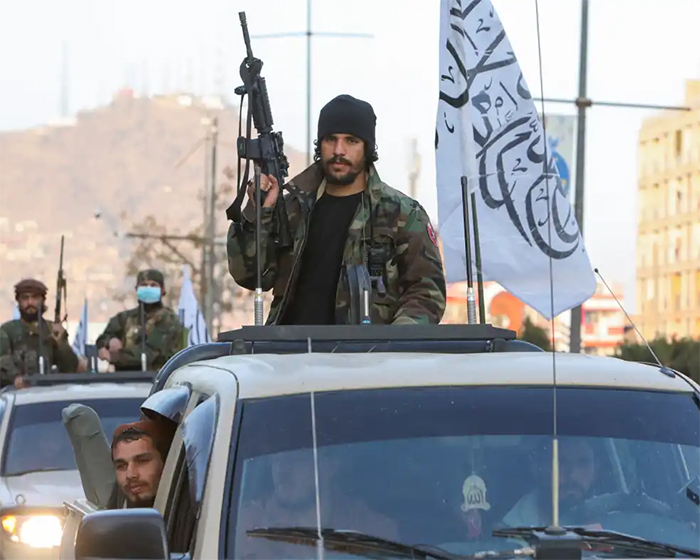 Ian Bremmer is the president of Eurasia Group and GZERO Media and author of "Us vs. Them: The Failure of Globalism."
In the days and weeks that followed the Sept. 11, 2001, terrorist attacks on New York and Washington, a consensus emerged about how best to prevent future such catastrophes. Ungoverned expanses of territory, political officials warned us, become breeding and training grounds for extremists. In this way, some countries that produce little of value can begin to export violence, refugees and turmoil.
This was the logic that led to the nearly 20-year U.S.-led war in Afghanistan that ended just six months ago. The lesson might have been relearned when the Islamic State stepped into security vacuums in Iraq and Syria. Its militants threatened to wreak havoc across continents, and turmoil in the Middle East produced waves of refugees that created new kinds of political and economic burdens in Europe and other Middle Eastern countries like Turkey.
Today, the United States is much less willing than in the aftermath of 9/11 to accept the costs and risks that come from fighting open-ended conflicts in faraway places. The Biden administration is focused much more on challenges posed by China than on trouble in the Middle East. Europe is now understandably far more concerned about Russia.
Yet, there are more ungoverned expanses of territory today than there were before 2001. A number of countries have sizable territories we might call "empty lands," areas ruled mainly by men with guns rather than by laws. The most obvious example is still Afghanistan, where a government collapse following the chaotic withdrawal of U.S. forces last August leaves Kabul and some parts of the country back in the hands of an extremist, disorganized and inexperienced Taliban force.
This new government will struggle to stop the local Islamic State affiliate from drawing in militants from other parts of the world to settle in ungoverned expanses of the country. Though the U.S. and China each have an interest in peace and stability, neither government wants to become directly involved in its future.
The risks of terrorism are also acute in the thinly governed Sahel. Conflicts with Islamist fighters have spread from Mali across the region, triggering large-scale terrorist attacks in Burkina Faso, Niger, Mali and Chad. They have also created a remarkable level of political instability: In the past 18 months, there have been successful coups twice in Mali, once in Guinea and Burkina Faso, failed coups in Guinea Bissau and Niger, and a less violent power grab in Chad. In each case, political instability creates opportunities for extremism, and extremism then deepens the political chaos.
Here too, outside actors are increasingly reluctant to directly intervene. The U.S. stepped back after 2017 when four U.S. soldiers were killed in Niger. France has scaled back its military presence, too. An intensification of these insurgencies can still make things much worse for West Africa and all who might fall victim to the militants who are training there to launch attacks elsewhere.
The seven-year civil war in Yemen has become more dangerous in the past month as Iran-backed Houthi rebels have begun again to fire missiles into the United Arab Emirates, a country that has partnered with the Saudi-led coalition the Houthis face inside Yemen. After scaling back military support for the Saudis, a Biden administration faced with multiple domestic headaches and a challenge from Moscow over Ukraine has done little to push for a cease-fire in Yemen or to ease the suffering of civilians trapped by the fighting.
The effects will extend beyond Yemen. Houthi attacks have damaged oil facilities critical to the global economy in Saudi Arabia and increased regional tensions with Iran. Counterterrorism efforts inside Yemen continue to falter, giving breathing room to a capable al-Qaida affiliate there.
Myanmar and Ethiopia have much stronger governments than in Afghanistan, the Sahel or Yemen, but both countries are now plagued with civil conflicts they cannot control. In Myanmar, the ruling military government, now in power for more than a year, has yet to contain a civil disobedience movement and resistance from armed ethnic minority organizations.
The U.S. has treated Myanmar as a low-priority issue, and while China supports the military government, it has not invested much in restoring order outside the country's largest cities. India and China face the risk of stronger refugee flows as conditions inside Myanmar worsen.
Ethiopia faces many of the same problems. More than a year into its civil war, military momentum continues to oscillate between government and anti-government forces. The U.S. approach has been incoherent, while China has provided the government with diplomatic cover and a few weapons, fueling a risk of conflict that could generate refugee flows that destabilize the entire Horn of Africa.
Finally, the never-ending sense of crisis in both Venezuela and Haiti has already triggered waves of refugees into North America and across Latin America. Political repression and economic meltdown in Venezuela have persuaded more than six million people to flee the country since 2014. The U.S. has put little effort into a political solution to Venezuela's economic misery. Haiti remains mired in endemic corruption and often violent political infighting, which has already inspired thousands of Haitians to try to reach the U.S.
In a G-zero world, one in which there is no single power or strong alliance of powers that can provide global leadership, these various fires are likely to burn longer and hotter. Over the past two decades, the world has seen again and again that international borders cannot contain political violence, economic hardship and human misery. In 2022, the world's wealthiest and most powerful governments continue to pretend that turmoil "over there" can be safely ignored.