ABC 7 News Reflection on 9/11 Article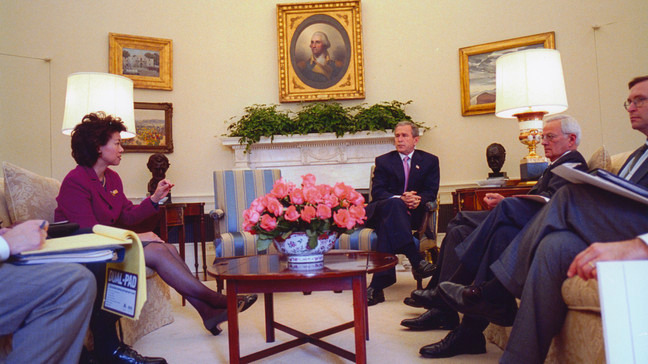 At the age of eight-years-old, Elaine L. Chao came to America with her mother and two younger sisters on a cargo ship to reunite with their father who immigrated to America three years prior to seek better opportunities for his family. The journey took 37 days to cross the ocean.
The family began their new life together in New York City, where years later, the World Trade Center was attacked.
"I think the attacks on September 11th were so unexpected," Chao told 7News. "We were so innocent as a nation and as a people. I don't think anyone of us, very few of us, could of imagined this attack that came out of nowhere seemingly."
In 2001, Chao was nominated by President George W. Bush to serve as U.S. Secretary of Labor. When she was confirmed by the U.S. Senate, Chao became the first Asian American woman to serve in a U.S. President's cabinet. Chao served all eight years in President Bush's administration.
Chao also served as U.S. Secretary of Transportation between 2017-2021 and she now holds the distinction of being the longest serving cabinet member in the United States since the World War Two era.
"What was going through your mind when heard the United States was under attack?" 7News Reporter Nick Minock asked Chao.
"I think what went through our minds as we saw the two planes go into the World Trade Center was just disbelief and perplexing thoughts as to why this is happening," replied Chao. "It was not something that we had ever contemplated that we would be the target of these terrorists' attacks. We didn't even know what to call them. We didn't even know they were terrorists. Little did we know that it was a formal declaration of war by terrorists in another part of the world who would want to do harm to Americans."
September 11, 2001
"I was in my office holding my 8:30 senior staff meeting when a young aide came in and he said that the news is reporting a plane hit the World Trade Center," said Chao. "We didn't really know what was happening. When we saw the first plane embed itself in the World Trade Center, we called the White House right away. The White House was being evacuated. They were in no position to give any instructions ."
"We called OPM, the human resource arm of the federal government and we couldn't get anyone either," Chao added. "So we received no information as to what to do, what the threat was and what we should do in terms of keeping our people safe. I decided to evacuate the Department [of Labor] because we are caddy corner to the Congress. When I saw people streaming out of the United States Congress, I thought, we better get out of here. And that's what prompted the evacuation."
"We basically evacuated the Department of Labor," she said. "The building was located on a tunnel – 395 – that ran under the building. There was a lot of concern about what was going on under the building as well. And for those who were able to get to the garage and take their cars with them, very soon after they were stuck in streets. Going nowhere. So, a lot of people left their cars and tried to go home by foot."
"We were so unprepared," said Chao. "We didn't know where the PA system was. We didn't know how to contact the rest of our colleagues who were in the building. Finally, someone got hold of the PA system and in a trembling voice which did not convey very much confidence, he said 'we need to evacuate immediately. Run!' So that was not exactly the reassuring message and it taught us a lot on how to handle future emergencies."
After the Attacks
"I went to ground zero in my capacity as Secretary of Labor," said Chao. "Ground zero at that time with it's smoldering rubble and still burning fires under that rubble was the most dangerous workplace in America. OSHA at the Department of Labor was very much involved along with other parts of the department on September 11th. And their role was to oversee ground zero."
"President George W. Bush is a wonderful leader and manger," said Chao. "He picked very good people in his cabinet and he let them do their job. It was a cohesive group. The president brought all of us together when he went to Ground Zero after September 11. He was with a group of union members. He got on top of a pile of rubble and someone said to him 'we can't hear you.' And he said I can hear you, and pretty soon the rest of the world will hear us. So he gave tremendous inspiration and leadership to the country and that of course filtered down to the cabinet. And we of course communicated his priorities and his words to the rest of the country as well. We are very fortunate to have been able to help our country in the particular moment of need."
"What was the first cabinet meeting like following 9/11?" asked Minock.
"The first cabinet meeting was extremely somber," Chao replied. "And extremely emotional. President Bush gave his report to the Cabinet as to what he knew at the time and what was happening. I remember the President emphatically pointing his fore finger on the table in the Cabinet room vowing to himself, to us, and to the American people that this would never happen again, so long as he is President."
"One of the strategies to address the terrorist threat is a strategy called the forward strategy," Chao added. "Rather than allow terrorists to hit us again on our soil the strategy was to deploy our troops oversees to stop the terrorists from coming here. That was made at tremendous sacrifice. They performed valiant and courage tasks that was necessary to protect our country."
How America Changed
"I have lots of stories about how the priorities of the [Bush] administration changed after 9/11," said Chao. "As an example, in July 2001, Senator Schumer, President Bush, Mel Martinez who was then Secretary of HUD and I were on a ferry going towards Ellis Island. We were celebrating the birth of our country and also presiding over swearing in ceremonies for newly minted American citizens. And the President at that time wanted very much to address the issues of immigration. He did not get a chance to address that until his second term and ultimately he was unsuccessful because we ran out of time."
"The President also wanted to enact more tax reform, so those are just two examples of how issues were delayed, issues were changed, priorities were changed with the tragedy of September 11," said Chao.
"In the after math of September 11th so many businesses closed," Chao explained. "Retail establishment saw a tremendous drop in their sales, so our economy was on hold. We came to terms with the terror we saw and what it meant to our country. The American economy was seriously damaged by the attacks on September 11. For a week or two at least planes couldn't fly in the air. Many people feared flying because they didn't want the reoccurrence that happen on September 11th to happen again."
"Our economy was really suffering," she said. "The retail establishments weren't seeing the volume that they had, air traffic was down substantially. Our GDP growth actually dropped and the number of unemployed people rose. And at the Department of Labor we gave extended unemployment insurance. We also gave assistance, financial assistance, to single proprietors, people who owned their own homes."
"The thing that helped the economy was President's George Bush's leadership," said Chao. "He urged all of us to get out and instill confidence in the economy by traveling, by going out, buying, frequenting retail establishments. Basically what President Bush was saying and exhorting the rest of the nation to do is to carry on with our normal lives and not let the fear of terrorists and not let what they did on September 11 to compromise who we are as a people and how we conduct ourselves in our everyday lives."
"Our transportation system on that day was put to the test," said Minock. "Thousands of flights were ground in North America. In a matter of…"
"Four hours," said Chao.
"If someone would have told you we are going to ground thousands of flights without additional loss to life without major issues, what would you have told them?" asked Minock.
"It's impossible," Chao replied. "Secretary Norm Mineta, the then Secretary of Transportation, and the FAA deserve an incredible amount of praise and accolades for their skill and leadership of emptying our airspace. At that time we didn't know how many other planes could potentially be of harm to our country and the safest things to do was to instruct everyone to land the planes safely. And the FAA and Secretary Mineta did a great job landing the planes safely."
"I think it really struck home to me that the world had changed when I began to return to my travels," said Chao. "Going through the airports. It was a clear shot going to DCA from the curb to the gate. And now there are all these checkpoints. And it made me really sad we are in this state of affairs. On the other hand, I'm so grateful that we as a nation reacted quickly. We set up these measure to ensure the safety of our people."
"We just travel now in a very different way," she added. "Major buildings that we go into now all have metal detectors. How security in many ways has increased, but in many ways it is sad we have to have these security measures. We are a much more security conscious nation. What hasn't changed is the spirit of our people. We are Americans and when confronted with a crisis we come together to protect our freedoms and our democracy. And that's what happened on September 11th."
Looking Back 20 Years Later
"I remember the young children of those who were lost and also the unborn children of those who were lost," said Chao. "Some are now 20 years old. They have never seen a world is which you can go to an airport and go from the curbside to the gate in one straight shot. Without having to go through metal detectors, without having to go through X Ray machines, and not having to take off your shoes and jackets. That was really a more carefree time. It was a more innocent time."
"We are such a good people," said Chao. "We are kind to others. Our culture is one of great generosity. What we learned on September 11th is there are people, there are real terrorists, who want to do America harm. They don't like our democracy. They don't like our free culture. They don't like our care freeness in how we live our lives and they wish us harm. And we are so grateful to the men and women in uniform and others who protect this country."
"The country will never forget the sacrifices that their loved ones made," said Chao. "We are forever grateful and we will never forget them."