Welcome to Ocean School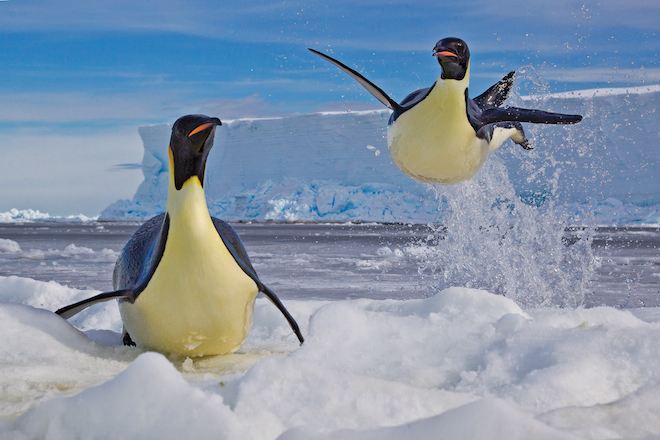 Emperor Penguins shot from the Mario Zuchelli Base, Ross Sea, Antarctica. (Photo by Paul Nicklen)
In the face of this global pandemic, people around the world are turning inward to find ways to help. Conservationists, photographers, and co-founders of SeaLegacy, Cristina Mittermeier and Paul Nicklen have decided to use this time to utilize their vast social media reaches to educate and share their expert knowledge on the ocean through stories in something they are calling "Ocean School."   
One of the most influential female photographers in the world and a powerful voice in conservation photography, Cristina began her career as a Marine Biologist. She soon discovered that she could better advocate for the planet through the lens of her camera than she could with data on spreadsheets. A National Geographic contributing photographer, Cristina is the first female photographer to reach 1M followers on Instagram and was a 2018 National Geographic Adventurer of the Year. She is acknowledged as one of the most Influential Women in Ocean Conservation in 2018 by Ocean Geographic, and The Men's Journal recently named her as one of the 18 Most Adventurous Women in the World. Cristina also co-founded the conservation society SeaLegacy with her partner, Paul Nicklen which is a collective of photographers who focus on cleaner, healthier oceans.   
As a co-founder of SeaLegacy, Paul is one of the world's most acclaimed nature photographers, an acclaimed polar specialist, author, conservationist, National Geographic Fellow, and a regular contributor to National Geographic Magazine with 20 completed stories to date. Recently inducted into the International Photography Hall of Fame (IPHF) as the youngest inductee ever, Paul has published several books including Seasons of the Arctic; Bear: Spirit of the Wild; Polar Obsession; Born to Ice and his most recent eBook, Photographing Wild. For over twenty years, Paul's career has focused on the polar regions, his evocative nature photography displaying a deep reverence and sensitivity for the wildlife and environment of the most isolated, endangered places in the world. 
Together they have the expertise and knowledge to help children build their foundation of ocean literacy and learn why things like climate change really matter. Every day they post iconic photographs, fun facts, answers to questions, live conversations with experts, and links to further information. So, log onto Instagram, follow @Mitty, @PaulNicklen, and @SeaLegacy and start learning!